How to Make a Spaceship
Recently, an amazing author, Julian Guthrie (who wrote Larry Ellison's biography, The Billionaire and the Mechanic) approached me about writing my biography and the story of the XPRIZE.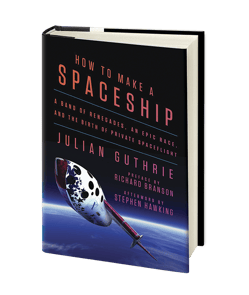 I'm humbled and proud to say that she wrote an amazing book called How to Make a Spaceship: A Band of Renegades, An Epic Race, and the Birth of Private Spaceflight.
The book has a foreword written by Sir Richard Branson and an afterword by none other than Prof. Stephen Hawking.
My greatest hope for this book is that it inspires entrepreneurs around the world to take their own moonshots and solve big, bold problems, in the same way that the three books above inspired me.
PAYING IT FORWARD… It's for this reason that I want to help Julian (and her publisher Random House/Penguin) get this book into the hands of as many people as possible. The book tells the story of big dreams, huge risks, eye-opening innovations and history made. It shows the power of small teams to do big things.
Pick up copies for yourself and your colleagues on Amazon.
---
"The story of Peter Diamandis is a reminder of the power of passion and persistence. How to Make a Spaceship chronicles the amazing journey of a key figure in the private race to space—a dreamer who, in the face of multiple setbacks and naysayers, simply refused to let go of his dream."
- Arianna Huffington, author, cofounder of The Huffington Post
"Too few kids and young adults understand the power of science and technology. We need role models demonstrating the power of passion and perseverance to make dreams come true. How to Make a Spaceship is filled with innovators and doers. The story will inspire makers of all ages."
- Dean Kamen, inventor, entrepreneur, founder of FIRST Robotics
"This outstanding and compelling book shows the power of one man's vision, and the ability of small teams to accomplish extraordinary things. How to Make a Spaceship will inspire and guide you to take on your own Moonshot."
- Ray Kurzweil, Inventor, Author, Futurist and Chancellor, Singularity University
"This incredible book is The Right Stuff with afterburners. Intrepid designers and innovators risk their reputations. Gutsy test pilots risk their lives. Explorers push new boundaries of what so many once thought was impossible. All brought together by a real gravity-defying force, Peter Diamandis. How to Make a Spaceship is required reading for anyone who cares about space, aviation, and the future of flight."
- Captain Mark Kelly (USN, Ret.), former naval aviator, test pilot, and NASA astronaut