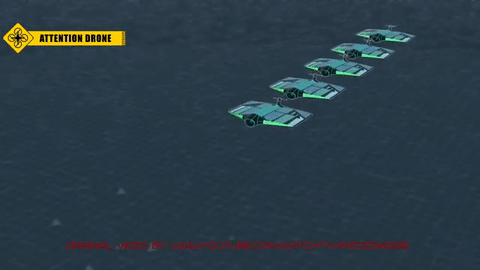 Read Peter's latest media features, cover stories and other major press coverage.
Bloomberg Radio - September 20, 2016

The Bloomberg Advantage with Carol Massar and Cory Johnson.
GUEST: Julian Guthrie Journalist and Author Discussing her book "How to Make a Spaceship: A Band of Renegades, An Epic Race, And the Birth of Private Spaceflight."
She is joined by Peter Diamandis, Executive Chairman at the X Prize Foundation, who explains how he was inspired by Charles Lindbergh to create the foundation for the sole purpose of making it possible for private citizens to travel to space. Running time 15:43
The Washington Post - September 19, 2016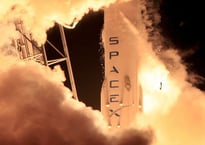 Elon Musk's rocket-building company SpaceX and Jeffrey P. Bezos's similar Blue Origins have grabbed the headlines in the space race. But there is a fascinating backstory about how the private space industry came into being. It is the tale of a renegade entrepreneur, Peter Diamandis, who founded the XPrize Foundation to encourage rocket-building in order to find a way into space himself.
Journalist Julian Guthrie tells the story in a new book, "How to Make a Spaceship: A Band of Renegades, an Epic Race, and the Birth of Private Spaceflight" (Penguin, Sept. 20, 2016). It reads like a thriller — and reveals many secrets.
Wired - September 19, 2016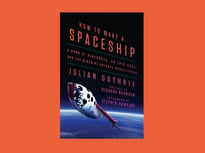 Many people know about the X Prize, the $10 million bounty that spurred the development of SpaceShipOne, the world's first private spaceship. But few people know about all the behind-the-scenes drama that plagued the prize from beginning to end. That'll change this month with the publication of Julian Guthrie's new book How to Make a Spaceship.
Writing the book required Guthrie, an award-winning journalist, to immerse herself in the world of aeronautics. "It was a very steep learning curve for me," Guthrie says in Episode 221 of the Geek's Guide to the Galaxy podcast. "Literally it's rocket science."
New York Observer - September 14, 2016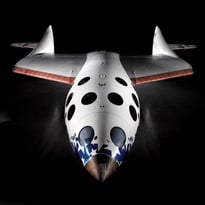 "I was a fanatical Star Trek fan, and the moon landing was this epic journey that happened during my most formative years," Diamandis told the Observer. "It was a one-two punch that really changed the course of my life."
Julian Guthrie details Diamandis' quest to democratize spaceflight using a $10 million contest called the XPRIZE in her forthcoming book, How to Make a Spaceship: A Band of Renegades, An Epic Race and the Birth of Private Spaceflight.
Greek Reporter - August 27, 2016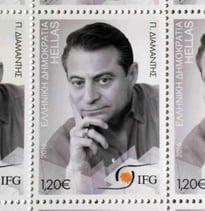 Five distinguished Greek personalities living abroad will be honored with a commemorative series of stamps.
An event will be held on September 1 at the Acropolis Museum to inaugurate the collection following the choice of personalities by the International Foundation of Greeks (IFG) that based the choice on the efforts that the candidates had made to promote Greece.
Success - June 10, 2016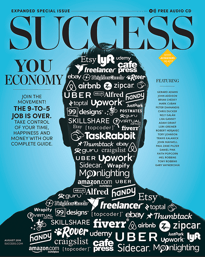 Thanks to online purchasing power and the once-government-owned technology of GPS, people with visions of an innovative marketplace can make those visions come to life. And the implication will only grow from here as technology accelerates, according to abundance-minded futurist Peter Diamandis, a SUCCESS Ambassador.
"As individuals, we are now able to do what only large corporations and governments could do 20 years ago," Diamandis says. "I want to have [people] understand the power of an abundance mindset and how the world is getting better at an extraordinary rate, how to tap into the crowd for capital, for technology, for solutions."
Success - May 30, 2016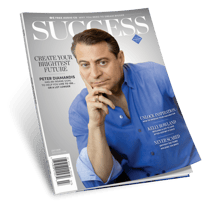 If you've ever seen the film Apollo 13 starring Tom Hanks, you'll remember the scene in which the spacecraft sustained damage and the astronauts' oxygen began leaking into space. The team of NASA engineers predicted the astronauts had less than 2 days of oxygen left.
The NASA engineers back on earth were forced to create an emergency CO2 recycling device from the limited supplies they knew the astronauts had in space.
TED - February 17, 2016
The IBM Watson AI XPRIZE, a Cognitive Computing Competition, was announced on the TED Stage on Feb 17, 2016. It is a $5 million competition challenging teams from around the world to develop and demonstrate how humans can collaborate with powerful cognitive technologies to tackle some of the world's grand challenges.
Boston Globe - December 14, 2015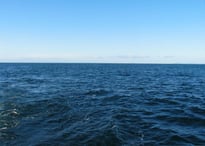 The ocean covers two-thirds of our planet. It provides more than 50 percent of the oxygen we breathe and absorbs a third of the CO2 emissions we produce. It feeds over 2 billion people, controls our weather, provides wind and wave energy, and quite literally supports life as we know it here on Earth. And yet 95 percent of the deep sea remains a mystery to us.
In a time when the Curiosity Rover sends back selfies from Mars, we have better images of the Red Planet and more detailed maps of the moon than we do of our own seafloor. We've barely scratched the surface of one of the most fascinating places in the universe.
Space News - November 11, 2015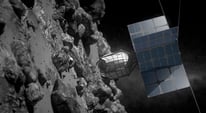 WASHINGTON — The Senate passed Nov. 10 the final version of a commercial space bill that extends two key regulatory provisions and provides limited property rights for resources extracted from asteroids.
The Senate approved by unanimous consent H.R. 2262, the U.S. Commercial Space Launch Competitiveness Act. The bill reconciles a House bill, originally known as the Spurring Private Aerospace Competitiveness and Entrepreneurship Act of 2015, passed in May with a Senate bill approved in August. The final bill includes lengthy extensions of two provisions of commercial launch law that were scheduled to expire next year.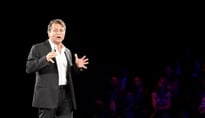 Fortune Global Forum - November 3, 2015
There's a major difference between entrepreneurial founders and corporate CEOs, according to XPRIZE CEO Dr. Peter Diamandis. Founders take more shots on goal and try crazy ideas while corporate CEOs do not, he said atFortune's Global Forum in San Francisco.
"It isn't that entrepreneurs are smarter than companies, it's that they are trying more crazy ideas," said Diamandis, a Harvard M.D. and an MIT trained aerospace engineer. His brainchild is the XPRIZE Foundation, which sponsors competitions in futuristic areas such as space technology.
TechCrunch - October 20, 2015
In one of those fun, wild science chats, both Google Ventures' Bill Maris and XPRIZE head Peter Diamandis discussed a gamut of moonshots, including life extension research, sentient robots, and self-driving cars versus those that can fly.
"In the future, the idea of putting a sixteen-year-old behind the wheel of a 5,000-pound machine will seem ludicrous," Diamandis said onstage at the Wall Street Journal Live conference in Laguna Beach, California, Tuesday.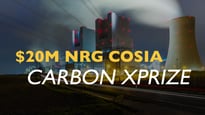 XPRIZE - September 29, 2015
For decades, governments and the private sector have examined ways to capture CO2 and store it underground. These investments in research and development have led to significant improvements in carbon capture and sequestration (CCS) technologies, with several carbon capture solutions already being deployed today.
Human Longevity, Inc. - September 22, 2015
Human Longevity, Inc. (HLI), the genomics-based, technology-driven company, and Discovery Ltd, a pioneering insurer dedicated to making people healthier, announced today that the two companies have entered into a multi-year agreement to offer whole exome, whole genome and cancer genome sequencing to Discovery's clients in South Africa and the United Kingdom.
CBS This Morning - September 16, 2015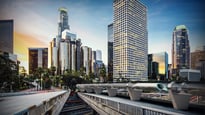 In our "Pushing the Limits" series, we focus on plans for a new high-speed ground transportation system. Hyperloop Technologies is working on a project to move people and cargo at nearly the speed of sound. First on "CBS This Morning," the company is announcing that former Cisco president Rob Lloyd will come aboard as CEO.
Space Ref - July 16, 2015
Planetary Resources, Inc., the asteroid mining company, announced today that its Arkyd 3 Reflight (A3R) spacecraft deployed successfully from the International Space Station's (ISS) Kibo airlock and has begun its 90-day mission. The demonstration vehicle will validate several core technologies including the avionics, control systems and software, which the company will incorporate into future spacecraft that will venture into the Solar System and prospect for resource-rich near-Earth asteroids.
Innovation Hub - March 26, 2015
This article is going to show you how to become a billionaire and change the world.* At least, there's a chance it will. It's not a huge chance, percentage-wise. After all, it'd be strange if thousands of world-changing billionaires all owed their success to one article. (If that happens, however, everyone here at Innovation Hub would love some sort of kickback.)
Nasdaq - March 13, 2015
MoneyMorning.com Report - When done right, tech investing can be the single best wealth engine ever. One thousand dollars invested in Apple Inc. ( Nasdaq: AAPL ) 10 years ago today would now be worth $20,610; the same amount invested in Google Inc. ( Nasdaq: GOOG , GOOGL) a decade ago would now be worth $5,228.
Forbes - March 4, 2015
"Cramming More Components Onto Integrated Circuits" is not a sexy headline. As click bait goes, it's awful. But this was the title of Gordon Moore's article, published in the Apr. 19, 1965 issue of Electronics magazine –50 years ago next month–that introduced the world to a singular, shape-changing idea that would later become known as Moore's Law.
Tallahassee Democrat - February 21, 2015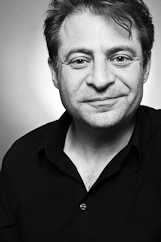 "If you read last week's post about 2 billion jobs being lost to artificial intelligence and robots, a reaction may have been to run for the hills and hide. The future may resemble any one of the dystopian plots portrayed by Hollywood blockbusters as of late. Today, I want to present a completely different take on the future — one of abundance and opportunity."
Washington Post - February 19, 2015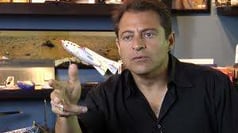 Peter Diamandis is nothing if not an optimist. His first book, Abundance, was subtitled "the future is better than you think." Where other people are concerned about water shortages, Diamandis sees a planet covered almost entirely with water that just needs the right technology to make it accessible. Where others worry about growing income inequality, he sees a day when technology will enable the "haves" and the "have nots" to become the "haves" and the "super haves."
Wallstreet Journal - February 16, 2015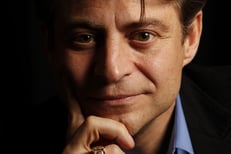 "A tome full of techno - optimism suggests the Silicon Valley elite really are different from the rest of us."
LA Times - February 15, 2015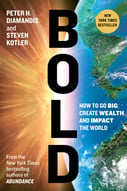 "There is no industry invulnerable to attack from the proverbial entrepreneurs in garages — including space exploration, his personal passion. In a tech boom, predictions like these can easily turn to hype. Diamandis, with his relentless exhortations for start-ups to think much bigger (his latest venture plans to mine asteroids), certainly is not the kind to allow self-doubt to creep in."
PC News - February 6, 2015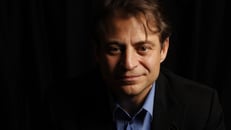 "Whenever the world seems hopeless, I find myself revisiting the 2012 don't-worry-it's-all-gonna-be-great TED talk from XPRIZE CEO Peter Diamandis (embedded below). Diamandis is a passionate proponent of "rational optimism," and uses cold hard data to demonstrate how humanity is improving its condition thanks to technology."
Investment News - February 5, 2015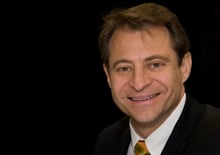 "Mr. Diamandis told a story about Kodak that is a warning shot across the bow for all of us."
New York Times - February 5, 2015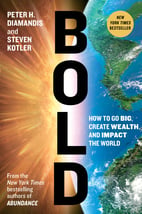 "Although many book titles promise wealth, power and glory, two books — "Bold: How to Go Big, Create Wealth, and Impact the World" and "The SelfMade Billionaire Effect: How Extreme Producers Create Massive Value" — reflect society's growing unhealthy obsession with the "B" word in very different ways."
CBS News - February 4, 2015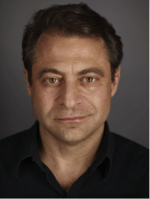 "What's the key to making an impact on the world? Be bold, according to XPRIZE CEO Peter Diamandis."
Upstart Business Journal - February 3, 2015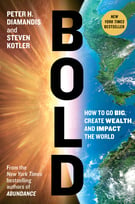 "There's a little more going on under the hood in our collaboration," Kotler told me during a phone conversation yesterday. Since the process of writing a book actually looks a lot like founding a company, I asked Kotler to elaborate on his ground-rules for collaborating."
Success - February 1, 2015
"Diamandis's new book, Bold: How to Go Big, Create Wealth and Impact the World (Simon & Schuster), co-­authored with science writer Steven Kotler, aims "to offer guidance and encourage entrepreneurs to take big swings at the world's biggest problems," he says."
Huffington Post - January 23, 2015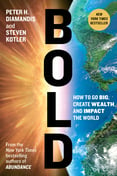 "Just as an asteroid wiped out the dinosaurs that ruled the Earth and made way for small, furry mammals, a new wave of planetary disruptions is about to occur. The new asteroid is called "exponential technology." It is going to wipe out industries in a similar manner to the rock that fell to Earth during the Cretaceous period."
The Washington Post - January 21, 2015
"Just as an asteroid wiped out the dinosaurs that ruled the Earth and made way for small furry mammals, a new wave of planetary disruptions is about to occur. The new asteroid is called "exponential technology." It is going to wipe out industries in a similar manner to the rock which fell on Earth during the Cretaceous Period."
The Telegraph - January 15, 2015
"From the authors of bestseller Abundance, their second book, Bold, looks at how entrepreneurs are creating wealth and improving the world. The book examines the power of 3D printing, artificial intelligence, robotics, networks and sensors, and synthetic biology."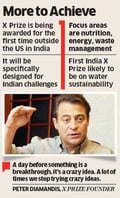 The Economic Times - December, 2014
"XPRIZE is being awarded for the first time outside the US in India. XPRIZE to help solve india's social problems."
Inc. Magazine - December 2, 2014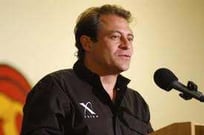 "The serial entrepreneur weighs in on the challenges that entrepreneurs will face--and how to overcome them."
The Independent - November 20, 2014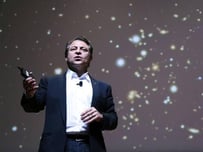 "The entrepreneur, author and space enthusiast says the human race has its future on another planet, but for now 'the only constant is change – and the rate of change is increasing'
New Mexico Museum of Space History - October 20, 2014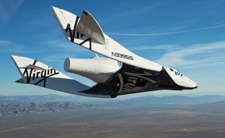 "The New Mexico Museum of Space History and International Space Hall of Fame Foundation are pleased to announce the Induction Class of 2014."
Scientific American - October 4, 2014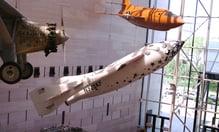 "Looking back on that historic moment 10 years ago, it's clear that the Ansari XPRIZE was a huge victory for the winners, but it is also the success story of XPRIZE Foundation chairman Peter Diamandis and the power of his Steve Jobs-like ability to bend reality to his will."
CNET - October 4, 2014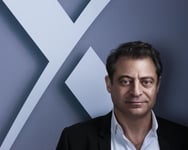 "It was October 4, 2004 that Scaled Composites won the Ansari XPRIZE. 10 years later, what started as one man's quest to get to space has evolved into an international organization for global good."
Inc. Magazine - September 4, 2014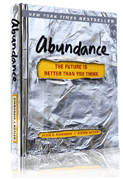 "Nine titles to help you harness our rapidly changing times and technology."
Inc. Magazine - July 14, 2014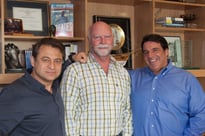 "MYOS Corporation is an emerging biotherapeutics and bionutrition company focused on the discovery, development and commercialization of products that improve muscle health and performance, announced today."
San Francisco Chronicle - July 5, 2014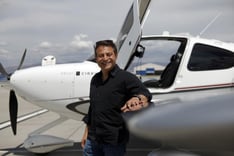 "Peter Diamandis stands at a whiteboard in an empty conference room at Moffett Field and excitedly sketches a diagram of the solar system, with messy lollipop-like dots for Earth, Mars, Jupiter and Saturn. His eyes light up when he draws a certain asteroid known to come close to Earth every few years."
The Irish Times - July 4, 2014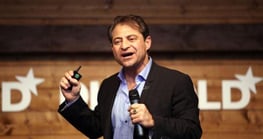 "Dr Peter Diamandis is a man who sees the future in the present. His mission he says is "to open the space frontier for humanity" and he believes it is inevitable that technology will allow us expand beyond Earth, and improve the lives of those left behind."
Bloomberg Businessweek - March 4, 2014
"J. Craig Venter, the man who raced the U.S. government to sequence the first human genome, has a new goal: Help everyone live to 100, in good health."
The National - March 4, 2014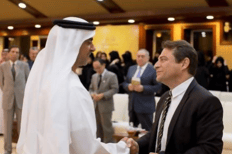 "Dr Peter Diamandis spoke of the remarkable feat at the majlis of Sheikh Mohammed bin Zayed, Crown Prince of Abu Dhabi and Deputy Supreme Commander of the Armed Forces."
Success Magazine - April 2013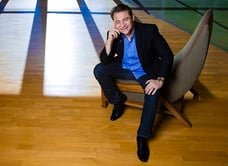 "Whether it's planning to remedy the world's ills or mine asteroids in space, XPRIZE founder and visionary Peter Diamandis thinks positively large."
Think Quarterly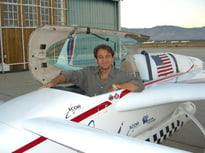 "Peter Diamandis has a dream: To open up Earth's international l frontier to private enterprise. This is the story of how one man kick-started a disruptive new era of space exploration."
Geek Magazine - October 2012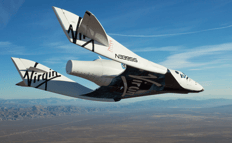 "Peter Diamandis and the XPRIZE foundation are changing the world one multi-million-dollar competition at a time."
Inc. Magazine - October 31, 2012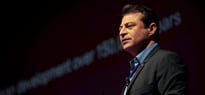 "For entrepreneur Peter Diamandis big is never big enough. Here he talks about what it takes to think on a grand scale."
Inc. Magazine - Spring 2012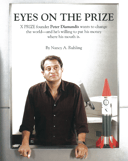 "XPRIZE founder Peter Diamandis wants to change the world and he's willing to put his money where his mouth is."
Popular Mechanics - November 2009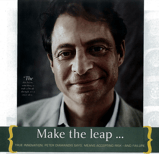 "Make the leap... True innovation, Peter Diamandis says, means accepting risk - and failure."
MSNBC - November 2, 2009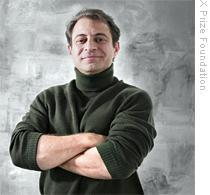 "California-based Masten Space Systems' Xoie rocket prototype has won a million-dollar prize from NASA, edging out its closest competitor by just a couple of feet."
Discover - January 2009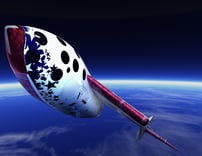 "Peter Diamandis' fascination with the Apollo Space Missions and Charles Lindbergh's 1927 transatlantic flight inspired him to establish the XPrize Foundation, a contest driven catalyst for scientific innovation."
The New York Times - March 2008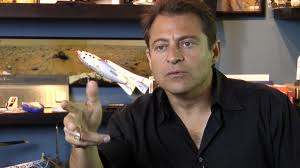 "William Beeson, a graduate student, is researching alternative fuels at the University of California, Berkeley. Some of the lab's work will be pursued by BP. "
Economist.com - March 2007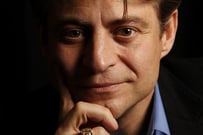 "TYCOONS gathering this weekend at Google's Silicon Valley headquarters will be giving money away, not trying to make more."