10 min read

In this week's Abundance Insider: Bioplastics from algae, livestreaming farmers, and an AR tool that brings any photo to life.
Cheers,
Peter, Marissa, Kelley, Greg, Bri, Jarom, Joseph, Derek, Jason, Claire and Max
P.S. Send any tips to our team by clicking here, and send your friends and family to this link to subscribe to Abundance Insider.
P.P.S. Want to learn more about exponential technologies and hone in on your MTP/ Moonshot? Abundance Digital includes 100+ hours of course work and video archives for entrepreneurs, like you. Keep up to date on exponential news and get feedback on your boldest ideas from an experienced, supportive community. Click here to learn more and sign up.
Magical AR Demo Turns 2D Photos into 'Harry Potter'-Style 3D Animations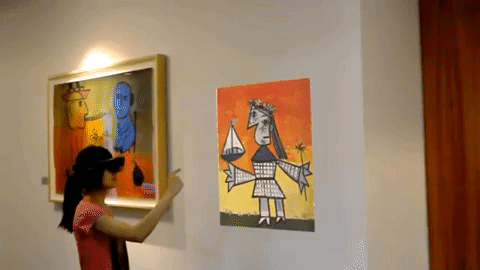 What it is: Researchers at Facebook and the University of Washington have released video of their Photo Wake-Up augmented reality project, which animates stationary characters from any still image. Most current Augmented Reality applications are built for a specific image, like a billboard; this tool can identify a human silhouette, generate a 3D version of the person, and create a realistic animation for the figure to jump off the photo into the real world.
Why it's important: This Augmented Reality tool digitizes and accelerates the speed of computer animation. It enables moving photography and artwork akin to the animated imagery in the Harry Potter movies. Imagine interacting with next-gen immersive advertisements (or art exhibits) where clouds move, cars drive, and animated 3D figures dance around you. | Share on Facebook
Spotted by Marissa Brassfield / Written by Marissa Brassfield
Meet The Latest Spinout of Alphabet's X
What it is: Malta, the latest spinout of Alphabet's moonshot factory X, has announced a $26 million funding round led by Breakthrough Energy Ventures. The pumped thermal energy storage system uses vats of molten salt and a liquid that acts like antifreeze. Malta uses common, inexpensive materials, and can store energy for weeks.
Why it's important: Large-scale energy storage is traditionally cost-prohibitive, or tied to either renewable or traditional electricity sources. "Malta has the potential to make existing capital investments in both fossil and renewable generation more productive while dramatically improving power grid stability and resilience," the company writes in a press release. At scale, solutions like Malta could enable true energy abundance. | Share on Facebook
Spotted by Derek Dolin / Written by Marissa Brassfield
Some Of The Biggest Livestreamers In China Are Not Teenagers, But Farmers
What it is: Over 100,000 farmers across China have taken to livestreaming on e-commerce sites and other platforms, like KuaiShou. Promoting everything from produce to personality to lifestyle quirks, many have attracted massive fan followings and lucrative salaries in the process. Well after Alibaba's e-commerce platform Taobao launched livestreaming on its app in 2016, the Chinese tech giant has now announced a new program that plans to incubate around 1,000 farmer livestreamers. Aside from reaching new urban customers from China's poorer, rural regions, most popular farmer livestreamers even receive 'virtual gifts' (representing real money) from viewers, in some cases earning up to an aggregate of $140,000 per month.
Why it's important: While livestreaming poses a competitive and image-centric landscape for some, it has also seen the emergence of honest human engagement transcending boundaries of wealth, work and land. Some tune in to learn about produce, and others — such as is the case with livestreamer Liu Mama — seek to connect with the more genuinely portrayed lives of streamers communicating authentic opinions, improvised skits and unedited life snippets. And the numbers speak for themselves: nearly 350 million Chinese online users have tried live-streaming apps, as the market continues to grow 180 percent year-on-year, from a $3B livestream market in 2016. As our ability to share and listen grows ever more democratized, what new voices might we tune into? | Share on Facebook
Spotted by Marissa Brassfield / Written by Claire Adair
Microorganisms That Eat Seaweed Can Create Biodegradable Plastic
What it is: Tel Aviv University researchers have engineered a biopolymer derived from seaweed-eating microorganisms. The biodegradable bioplastic (specifically, polyhydroxyalkanoate, or PHA) can be recycled into organic products which, in turn, can easily be reprocessed into useful polymers. The raw materials into the production of this polymer were (1) multicellular seaweed and (2) single-celled microorganisms that ate the seaweed, outputting a polymer suitable for making bioplastics.
Why it's important: Bioplastics don't use petroleum, which requires energy and intensive processes to obtain; instead, they use readily accessible biocarbon sources. Bioplastics typically require land and fresh water resources to cultivate the biocarbon source. Harvesting marine microorganisms as the biocarbon source opens a massive new opportunity for countries with limited freshwater and land resources (e.g. Israel) to transition to the more sustainable plastic class of bioplastics. | Share on Facebook
Spotted by Marissa Brassfield / Written by Max Goldberg
What is Abundance Insider?
This email is a briefing of the week's most compelling, abundance-enabling tech developments, curated by Marissa Brassfield in preparation for Abundance 360. Read more about A360 below.
Want more conversations like this?
At Abundance 360, Peter's 360-person executive mastermind, we teach the metatrends, implications and unfair advantages for entrepreneurs enabled by breakthroughs like those featured above. We're looking for CEOs and entrepreneurs who want to change the world. The program is highly selective. If you'd like to be considered, apply here.
Abundance Digital is Peter's online educational portal and community of abundance-minded entrepreneurs. You'll find weekly video updates from Peter, a curated newsfeed of exponential news, and a place to share your bold ideas. Click here to learn more and sign up.
Know someone who would benefit from getting Abundance Insider? Send them to this link to sign up.
P.S. I've just released a podcast with my dear friend Dan Sullivan called Exponential Wisdom. Our conversations focus on the exponential technologies creating abundance, the human-technology collaboration, and entrepreneurship. Head here to listen and subscribe.