10 min read

In this week's Abundance Insider: A 3D bioprinter goes to space, this year's World Economic Forum Technology Pioneers, and an AI that can simulate the universe.
P.S. Send any tips to our team by clicking here, and send your friends and family to this link to subscribe to Abundance Insider.
P.P.S. Want to learn more about exponential technologies and hone in on your MTP/ Moonshot? Abundance Digital, a Singularity University Program, includes 100+ hours of coursework and video archives for entrepreneurs, like you. Keep up to date on exponential news and get feedback on your boldest ideas from an experienced, supportive community. Click here to learn more and sign up.
Happy July 4th weekend to our U.S. readers!
A BFF In Space! Bioprinter Will 3D-Print Human Tissue On The Space Station
What it is: Just this month, a new bioprinter will be launched aboard a SpaceX cargo mission, bound for the International Space Station (ISS). Dubbed the 3D BioFabrication Facility (or BFF), the 3D printer will initially use human cells and adult tissue-derived proteins (amino acid chains) as its source material for viable tissue. Eventually, BFF is intended to pave the way for spacefaring 3D printers that can create entire human organs for use on Earth and, perhaps, beyond. For now, BFF's next planned phase will involve manufacturing heart patches in space for performance evaluation in small animals on Earth.
Why it's important: It might seem laughably expensive to bioprint human tissue in space just so that it can be put to use back on Earth. However, tissues produced on Earth typically collapse under their own weight as a result of our planet's gravitational pull, rendering them unusable. In microgravity, on the other hand, 3D-printed tissues can remain highly stable, growing far stronger in a cell-culturing system than they would if Earthbound. As microgravity conditions enable BFF and its future iterations to generate healthy tissue in space, today's severe shortage of donor organs might soon give way to an abundance of personalized, printed ones. While still years away, assembling fully functional human organs is now a dream within reach. | Share on Facebook
Machine Learning Has Been Used To Automatically Translate Long-Lost Languages
What it is: Researchers from MIT and Google's AI Lab have now developed a machine learning system capable of deciphering lost languages. While machine translation between even obscure languages has been commonplace for some time, accurate output typically requires massive, annotated data sets. By instead targeting the ways in which languages evolve, however, the team has achieved successful translations using far less data. To do so, the researchers applied a constraint to their translation system, setting "rules" by which languages change over time (such as the order of characters). Provided an earlier progenitor language is known, the system can then decipher a successor language without annotated data. When applied to the long-lost language of Linear B (which encodes an early version of ancient Greek), for instance, the team's translation system achieved 67.8 percent accuracy.
Why it's important: This new machine translation approach marks a major victory on two fronts. Helping us decipher and restore long-lost languages with decimated data requirements, the team's system could one day give way to a universal translator, à la Star Trek. Within the humanities, however, this development could be invaluable in helping us quantify and better understand our own communication methods and the way language maps our complex psychology. By addressing the evolution and methodology of our scripts, this Artificial Intelligence solution is now empowering us to read between the lines and even better glimpse our own humanity. | Share on Facebook
New Analysis Techniques Unearth a Trove of Unusual Minerals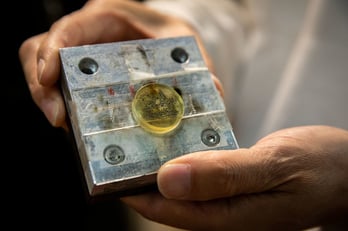 What it is: Rapid advances in imaging technology have given rise to a boom in new mineral discovery, enabling researchers to log previously unidentified minerals at an unprecedented rate. According to a database affiliated with the International Mineral Association, over 100 new minerals have been reported every year since 2009, on average. To offer perspective: of the 5,477 known minerals, more than 1,000 were discovered in the past decade alone. Much of this increase can be credited to technologies that enable observation of increasingly small specimens. As seen in some cases, today's pure mineral chunks can be as miniscule as 50 microns wide and still be studied by new techniques such as x-ray Laue microdiffraction.
Why it's important: Not only are exponential technologies enabling the creation of countless new synthetic materials, but they are helping us unearth an abundance of naturally occurring minerals long hidden from view. As exclaimed by geologist Isabel Barton, "There are, gosh, nearly an uncountable number of possible combinations of elements, in a variety of different structures [...] We've barely scratched the surface at this point." The age of Earth minerals discovery is far from over; quite the contrary, it is only speeding up. | Share on Facebook
Physicists Use Light Waves To Accelerate Supercurrents, Enable Ultrafast Quantum Computing
What it is: Led by physics and astronomy professor Jigang Wang, a research team has just discovered that light waves can be used to tune some of the quantum properties of superconducting states. Superconductivity is the movement of electricity without resistance, which most typically occurs at extremely low temperatures (below -400 degrees Fahrenheit for "high-temperature" superconductors, for instance). Using terahertz light, the researchers have shown that such high-frequency light can control properties like macroscopic supercurrent flowing, and access high-frequency quantum oscillations once thought forbidden by symmetry.
Why it's important: As the researchers note, terahertz light-wave tuning of supercurrents is a universal tool, "key [to] pushing quantum functionalities to reach their ultimate limits in many cross-cutting disciplines." Applications range from new sensors, quantum computing, modeling, and communications. More fundamentally, this discovery unlocks the possibility of controlled quantum manipulation with potentially far less energy required. As we edge ever closer to quantum supremacy, new tooling could soon extend the benefits of quantum control to use cases beyond supercomputers and modeling. What opportunities might this create? | Share on Facebook
AI And Machine Learning Dominate World Economic Forum's List Of 2019 Technology Pioneers
What it is: Early this week, the World Economic Forum (WEF) announced its selection of 56 Technology Pioneers, targeting everything from natural disasters and cybersecurity to smart cities and the legal system. A true testament to AI's applicability in any industry, at least 20 of the WEF's Technology Pioneers heavily employ AI or machine learning.
Highlighted Pioneers: While Bright Machines applies machine learning and computer vision to newly intelligent manufacturing facilities, ImpactVision leverages Artificial Intelligence in food supply chains, using hyper-spectral imaging technology to improve food quality and reduce waste. Democratizing medicine, DabaDoc connects millions of patients with doctors across Africa, employing machine learning in health education alongside its telehealth initiative. Addressing mental health, 7 Cups uses adaptive machine learning for smartphone-based emotional support, while Holmusk works to build today's largest real-world evidence (RWE) platform to research and reform best practices. Or take the legal realm: on the back end, Luminance Technologies utilizes machine learning for legal language understanding, while Marinus Analytics uses AI to guide law enforcement in better protecting our most vulnerable community members. Showcased by this range of pioneers, AI can empower any firm with acute perception and smarter decisions. | Share on Facebook
World's First AI Universe Simulator Knows Things It Shouldn't
What it is: A team of international research scientists has created an AI system capable of constructing three-dimensional simulations of the universe. Dubbed the Deep Density Displacement Model (D3M), the technology was originally developed to model the ways in which gravity has shaped our universe. In a groundbreaking feat, D3M produced its own simulated model of a cube universe 600 million light-years across in a mere 30 milliseconds. Even more notable, however, D3M demonstrated the ability to create simulations within parameters on which it was not even trained. As explained by researcher Shirley Ho, "It's like teaching image recognition software with lots of pictures of cats and dogs, but then it's able to recognize elephants."
Why it's important: The monumental impact of D3M is two-fold: holding scientific significance in its understanding of our universe's evolution, and technological import through the "learning capability" of its AI. Given its grasp of gravity's role in shaping the universe, D3M could help chart numerous discoveries regarding the origins of our universe through sheer simulation. In the software realm, D3M's ability to learn outside of a granted training set loosely resembles the human ability to make inferences, indirect connections, and extrapolate across disciplines. As AI grows increasingly independent in learning capacity and decision-making, this exponential technology could play ever more consequential roles across business, healthcare, policy, and now, space exploration. | Share on Facebook
What is Abundance Insider?
This email is a briefing of the week's most compelling, abundance-enabling tech developments, curated by my team of entrepreneurs and technology scouts, including contributions from standout technology experts and innovators.
Want more conversations like this?
At Abundance 360, a Singularity University program, we teach the metatrends, implications and unfair advantages for entrepreneurs enabled by breakthroughs like those featured above. We're looking for CEOs and entrepreneurs who want to change the world. The program is highly selective. If you'd like to be considered, apply here.
Abundance Digital, a Singularity University program, is an online educational portal and community of abundance-minded entrepreneurs. You'll find weekly video updates from Peter, a curated newsfeed of exponential news, and a place to share your bold ideas. Click here to learn more and sign up.
Know someone who would benefit from receiving Abundance Insider? Send them to this link to sign up.