13 min read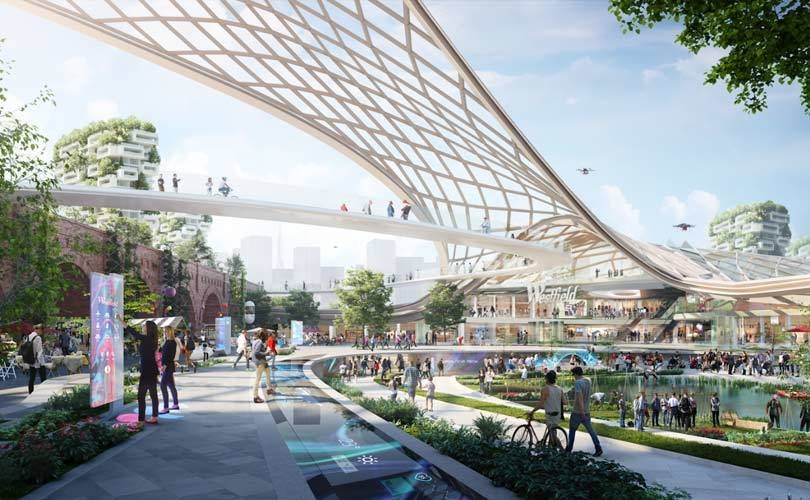 In this week's Abundance Insider: Uber's flying car prototype, the world's most powerful supercomputer, and Westfield's vision of future malls.
Cheers,
Peter, Marissa, Kelley, Greg, AJ, Bri, Jarom, Jason, Claire and Max
P.S. Send any tips to our team by clicking here, and send your friends and family to this link to subscribe to Abundance Insider.
What it is: At its recent Elevate Summit, Uber unveiled more specific plans for its UberAIR airborne taxi project, which it is developing in partnership with NASA. By 2023, the company anticipates rolling out flying drones in Los Angeles and Dallas. The drones will take off from rooftop skyports, carrying passengers at a height of 1,000 to 2,000 feet at speeds between 100 to 200 mph, producing less noise than a regular helicopter. Taxis will carry four passengers, and the rooftop skyports will be able to handle 200 takeoffs per hour. The cost per ride is anticipated to be about the same as an Uber Black based on mileage; shortly thereafter, prices will drop to an UberX level.
Why it's important: Flying taxis seen inevitable, with Uber competing against Airbus and Alphabet and viable business models now taking shape. How will this change traffic patterns, urban planning and daily commutes? Share on Facebook
Spotted by Claire Adair / Written by Jason Goodwin
What it is: Summit, a new supercomputer unveiled by the U.S. Department of Energy's Oak Ridge National Laboratory, is now the most powerful supercomputer on the planet -- 60 percent faster than its former title-holder, China's Sunway TaihuLight. Boasting a peak computing power of 200 quadrillion calculations per second, Summit is about a million times faster than the average laptop, filling about 2 tennis courts in size and weighing more than a commercial aircraft. Aimed at enabling applications of machine learning, Summit is geared with 28,000 AI-optimized Nvidia chips and 9,000 IBM conventional processors.
Why it's important: One of the key drivers (or constraints) of what deep neural networks can do is the sheer computing power at AI's disposal. Facebook disclosed, for instance, that an AI experiment using billions of Instagram photos required hundreds of graphics chips for nearly a month. With 28,000 AI-optimized Nvidia chips and over 9,000 conventional IBM processors, Summit could soon enable major breakthroughs in the deployment of machine learning. Targeting some of today's most challenging problems, Summit's computing power could be brought to bear on neural nets' application to everything from drug discovery and human genome analysis to space exploration and energy innovation. Share on Facebook
Spotted by Claire Adair and Eben Pagan / Written by Claire Adair
What it is: Westfield shopping center group has unveiled its concept 'Destination 2028' -- a 10-year vision for the future of retail. Replete with hanging sensory gardens, smart changing rooms, and mindfulness workshops, Westfield's envisioned shopping center would be a "hyper-connected micro-city" of sorts. Smart bathrooms would give you personalized nutritional and hydration tips; eye scanners and AI could personalize shopping fast-lanes based on what you last bought; and magic mirrors would offer you virtual reflections of yourself wearing any range of new products.
Why it's important: Westfield's designs for such high-tech 'micro-cities' could unlock vast new potential for retail over the next decade -- combining entertainment, wellness, learning, and personalized product-matching to meet consumers' evolving demands and imaginations. By expanding into digitally connected ecosystems, entertainment, and classroom retail (where consumers learn new skills and grow their communities), Westfield's 'Destination 2028' would create a thriving convergence of industries, where virtual meets physical, and shopping becomes part of the broader experience economy. Share on Facebook
Spotted by Morgan McDermott / Written by Claire Adair
What it is: Dina Katabi at MIT has designed a way to track human movement through walls without the need for additional sensors. By training an algorithm with visual and radio signal feedback, the system successfully generated stick figures and tracked location and movement while fully occluded. Anticipated use cases include being able to understand whether people are in distress, such as with the sick or elderly, but also extend to surveillance.
Why it's important: By training the AI system with a combination of data types -- in this case, radio frequencies and the visual field -- we see a big improvement in the ability of the system to perform, even when one data type is absent. What other breakthroughs might come via combining and analyzing diverse datasets? Share on Facebook
Spotted by Marissa Brassfield / Written by Jason Goodwin
What it is: Google is opening an AI research center in Ghana to meet the growing interest in machine learning on the continent. The research center is slated to open later this year in Accra, Ghana and will collaborate closely with local African Universities.
Why it's important: As we rapidly approach universal connectivity of all 8 billion people on Earth, we're seeing new markets and tech ecosystems take shape across the globe. As people in Africa and other previously isolated countries come online, they are coming online with 5G Internet, and join a well-established global Internet economy. Projects and institutions in recently connected places will enable an entirely new wave of entrepreneurs to drive the world economy by leveraging exponential technologies. Share on Facebook
Spotted by Marissa Brassfield / Written by Max Goldberg
What it is: Despite the recent cryptocurrency market correction, billionaire institutional investor (and A360 2018 speaker) Mike Novogratz predicts that the cryptocurrency market will reach $20 trillion as institutional investors across the globe enter the market.
Why it's important: As leading bullish institutional investors take cryptocurrency seriously, and they start to invest heavily, other institutional investors will follow. What's fascinating about the current cryptocurrency market is that the demographic of participants is global -- in contrast to the dot-com-boom and bubble in 1999, when participation was only in the United States. $20 trillion is a tremendous number -- 20x the maximum market valuation of $900 billion in January 2018. Will a strong global community, rapidly evolving underlying technology, and the introduction of institutional investors drive the market to 20X its previous maximum value? Share on Facebook
Spotted by Claire Adair / Written by Max Goldberg
What is Abundance Insider?
This email is a briefing of the week's most compelling, abundance-enabling tech developments, curated by Marissa Brassfield in preparation for Abundance 360. Read more about A360 below.
Want more conversations like this?
At Abundance 360, Peter's 360-person executive mastermind, we teach the metatrends, implications and unfair advantages for entrepreneurs enabled by breakthroughs like those featured above. We're looking for CEOs and entrepreneurs who want to change the world. The program is highly selective. If you'd like to be considered, apply here.
Know someone who would benefit from getting Abundance Insider? Send them to this link to sign up.