13 min read

In this week's Abundance Insider: AI-generated portraits, road-legal driverless deliveries, and drone-delivered vaccines.
Cheers,
Peter, Marissa, Kelley, Greg, Bri, Jarom, Joseph, Derek, Jason, Claire and Max
P.S. Send any tips to our team by clicking here, and send your friends and family to this link to subscribe to Abundance Insider.
P.P.S. Want to learn more about exponential technologies and hone in on your MTP/ Moonshot? Abundance Digital includes 100+ hours of course work and video archives for entrepreneurs, like you. Keep up to date on exponential news and get feedback on your boldest ideas from an experienced, supportive community. Click here to learn more and sign up.
Kroger-Owned Grocery Store Begins Fully Driverless Deliveries
What it is: Nuro, the autonomous vehicle startup we featured in July, has moved forward on their partnership with grocery giant Kroger to begin delivering groceries from a Fry's store in Scottsdale, Arizona. Nuro has been developing a fully autonomous and driverless car, but has made over 1,000 deliveries with Toyota Prius vehicles and a safety driver behind the wheel. Founded by two former members of Google's autonomous vehicle division, Nuro will start with a limited yet commercially viable service using substantially lighter vehicles that top out at 25 miles per hour.
Why it's important: The infrastructure for autonomous vehicles is rapidly democratizing, from AI technology to smart sensors and soon 5G connectivity. This enables more companies like Nuro or Otto to enter the space, with many of them targeting very specific needs and niches. Autonomous transportation is becoming an inevitability. What are you doing today to prepare for an autonomous future? | Share on Facebook
Spotted by Marissa Brassfield / Written by Jason Goodwin
Ingestible Capsule Can Be Controlled Wirelessly
What it is: Researchers from MIT, Draper, and Brigham and Women's Hospital have just published the design of a Bluetooth-controllable ingestible capsule that can live in your stomach for over a month. Previously, this team had designed a folded, six-armed, star-shaped capsule that, once swallowed, could unfold and lodge itself in a patient's stomach, gradually releasing any number of packaged drugs within the arms' compartments. After further customization, the 3D-printed capsule can now be built of alternating polymer layers, seamlessly incorporating everything from vital sign-detecting sensors to temperature monitors that relay data directly to a nearby smartphone.
Why it's important: While still a few years away from human testing or medical deployment, these devices hold tremendous potential to disrupt diagnostics, preventive medicine and a centibillion-dollar medical devices market. Capable of customized and gradual drug delivery, ingestible sensor-laden capsules could one day monitor everything from one's breathing rate to early signs of disease or infection in immunosuppressed patients. Connected via Bluetooth, drug-containing capsule compartments could be triggered from your smartphone to release antibiotics on demand. Longer-term, imagine stomach-dwelling capsules that detect and fight off a slew of infections, independent of our intervention. | Share on Facebook
Spotted by Marissa Brassfield / Written by Claire Adair
NVIDIA Creates Artificial Intelligence That Generates Realistic Portraits Of Fake People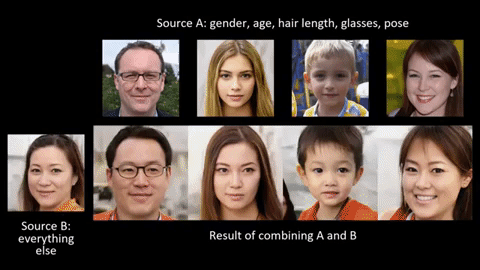 What it is: This week, artificial intelligence researchers at NVIDIA released a paper and accompanying video describing a major advance in deep learning systems for generating fake portraits of humans and everyday settings and objects. Even with the impressive results of previous systems, researchers still do not understand exactly how they work; as the NVIDIA team puts it, "The generators continue to operate as black boxes." For example, researchers cannot determine how these systems generate stochastic (naturally random) features, like freckles. This NVIDIA system implements several cutting-edge methods in so called 'styles.' Essentially, they partition different parts of the picture into categories based on their level of detail. These methods, in turn, helped the researchers better understand these generative systems, while producing "a highly varied and high-quality dataset of human faces."
Why it's important: From deepfake presidential videos to these highly detailed fake portraits, 2018 has been a year of breakthrough technology in photorealistic artificial intelligence. This nascent technology is improving at an exponential rate. What are the implications for future elections, entertainment, advertising, and even our personal lives? | Share on Facebook
Spotted by Marissa Brassfield / Written by Max Goldberg
A Child Was Immunized By The World's First Drone-Delivered Vaccine
What it is: UNICEF, in partnership with the island nation of Vanatu and startups Swoop Aero and WingCopter, successfully delivered the first vaccines by drone to 13 people and five pregnant women earlier this week. Vanatu is comprised of over 80 mountainous islands in the South Pacific with limited roads, making access to healthcare and critical vaccines a major challenge. To maintain temperature control, the vaccines were carried in a styrofoam container filled with ice packs and a data logger to ensure the temperature remained within the acceptable range.
Why it's important: As with last week's announcement of a Canadian partnership to deliver supplies on Moose Island, this demonstrates the problem-solving power of exponential technologies like drones and sensors when applied in areas where they can make an immediate, tangible impact. Look for more of these opportunities to arise as momentum builds and the cost of implementation declines. | Share on Facebook
Spotted by Marissa Brassfield / Written by Jason Goodwin
At Least 15 Central Banks Are Serious About Getting Into Digital Currency
What it is: A report by the International Monetary Fund found that at least 15 central banks around the world are pouring resources into investigating switching over to digital currencies. Notable countries partaking in these efforts include Canada, China, Ecuador, Sweden and Norway.
Why it's important: As Peter described in his Future of Finance blog series, digital currencies are the future of our financial systems. The cryptocurrency craze of 2017 was a part of the hype cycle. After the 'Trough of Disillusionment' comes the fruitful 'Slope of Enlightenment,' the onset of which is evident from the serious investigations by highly credible world players. Digital currencies powered by high-performance computing and blockchain infrastructure are transformative. What new wealth abundance will these digital currencies bring to the banked and unbanked across the globe? | Share on Facebook
Spotted by Marissa Brassfield / Written by Max Goldberg
VW's Robo-Cars Get A Boost From Luminar's Lidar
What it is: Aiming to put fully autonomous vehicles on city roads by 2021, Volkswagen has just announced a major partnership with lidar manufacturer Luminar. Currently running a Munich-based fleet of about 12 E-golfs — each mounted with two Luminar lidars — VW's Autonomous Intelligent Driving (AID) division has been testing how quickly this technology can generate 3D models of a given vehicle's surroundings. Each lidar uses millions of laser points per second to generate a 120-degree view. With each pulse fired at a 1550-nanometer wavelength, Luminar's technology can provide high-resolution perception at nearly 250 meters' distance.
Why it's important: In the global undertaking to build out SAE level 5 automation, resolution and range of perception are two key barriers, and thereby linchpins, for the self-driving vehicle era. Currently, short-range lidar requires VW to constrain its Traffic Jam autopilot software to a 37 mph limit. Without a greater range of view, higher speeds might offer too little time to spot obstacles, pedestrians, or collision risks ahead, and low resolution can result in fatal object misidentification. However, as VW brings Luminar's lidars on board, amortizing their cost by assembling a robo-car taxi fleet, these barriers are quickly getting kicked to the curb. | Share on Facebook
Spotted by Marissa Brassfield / Written by Claire Adair
What is Abundance Insider?
This email is a briefing of the week's most compelling, abundance-enabling tech developments, curated by Marissa Brassfield in preparation for Abundance 360. Read more about A360 below.
Want more conversations like this?
At Abundance 360, Peter's 360-person executive mastermind, we teach the metatrends, implications and unfair advantages for entrepreneurs enabled by breakthroughs like those featured above. We're looking for CEOs and entrepreneurs who want to change the world. The program is highly selective. If you'd like to be considered, apply here.
Abundance Digital is Peter's online educational portal and community of abundance-minded entrepreneurs. You'll find weekly video updates from Peter, a curated newsfeed of exponential news, and a place to share your bold ideas. Click here to learn more and sign up.
Know someone who would benefit from getting Abundance Insider? Send them to this link to sign up.