8 min read

In this week's Abundance Insider: AI-induced super resolution, robotic safety inspectors, and Lamborghini's inroads in 3D printing.
P.S. Send any tips to our team by clicking here, and send your friends and family to this link to subscribe to Abundance Insider.
P.P.S. Want to learn more about exponential technologies and home in on your MTP/ Moonshot? Abundance Digital, a Singularity University Program, includes 100+ hours of coursework and video archives for entrepreneurs like you. Keep up to date on exponential news and get feedback on your boldest ideas from an experienced, supportive community. Click here to learn more and sign up.
P.P.P.S. Want a chance to read Peter's upcoming book before anyone else? Join the Future is Faster Than You Think launch team (applications close on December 6th)! Get an advanced digital copy, access to our private Facebook group, behind the scenes specials, a live Q&A with Peter and Steven, and hundreds of dollars in exclusive bonuses. Click here for details.
Share Abundance Insider on LinkedIn | Facebook | Twitter.
It's Not You. Clothing Sizes Are Broken.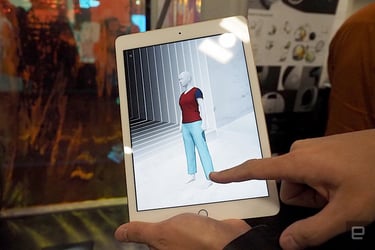 What it is: Size and fit are two of the leading reasons for online returns, according to e-commerce software company Narvar Inc., translating to costs that further reduce retailers' already slim profit margins. From 3D body-scanning apps like MTailer and My Size, to startup Shima Seiki's machines that knit garments with less than 1% variation, a plethora of companies has recently emerged to combat the issue of inconsistent sizing. Women's sizes in the U.S. range from 00 to 18, yet there are no standardized body metrics across these sizes. This type of variation is not represented in online sizing guides, and few explain the stretch or texture of the fabric, which may also affect fit. Solutions like those offered by True Fit Corp.—which uses a data platform and AI-driven personalized recommendation engine to help consumers find their right size and taste-tailored items—are growing in demand from major retailers. Others, like RedThread, use 3D mobile body scanning and tailoring algorithms to best determine fit.
Why it's important: Some executives, like Levi Strauss & Co.'s CEO Chip Bergh, believe sizes will become obsolete in the next decade. Smartphone-conducted body scans will offer precise measurements that automatically populate online retail platforms. From there, fits can be matched with existing designs or tailored with programmed sewing machines. Offering an even more personalized fit, 3D-printed garments are also on the rise, changing the economics of mass manufacturing. As retail sales continue to migrate to online platforms, virtual try-on software is slated to decimate returns—now a major pain point for both the retailer and the consumer. Yet the convergence of these technologies will not only cut costs, but will also dramatically reduce the environmental toll of shipping, packaging, and textile waste.
AI super resolution lets you "zoom and enhance" in Pixelmator Pro.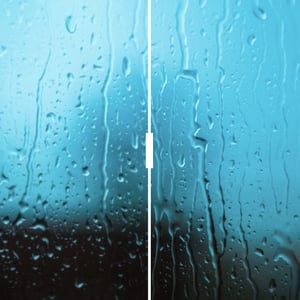 What it is: For just $60, Pixelmator is making the "zoom and enhance" trope seen in movies (the ability to zoom into images and retain sharpness) a reality. Using AI algorithms, Pixelmator's "ML Super Resolution" is a novel function that allows users to scale an image up to 3X its original resolution without pixelation or blurriness. Similar to Google's and Nvidia's algorithms, Pixelmator's software is trained on a dataset containing pairs of low-resolution and high-resolution images and thereby generates rules for how the pixels change from image to image. Pixelmator, however, is about 50 times smaller (than its Google and Nvidia counterparts) at just 5MB, which is lightweight enough to run on a device and needs merely 15,000 sample images to create the tool.
Why it's important: In just the past 12 months, we've seen an explosion in AI and machine learning tool sets newly democratized for accessible consumer use. Yet many have required significant computing resources for top performance. Now, however, products like Pixelmator's "ML Super Resolution" have achieved powerful algorithms trained on significantly lighter data sets that require far less memory and power. Particularly in the art and imaging realm, the availability of such algorithms to end users will lower the barrier for artists, filmmakers, and small firms in everything from design to marketing.
Lamborghini places emphasis on additive manufacturing, extends partnership with Carbon.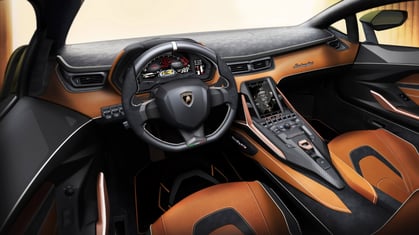 What it is: 3D printing company Carbon has just expanded its partnership with Lamborghini. Famous for its Digital Light Synthesis (DLS) technology—which prints components using a photochemical process leveraging oxygen and light—Carbon plans to use DLS to manufacture the dashboard air vents for Lamborghini's first hybrid production car, the Sián FKP 37. This development follows Carbon's earlier work in partnership with the car maker, whereby it produced textured fuel caps and air duct clips for the Urus Super Vehicles. Successful in reducing Lamborghini's production time to just 12 weeks, Carbon's DLS can produce geometric shapes that are extraordinarily difficult to mold using traditional processes, which often include multiple iterations on the design.
Why it's important: 3D printing is transforming the manufacturing industry (literally) from the bottom-up, whether in production of minute, customized and complex automotive parts to rocket engine parts and organ tissues. We're rapidly entering an era of programmable production, allowing for far cheaper, more versatile, and quickly prototyped goods. As 3D printing technologies move from deceptive to disruptive, what potential uses might you experiment with in your own business?
Building robotic safety inspectors nabs Gecko Robotics $40 million.
What it is: Pittsburgh-based Gecko Robotics has just landed US$40 million in additional financing, which it will use to add an additional 40 robots to its 60-bot fleet, helping meet demand for the company's safety and infrastructure monitoring services. Gecko's wall-climbing robots perform non-destructive testing on industrial machinery like tanks and boilers, assessing metrics like wall thickness, cracking, and pitting. Gecko's robots can even predictively detect other issues likely to result in downtime or more serious hazards, such as explosions and emissions leaks.
Why it's important: While much of today's public debate on application of robotics centers around the replacement of human labor, one emerging phenomenon in the industry involves preventative, automated approaches to safety and compliance use cases. In many of these cases, robotics and software services like that of Gecko are augmenting human experts' capabilities by granting them new data, which would otherwise be extremely difficult or hazardous to collect manually. Increasingly a collaborator for human practitioners, robotics and artificial intelligence are beginning to tackle industrial monitoring tasks that have never before been possible, preventing infrastructural and machinery damage before it occurs.
How artificial intelligence is making health care more human.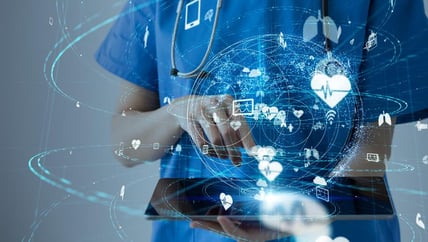 What it is: MIT Technology Review Insights, in association with GE Healthcare, recently released survey results of over 900 healthcare professionals, revealing the ways in which artificial intelligence in healthcare is already being used. Nearly 80% of respondents are set to increase their budgets on AI applications in 2020. And today, the key areas in which AI is already being deployed include: (1) AI for patient flow optimization; (2) medical imaging and diagnostics; (3) automation of electronic health records via natural language processing tools; (4) AI for predictive analytics; and (5) patient data and risk analytics. In terms of outcomes, 78% of medical staffers report that AI deployments have already improved workflows, reducing time spent on mundane administrative tasks and thus unlocking more time for procedures and patient interactions. Even more importantly, use of artificial intelligence technology is reducing clinical errors, and 75% of AI-using medical staff agree that the technology has bettered predictions in disease treatment.
Why it's important: AI is transforming the healthcare system as we know it, touching everything from diagnostics to drug discovery. In the wake of "smart" patient scheduling tools, even the number of patients seen by doctors per day has been maximized. And AI is even helping optimize outcomes of the appointments themselves. Medical professionals typically spend 10% of their workweek taking notes or updating electronic health records. As AI begins to systematize these repetitive tasks, doctors are freed to dedicate more time to procedures and patient relations. Applying AI algorithms to medical imaging has also already improved clinical decision-making. For reference, surveyed doctors who have yet to adopt AI report clinical error as their key challenge two-thirds of the time (more than double the figure for those who have adopted AI tools). Moving forward, doctors and healthcare workers must continue to collaborate with machines, leveraging comprehensive pools of AI-mediated data to make important medical decisions. An invaluable new collaborator, AI is helping doctors and clinicians focus on what they do best, helping humanize the healthcare industry and improve the patient experience.
Want more conversations like this?
Abundance 360 is a curated global community of 360 entrepreneurs, executives, and investors committed to understanding and leveraging exponential technologies to transform their businesses. A 3-day mastermind at the start of each year gives members information, insights and implementation tools to learn what technologies are going from deceptive to disruptive and are converging to create new business opportunities. To learn more and apply, visit A360.com.
Abundance Digital, a Singularity University program, is an online educational portal and community of abundance-minded entrepreneurs. You'll find weekly video updates from Peter, a curated news feed of exponential news, and a place to share your bold ideas. Click here to learn more and sign up.
Know someone who would benefit from getting Abundance Insider? Send them to this link to sign up.
(*Both Abundance 360 and Abundance Digital are Singularity University programs.)