9 min read

In this week's Abundance Insider: New bio-inspired soft robotics, Samsung's lifelike digital avatars, and this week's CES highlights!
P.S. Send any tips to our team by clicking here, and send your friends and family to this link to subscribe to Abundance Insider.
P.P.S. Want to learn more about exponential technologies and home in on your MTP/ Moonshot? Abundance Digital, a Singularity University Program, includes 100+ hours of coursework and video archives for entrepreneurs like you. Keep up to date on exponential news and get feedback on your boldest ideas from an experienced, supportive community. Click here to learn more and sign up.
P.P.P.S. Join me, Ray Kurzweil, and my co-author Steven Kotler for a special, intimate book launch event on February 7th, 2020 at Singularity University's Silicon Valley campus. This one-day conversation will tackle how converging exponential technologies are transforming every industry on Earth. Participants will receive 100 book copies of The Future is Faster Than You Think (included in the ticket price)—50 for your own use (to be distributed across your company, and among friends and family) and 50 to be donated to students across the country. Click here to register.
Share Abundance Insider on Facebook | Twitter | LinkedIn.
Samsung's 'artificial human' project definitely looks like a digital avatar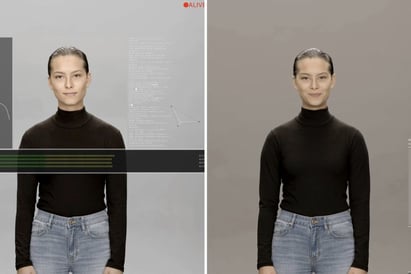 What it is: Neon, a project emerging from Samsung Technology and Advanced Research (STAR) Labs, presented its hyper-realistic digital humans at CES on Monday. These Neon digital avatars are designed not as AI assistants connected to the cloud, but rather as chatbots that can learn, emote, and retain memories, just as living humans would. Led by computer-human interaction researcher Pranav Mistry, Neon relies on two pieces of proprietary technology: (1) Core R3 (which stands for "reality, realtime, and responsive") consists of advanced behavioral neural networks and evolutionary generative intelligence that allow Neon to respond to queries in less than a few milliseconds; and (2) Spectra is responsible for the human-like emotions, intelligence, and memories of the chatbots, although this underlying technology is less developed. Samsung plans to beta-launch Neon bots with partners around the globe later this year.
Why it's important: Neon humans will not be answering your questions about the weather or traffic routes. These human-like digital bots are meant to respond to your queries in the same way a human would— without limitless connection to the internet, yet with learned expertise in a particular area. This next generation of digital avatars, once fully capable of speaking and behaving similarly to humans, will transform our relationships to our screens and with one another. The company plans to license or offer Neon subscriptions that individuals can go to for expert help, from financial advice to healthcare assistance. Neon avatars will even make their way onto TV screens, from the news to the Academy Awards stage. Prepare for a future in which digital and alive may be indistinguishable.
CES 2020: Panasonic Unveils World's First Ultra HD VR Eyeglasses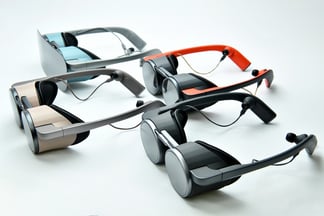 What it is: Japanese electronics corporation Panasonic unveiled the world's first high dynamic range (HDR) ultra high-definition VR eyeglasses this week at the Consumer Electronics Show (CES). Building upon its success with Blu-Ray Disc Players, televisions, audio systems, and digital cameras, Panasonic is now emerging as a leader in the Virtual Reality space. Created in collaboration with manufacturer Kopin Corporation, the glasses are lightweight and less obstructive than ever before, making them considerably more comfortable for wearers. While many Virtual Reality experiences involve the "screen door effect"—whereby pixel barriers are visible to the viewer—Panasonic's product promises a seamless 3D visual using an Organic LED (OLED) panel. As 5G takes hold across the globe, HDR resolution will become readily available in these glasses (and their future iterations), along with top-notch audio to complete the experience.
Why it's important: Impressive 3D visuals that require minimal hardware will unlock countless opportunities to integrate VR technology into daily life. Across entertainment, sports, work, healthcare, and even architecture, VR technology will elevate existing experiences and offer new platforms for advertisers to display content. While questions remain about the field of view (FOV), motion controllers, and power supply of Panasonic's device, the glasses mark significant progress in decreasing both the size and bulkiness of Virtual Reality headsets.
SpaceX's Dragon cargo capsule returns from the Space Station loaded with science experiments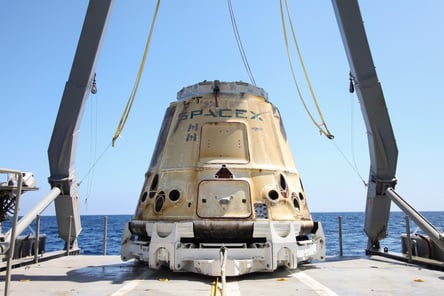 What it is: SpaceX has just completed its 19th commercial resupply mission to the International Space Station (ISS). The Dragon capsule, laden with about 5,700 pounds of supplies and experiments, splashed down in the Pacific Ocean early Tuesday morning. Among these experiments were the study of microgravity's effect on living organisms (using tiny aquatic animals known as "rotifers" and mice) and the pursuit of a solution for tackling astronaut radiation exposure on long-term space missions.
Why it's important: These commercial resupply missions (CRS) are a cornerstone of NASA's partnership with the private launch industry. SpaceX would not be where it is today without the support and revenue generated through these CRS contracts. On NASA's end, the agency gets continued access to microgravity environments on the space station. Yet aboard the ISS, hundreds of experiments are often conducted at any given time, paving the way for novel technology applications both on Earth and in the far reaches of space.
Arduino introduces a low-code way to design IoT hardware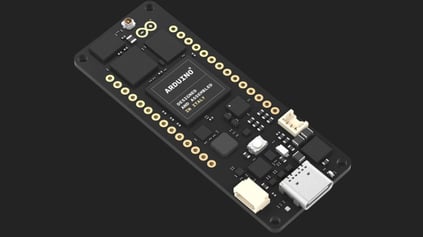 What it is: This week at CES 2020, open source microcontroller company Arduino unveiled two major developments: (1) a new low-code solution for product creators that design hardware for the IoT, and (2) a new family of chips for a variety of hardware applications. Companies wanting to innovate in IoT typically invest considerably in consultations, development, or in integration projects. As a result, numerous small companies are often shut out of the IoT market given lack of engineering expertise or budgetary constraints. Arduino's new tool changes this, promising to enable companies and hobbyists to design, build, measure, and explore prototypes in as little as a day. Secondly, Arduino released its Portenta Family of chips. Currently available for beta customers, the Arduino Portenta H7 module is scheduled for general availability next month. Portenta features a new standard for open high-density interconnects to support advanced peripherals in industrial applications, AI edge processing, and robotics. Similar to Arduino's low-code solution, Potenta aims to allow developers to securely and easily develop IoT prototypes and more efficiently move them into production.
Why it's important: Made famous by the Maker movement, Arduino and Raspberry Pi have moved well beyond niche use cases and into prime time. This and similar movements within low-code solutions and templated Artificial Intelligence models are driving us towards an interface moment in IoT design and what Kevin Kelly calls the "cognification" of things. Now that you are untethered by the need for sophisticated technical expertise, what experiments and opportunities will you run and create?
4 Highlights from CES this Week.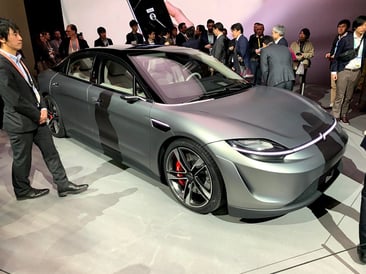 4 Spotlights:
(1)
Sony showcased the Vision-S, a prototype electric vehicle, focusing on its interior user interface and LiDAR capabilities.
Why it's important:
Sony's prototype demonstrates the company's prowess in device technology, and could serve as an invitation to carmakers to collaborate with Sony on its next generation of electric, autonomous vehicles.
(2) Hydraloop unveiled a wastewater management solution. About the size of a refrigerator, Hydraloop's system purifies wastewater and returns it for use in washing, gardening and plumbing. Why it's important: As clean water scarcity becomes increasingly critical in a world of nearly 8 billion people, Hydraloop's solution could prove a vital milestone in the development of more sustainable, efficient and scalable water systems.
(3) Following last year's reveal of Impossible Beef, Impossible Pork has now been released. Why it's important: Industrial animal farming is one of today's greatest climate nightmares, and the success of Impossible Beef and similar products has validated consumer demand for more sustainable foods. Further diversifying the meat alternatives market, Impossible Pork is yet another step towards eliminating the land use, water, and GHG emissions footprint of traditional animal agriculture.
(4)
Toyota released its plans for Toyota Woven City—a smart city of 2,000 residents built from scratch using all modern technology—to function as a research center.
Why it's important:
As urbanization sees large-scale human migrations, the Toyota Woven City is an ideal experiment in building urban centers atop converging technologies. This and similar research parks stand to identify both pitfalls and scalable solutions for today's proliferating urban megapolises.
Robotic architecture inspired by pelican eel: Origami unfolding and skin stretching mechanisms.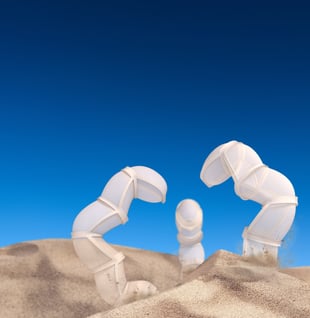 What it is: Researchers at Seoul National University's Soft Robotics Research Center in South Korea and the Rebikoff-Niggeler Foundation (FRN) in Portugal have developed a robotic architecture inspired by the pelican eel, a species of fish that lives in the deep sea. Building upon prior research on stretchable skins and origami morphing, the team sought to recreate how the pelican eel inflates its mouth, which uniquely unfolds and inflates simultaneously. Compared to other bio-inspired, single function, shape-changing mechanisms, the dual-morphing design recreated here enables extreme morphing in two distinct motions. The robotic architecture is also capable of performing several dexterity-requiring behaviors, such as gripping, crawling and underwater motion.
Why it's important:
Bio-inspired design holds promise for highly versatile, shape-morphing robotics. Think: soft robots that can be compactly shipped, deployed, refolded, and easily integrated into daily products. At the macro scale, we are also witnessing a newfound ability to build nature-inspired geometric objects and materials, leveraging a surge in 3D printing and materials science advancements. As technology progresses along these vectors, sophisticated soft robotics will become increasingly commercialized and integrated across healthcare, disaster recovery, architecture and consumer goods.
WHAT IS ABUNDANCE INSIDER?
This email is a briefing of the week's most compelling, abundance-enabling tech developments, curated by Marissa Brassfield in preparation for Abundance 360. Read more about A360 below.
WANT MORE CONVERSATIONS LIKE THIS?
At Abundance 360, Peter's 360-person executive mastermind, we teach the metatrends, implications and unfair advantages for entrepreneurs enabled by breakthroughs like those featured above. We're looking for CEOs and entrepreneurs who want to change the world. The program is highly selective. Apply now for Abundance360 Summit if you'd like to develop an Abundance Mindset.
Know someone who would benefit from getting Abundance Insider? Send them to this link to sign up.
(*Both Abundance 360 and Abundance Digital are Singularity University programs.)