8 min read
In this week's Abundance Insider: $4 smartphones, wearable subwoofers and AI-generated logos.
Cheers,
Peter, Marissa, Cody, Kelley and Greg
P.S. Send any tips to data@diamandis.com, and send your friends and family to this link to subscribe to Abundance Insider.
Self-Driving Delivery Robots Could Soon Be Common Sights in European Cities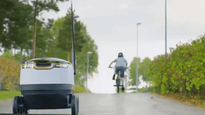 What it is: Starship Technologies, whose self-driving delivery bots we've covered in the past, is about to expand its testing phase to include actual food delivery to paying customers in parts of the U.K., Germany and Switzerland. To facilitate effective customer interactions, humans will accompany the robots on their delivery missions for the initial phases of testing.
Why it's important: Thanks to Starship Technologies, we're about to get plenty of data on how delivery bots get treated in real-world environments -- which will in turn help us determine how best to integrate robots into society. | Join the Discussion
Spotted by Cody Rapp
The World's Cheapest Smartphone Costs $4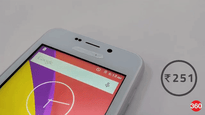 What it is: The Freedom 251 is the latest Android smartphone by India-based company Ringing Bells, and its moniker comes from its price tag: 251 rupees, or about $4. Gizmodo reports that the phone's tech specs include "a 4-inch screen, 1.3 GHz quad-core processor, 1GB of RAM, 8GB of storage, 3.2-megapixel rear camera, 0.3-megapixel front camera and a 1,450mAh battery."
Why it's important: As smartphones continue to demonetize and democratize, they enable previously unconnected people around the world to go online and participate in the global economy. Have you considered what these 3 to 5 billion new minds will want, create, buy, sell and share? | Join the Discussion
Spotted by Peter Diamandis
What Happens When You Apply Machine Learning to Logo Design?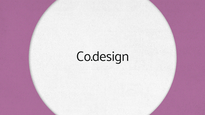 What it is: Emblemmatic explores symbols and their meaning through computational techniques, and it's released a prototype called Mark Maker that is essentially an artificially intelligent logo generator. Type a company name into Mark Maker, and the system spits out a sea of logos. As you click the designs you like, the genetic algorithm repopulates the grid with a new set of logos that incorporate your feedback, until you arrive at a final choice.
Why it's important: While logo designers shouldn't worry about their jobs just yet, Mark Maker is a compelling glimpse into the near future of design interfaces and creative briefs. | Join the Discussion
Spotted by Cody Rapp
Samsung's New 512GB SSD: Smaller Than a U.S. Postage Stamp, Lighter Than a Dime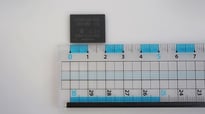 What it is: In an industry first, Samsung has released a complete 512GB SSD solution that consists of just one chip. "That's the storage using 20mm NAND chips, 4Gb of DDR4 memory, and a controller in one to create an SSD called the PM971-NVMe," Geek.com reports. The SSD is 22mm by 25mm -- that's smaller than a standard U.S. postage stamp -- and weighs about a gram.
Why it's important: An SSD this small enables much thinner devices than we're used to seeing; manufacturers would be able to wire these chips directly into motherboards. | Join the Discussion
Spotted by Dan Swift
Pokemon Go Adds $9B to Nintendo's Value, Global Rollout Continues This Week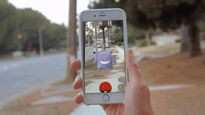 What it is: Nintendo scored a huge win this week with its launch of Pokemon Go, an augmented reality app that lets users catch pokemon, visit pokestops and engage in gym battles in real-world settings (more on the gameplay here). Its massive popularity -- Pokemon Go has more daily active users than Twitter, and is already installed on over 5% of active U.S. Android devices -- caused Nintendo's market cap to rise $9 billion to a total market cap of $28 billion.
Why it's important: In the U.S., Pokemon Go is already the biggest mobile game ever -- and for many users, the app will be the first time they experience augmented reality. This alone could dramatically accelerate mainstream adoption of Augmented Reality and, eventually, Virtual Reality. | Join the Discussion
Spotted by Jody Williamson
USDA: Global Food Insecurity Will Drop in Next Decade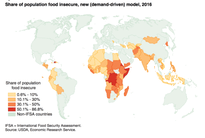 What it is: Today, 17% of the population faces food scarcity, but according to the U.S. Department of Agriculture's latest projections, the percentage of the global population with inadequate access to food will drop to 6% by 2026. The most dramatic improvements in food access are in Asia (13% today, 2.4% in 2026) and Latin America and the Caribbean (14.6% today, 6.4% in 2026).
Why it's important: The USDA projections reinforce Peter's thesis that every year, we're getting closer to a world of abundance -- and in this case, an abundance of food. | Join the Discussion
Spotted by Marissa Brassfield
The Future of Listening to Music is Feeling It, Says Timbaland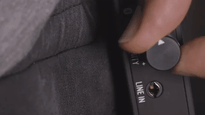 What it is: Multi-platinum producer, songwriter and musician Timbaland has teamed up with Los Angeles-based wearables startup SubPac to bring the music-listening experience to life. SubPac's M2 wearable vest and the S2 seatback device let listeners literally feel the bass in music by replicating the physical feedback of car or home subwoofers. SubPac is working with Virtual Reality and Augmented Reality creators to explore how its products can enhance the experience of physical immersion in digital worlds.
Why it's important: Physical feedback makes prerecorded audio feel much more like attending a live show. Wearables like SubPac's vest could make virtual reality or augmented reality experiences far more immersive and realistic. | Join the Discussion
Spotted by Marissa Brassfield
This 3D-Printed Villa in China Can Withstand a Major Quake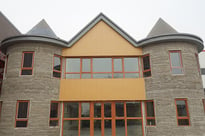 What it is: We've covered 3D printed buildings before, but this 3D printed villa built by HuaShang Tengda is tough enough to withstand an 8.0 magnitude earthquake. Unlike other 3D-printed structures, which are typically manufactured in different locations and assembled on-site, 100% of the villa was manufactured on-site in 45 days. This required HuaShang to develop its own software that fuses 3D printing, concrete mixing, electronic ingredient formulation and transmission.
Why it's important: HuaShang's software could be used to print homes and skyscrapers just about anywhere on the planet -- including in developing nations and on rural farms. | Join the Discussion
Spotted by Marissa Brassfield
Graphene Batteries May Slash Your Phone Recharge Time to 15 Minutes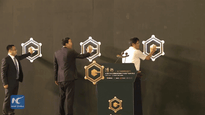 What it is: Dongxu Optoelectronics' G-King graphene battery pack brings the concept of external recharging systems into the future. It takes just 15 minutes to recharge the portable battery -- for context, that's roughly 20 times faster than a standard lithium-ion battery -- and Dongxu says the cell can be discharged and recharged some 3,500 times.
Why it's important: Graphene has the potential to improve nearly every area of technology, enabling everything from better smartphone batteries to flexible screens and autonomous cars with longer battery ranges. | Join the Discussion
Spotted by Marissa Brassfield
What is Abundance Insider?
This email is a briefing of the week's most compelling, abundance-enabling tech developments, curated by Marissa Brassfield in preparation for Abundance 360. Read more about A360 below.
Want more conversations like this?
At Abundance 360, Peter's 250-person executive mastermind, we teach the metatrends, implications and unfair advantages for entrepreneurs enabled by breakthroughs like those featured above. The program is highly selective and we're almost full, but we're still looking for a few final CEOs and entrepreneurs who want to change the world. Apply now for Abundance360 Summit if you'd like to develop an Abundance Mindset.
Know someone who would benefit from getting Abundance Insider? Send them to this link to sign up.