12 min read

In this week's Abundance Insider: Breakthroughs in energy storage, a noninvasive mind-controlled robotic arm, and SpinLaunch's new way of launching rockets.
P.S. Send any tips to our team by clicking here, and send your friends and family to this link to subscribe to Abundance Insider.
P.P.S. Want to learn more about exponential technologies and hone in on your MTP/ Moonshot? Abundance Digital, a Singularity University Program, includes 100+ hours of coursework and video archives for entrepreneurs, like you. Keep up to date on exponential news and get feedback on your boldest ideas from an experienced, supportive community. Click here to learn more and sign up.
New mind-controlled robot arm first to work without brain implant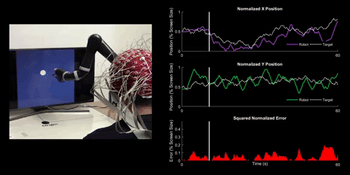 What it is: A team of researchers at Carnegie Mellon University (CMU) has made extraordinary headway in the field of high-tech prosthetics, creating a bionic arm that functions smoothly without a brain implant. Previous robotic prosthetics required a patient to undergo high-risk, invasive surgery for a brain implant to achieve maximum robotic mobility. This arm, however, bridges the gap between seamless function and non-surgical bionics. In one instance, it was shown capable of following a computer screen cursor in real time without exhibiting the jerky motions and intermittent delays typical of other non-surgical mind-controlled prosthetics.
Why it's important: This innovation represents a fundamental leap in the age-old mission to enhance the quality of life and autonomy of individuals who have lost a limb. By improving prosthetic quality at significantly diminished risk, non-invasive bionics no longer require patients to risk their health to enjoy long-term use of a high-functioning, mind-controlled limb. As brain-computer interface (BCI) technology continues to surge forward, we are quickly charting the path to a future wherein responsive prosthetics will serve countless uses, from limb replacement to assistive aids in any number of industries and professions. | Share on Facebook
Siemens Gamesa Unveils World's First Electrothermal Energy Storage System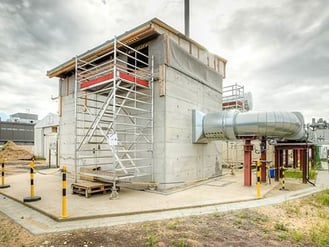 What it is: Siemens Gamesa is now leveraging the Earth's surface for a future of energy abundance. The large-scale renewable energy technology manufacturer has just begun operations of what it claims is the world's first electrothermal energy storage system. Already, Siemens Gamesa has turned a section of volcanic rock into a massive organic battery, capable of storing up to 130 megawatt-hours of energy for a week. The company additionally reports that its electrothermal energy storage system is significantly less expensive than conventional storage solutions. If we can begin to harness organic material for energy storage, how would this influence the modern-day power grid and storage solutions?
Why it's important: Renewable energy has long been promoted as an alternative solution to fossil fuels and other contemporary sources of energy. However, their oft-cited limitation is that of energy storage. If Siemens Gamesa demonstrates the successful scale-up of its sustainable solution to the storage problem, pervasive implementation of renewable energy sources would become a much more feasible option, and long-term implications would abound. If communities could soon store energy beneath their homes for extended periods of time, how might this influence real estate values and opportunities for expansion? What new microgrid networks and local economies would arise? | Share on Facebook
This fully biodegradable "leather" is welded together from waste
Story submitted by Steve Pierz, Chief Innovation Officer at Fastbrick Robotics.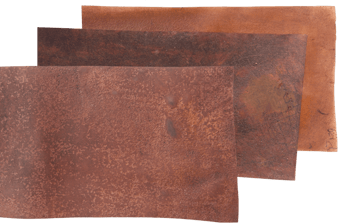 What it is: An innovative player in the cow-free leather market, Natural Fiber Welding has developed a new plant-based product called Mirum. Fully biodegradable, Mirum entirely eschews the synthetic glues and plastics typically employed by other plant-based leather products. As explained by Founder and CEO Luke Haverhals, "We figured out ways to get 100 percent natural composites that are bonded together using clever, controlled chemistry." Coconut fiber can be blended with (bottle) cork powder, for instance, to create strong "leathers" at low cost. Mirum is moreover price-competitive, as Natural Fiber Welding plans large-scale rollout of its product in 2020 and will soon produce millions of square feet of the low-cost, sustainable leather.
Why it's important: While numerous startups have pursued plant-based, zero-footprint leathers, the majority of these products are either difficult to scale or contain harmful synthetic materials like polyurethane. Yet nature offers a treasure trove of complex material candidates, which, when leveraged correctly, can yield vastly scalable, low-cost, compostable products. As high-tech welding processes and natural materials data continue to progress, materials like Mirum could profoundly disrupt the future of manufacturing, birthing closed-loop systems. | Share on Facebook
Fake blood pumps life into this robotic fish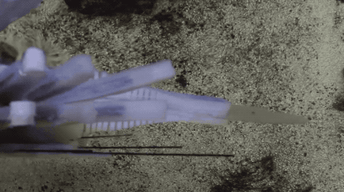 What it is: Exponential progress in neural sensors and AI technology has led to remarkable advancements in autonomous robotics, but battery weight remains a stubborn obstacle to designing more nimble and long-lasting robots. Similarly, hard exoskeletons have proved a challenging barrier to safe interaction with humans, particularly in industrial settings. Enter Robert Shepherd and a team from Cornell University, who have created a soft robotic lionfish that pumps an electrolyte solution through synthetic blood vessels. When the solution passes over electrode stations, electricity is generated in what is commonly known as a flow battery. As hydraulic systems can account for 90 percent of a robot's volume, combining these systems with the power source poses sizable advantages for design. The lionfish robot can consequently swim for up to 36 hours upstream, completely untethered.
Why it's important: By providing electrical energy with part-liquid, part-solid battery components, the researchers have proved that synthetic circulatory systems can serve a dual purpose: powering soft robots and controlling their movement. This breakthrough could be leveraged for countless multifunctional iterations, heralding a new era of low-risk, direct human-robot interaction. Use cases abound, from autonomous robotic surgeons to robotic search-and-rescue teams. | Share on Facebook
Alphabet's Sidewalk Labs unveils its high-tech 'city-within-a-city' plan for Toronto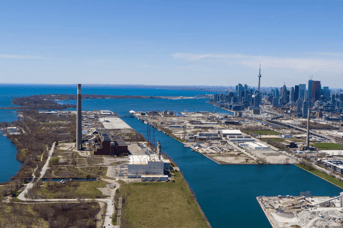 What it is: Long in the works, Sidewalk Labs' plan to build out a high-tech utopia on Toronto's waterfront is now out. While still subject to a thorough public vetting process — principally by government-appointed, non-profit partner Waterfront Toronto — the plan outlines an urban model for integrated smart cities of the future. Dubbed "the most innovative district in the world" by Sidewalk Labs CEO Dan Doctoroff, the pitch's most pioneering components include autonomous vehicle networks, ubiquitous public Wi-Fi, an 89 percent reduction in greenhouse gases, and countless sensors for collection of "urban data" to optimize civil engineering decisions.
Why it's important: Already, Sidewalk Labs' comprehensive plan has been projected to help create 44,000 jobs and generate $4.3 billion in annual tax revenue. Sidewalk Labs has additionally stated it will spend $1.3 billion on the project with the aim of spurring $38 billion in private sector investment by 2040. Beyond the targeted district, however, a materialized smart city plan could become an ideal testing ground for next-generation breakthrough technologies and automated ecosystems that provide seamlessly delivered public services and predictive routing. | Share on Facebook
Secretive Startup SpinLaunch Gets 1st Launch Contract for US Military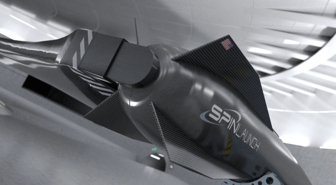 What it is: Since entrepreneur Jonathan Yaney founded SpinLaunch in 2014, the alternative space launch company has raised $40 million. Now, the company has just received its first "launch prototype contract" from the U.S. Department of Defense under a deal with the Defense Innovation Unit, and aims to launch its first test flights in early 2020. SpinLaunch's system employs a giant centrifuge as its orbital rockets leverage kinetic energy during launch, as opposed to chemical energy. While details about SpinLaunch's technology have been kept largely under wraps, the company previously stated its intentions to launch small payloads as frequently as five times per day. At a cost of $250,000 per flight, these would be conducted at the company's $7 million Spaceport America launch site.
Why it's important: SpinLaunch serves as an ideal example of the entrepreneurial deployment of first principles thinking to disrupt preconceived cognitive biases, transform an industry, and pursue a moonshot. By distilling the complex problem of launching things into space to a fundamental physics question, Jonathan Yaney and his team may soon drive space launch costs down by an order of magnitude. How can you use first principles thinking to make a 10X gain by disrupting your industry's heritage processes and creatively deploying technology? | Share on Facebook
What is Abundance Insider?
This email is a briefing of the week's most compelling, abundance-enabling tech developments, curated by my team of entrepreneurs and technology scouts, including contributions from standout technology experts and innovators.
Want more conversations like this?
At Abundance 360, a Singularity University Program, we teach the metatrends, implications and unfair advantages for entrepreneurs enabled by breakthroughs like those featured above. We're looking for CEOs and entrepreneurs who want to change the world. The program is highly selective. If you'd like to be considered, apply here.
Abundance Digital, a Singularity University Program, is an online educational portal and community of abundance-minded entrepreneurs. You'll find weekly video updates from Peter, a curated newsfeed of exponential news, and a place to share your bold ideas. Click here to learn more and sign up.
Know someone who would benefit from getting Abundance Insider? Send them to this link to sign up.