10 min read

In this week's Abundance Insider: Moderna's readiness for scaled-up vaccine production, wearables for early COVID-19 detection, and Artificial Intelligence to combat loneliness.
P.S. Send any tips to our team by clicking here, and send your friends and family to this link to subscribe to Abundance Insider.
P.P.S. Want to learn more about exponential technologies and home in on your MTP/ Moonshot? Abundance Digital, a Singularity University Program, includes 100+ hours of coursework and video archives for entrepreneurs like you. Keep up to date on exponential news and get feedback on your boldest ideas from an experienced, supportive community. Click here to learn more and sign up.
Share Abundance Insider on Facebook | Twitter | LinkedIn | Know someone who would benefit from getting Abundance Insider? Send them to this link to sign up.
---
As the first Coronavirus vaccine human trials begin, manufacturer is already preparing to scale production to millions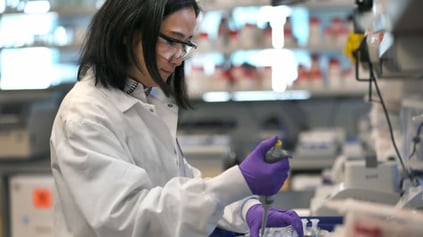 What it is: Last week, the first doses of an experimental COVID-19 vaccine were administered to the study's initial volunteers. Developed by Moderna Therapeutics in a record time of 63 days, the vaccine is now being tested in three different dosages, aimed at determining what dosage triggers the strongest immune response. While Moderna has already shipped hundreds of vials to the National Institutes of Health (NIH) for the vaccine's first testing phase, the company is now preparing to scale production to millions of vials in quick succession if the vaccine proves safe and effective. This rapid scale-up is largely possible thanks to Moderna's nontraditional use of mRNA—a genetic form of the virus' genome—in its vaccine. As a result, when the vaccine is injected, patients' cells process it such that immune cells recognize and target it for destruction. Whereas most traditional vaccines necessitate growing large amounts of the virus, Moderna's process thereby eliminates this time-consuming step.
Why it's important: While trials are not predicted to conclude for another 12-18 months, Moderna's experimental data and other research could grant us critical information about the virus's behavior and how the immune system can better fend off coronaviruses more broadly. Moderna's accelerated timeline—from Chinese researchers' initial sequencing of SARS-CoV-2 to a human trial-ready vaccine—also illustrates the combined power of advancements in computing and genetics. As our scientific and medical communities mobilize across the globe, convergences of Artificial Intelligence, biotech, and computing will help us deliver treatments faster than ever before.
Predicting coronavirus? SF emergency workers wear state-of-the-art rings in new study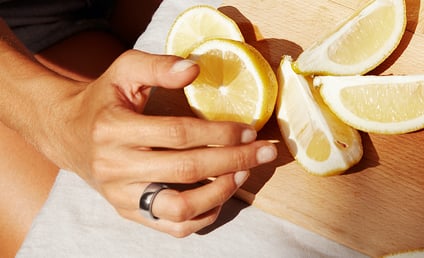 What it is: Oura Ring—developer of sleep and activity-tracking ring technology—is now teaming up with UCSF and Zuckerberg San Francisco General Hospital to identify the early onset of COVID-19 in users. Packed with advanced sensors (including an accelerometer, infrared LEDs, and a gyroscope), the Oura ring tracks vital signs, from body temperature to heart rate (HR), around the clock. In an effort to stem COVID-19's spread, over 2,000 emergency medical workers and hospital staff are now wearing the rings to proactively detect early signs of the virus. By further encouraging Oura's 150,000 existing users to share their medical data, UCSF aims to provide needed data for developing an algorithm capable of early detection before virus symptoms surface.
Why it's important: At the source of COVID-19's outbreak, one highly effective strategy in Wuhan, China, involved residents' daily reporting of body temperature and the immediate isolation of anyone with even a slight fever. Enabling this approach, Oura provides a far more thorough, 24/7 analysis, which compensates for temperature fluctuations that can alter thermometer readings. In the case of Petri Hollmén (CEO of Finnish firm Lyyti Oy), for instance, the ring alerted him of a 1°C increase in his body temperature and an uptick in both his HR and breathing rate. Notified of the data, Hollmén quickly contacted a hospital, after which he tested positive for the virus. Engaging in immediate self-quarantine, the entrepreneur has since stated, "Without the ring measuring my body during the night, I would not [have] even known about the temperature rise [...] This makes this (illness easy) to spread." As use of wearables ramps up in COVID-19 hot spots, researchers aim to use sensor data, like that generated by the Oura ring, to preemptively stem the virus's spread among exposed medical staff and potentially unaware patients. In success, an early detection algorithm could be invaluable in the case of an autumn resurgence of COVID-19 cases.
New genetic editing powers discovered in squid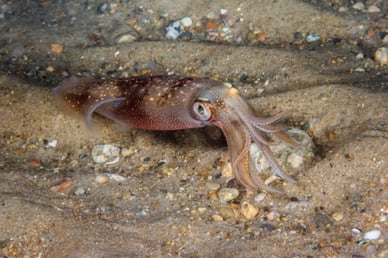 What it is: Squid have a newly discovered superpower: they can edit their genes outside of neural nuclei, making them the first organisms known to do so. In most species, DNA is translated into messenger RNA (mRNA) in the nucleus. Once complete, mRNA then travels outside the nucleus to guide protein construction in the cell. Instead of editing DNA's genetic code directly, however, squid can edit mRNA in the periphery of the cell. Scientists working on this research at the Marine Biological Laboratory (MBL) Woods Hole found that squid edit mRNA in the nerve cell's axons far more frequently than in the nucleus. This allows neurons to meet localized needs far more efficiently.
Why it's important: Many neurological disorders in humans start with the neuron's axons, which are nerve fibers that carry electrical signals throughout the body. As squid have now demonstrated the ability to edit genetic information directly in their axons, translating this unique ability into human cells could be transformative. Currently, gene-editing technologies like CRISPR rely on shuttling new genetic code through cell membranes and nuclear membranes—not an easy feat. Now, they might not have to pass the nuclear membrane at all. By studying the mechanism in which squid directly edit mRNA outside the nucleus, scientists could one day engineer localized solutions in human axons.
A COVID-19 detective tracks disease trail with genetic clues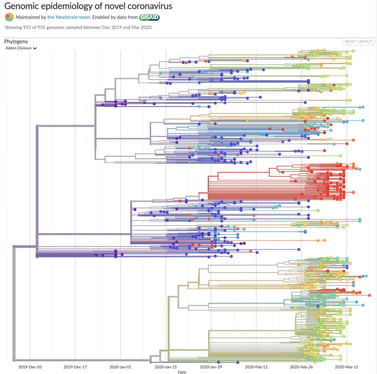 What it is: Trevor Bedford, an epidemiologist at the Fred Hutchinson Cancer Research Center, has now become a celebrity among public health circles thanks to his genetic analysis of the novel coronavirus. Working in collaboration with multiple colleagues from around the globe (key among them, University of Basel computational biologist Richard Neher), Bedford and the team have been tracking the virus's RNA to understand how the coronavirus mutates over time. Principally, the researchers use a markedly innovative approach to tracing outbreak origins and predicting how and where COVID-19 will spread next. To do this, Bedford and his distributed collaborators use patient samples to analyze hundreds of virus genomes, using the virus's mutation patterns to create phylogenies—essentially, 'family trees' that track COVID-19's geographic origins and the various routes through which it has spread.
Why it's important: The team's technique differs considerably from traditional virus-tracing approaches, which typically focus on identifying infected patients and tracking their contacts. Riding dramatic increases in computing power and genome sequencing speeds, scientists are now able to trace and respond in near-real-time to infectious disease outbreaks and novel coronaviruses, such as SARS-CoV-2. Combined with mass sequencing efforts by cross-border research collaborators, not to mention transparent information-sharing, these technologies will play a major role in public health efforts and future outbreak responses.
Can artificial intelligence fight elderly loneliness?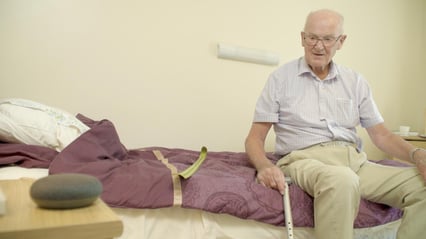 What it is: A nursing home in England is using artificial intelligence to combat loneliness among its elderly population. Engaging a group of residents at an elderly care home, the research experiment used Google Home devices to help its users cope with isolation, especially in the wake of the COVID-19 pandemic. And some residents have become fast converts. According to 92-year old John Winward, for instance, "I thought at first it was a sign of insanity, speaking to a little thing like that and him talking back! I was so surprised... it was such fun!" Primarily using the device for news and weather updates, as well as audiobook and music tips, Winward even asks his Google Home to tell him jokes and offer crossword puzzle clues. "It keeps me sane, really, because it's a very lonely life when you lose your partner after 64 years, and you spend a lot of time in your room alone." While the adoption barrier has been more challenging for some, particularly given the elderly's lower familiarity with voice technologies, AI-powered speaking assistants offer an immediate supplement to human company.
Why it's important: Now a global problem, particularly given today's aging populations, loneliness is believed by scientists to be as detrimental for your health as being severely overweight or even smoking 15 cigarettes a day. According to Stephen Buckley, head of information at Mind (the UK's largest mental health charity), "We know that feeling lonely can contribute to poor mental health [...] If this is caused by a lack of social contact with others, an Artificial Intelligence service might be helpful, particularly for those of us who are unable to make new social connections or need to stay in social isolation." With the growth of AI companions and chatbot sophistication, use of virtual assistants may increasingly play a social role in pandemic-induced isolation. For John Windward, the AI assistant has already become indispensable: "I really love it. I couldn't do without it now. It is certainly my friend in the corner."
UPS partners with Wingcopter to develop new multipurpose drone delivery fleet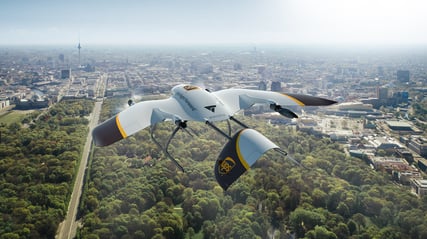 What it is: UPS recently partnered with German drone startup Wingcopter to further expand its commercial drone delivery program in both the U.S. and across the world. Wingcopter's electric vertical takeoff and landing (eVTOL) aircrafts can reach up to 150 mph, handle 45 mph winds, and travel up to 75 miles in a single flight. Moreover, the company's tilt-rotor design allows the eVTOLs to switch from vertical flight to low-noise forward flight mode, reducing noise pollution over residential areas. Already, Wingcopter has demonstrated its drone tech's success in delivering small packages between pharmaceutical giant Merck's various offices in Germany. Having attained Federal Aviation Administration (FAA) approval last October, UPS' drone delivery unit, Flight Forward, now hopes to implement Wingcopter vehicles for package delivery in the near future.
Why it's important: As we continue to experience social distancing and shelter-in-place measures across the nation, our delivery systems have become increasingly strained. Autonomous drones could fulfill the need for zero-contact supply chains in service of public health efforts. Having partnered with UNICEF in 2018 to deliver vaccines to children in remote areas, Wingcopter has additionally aided other relief organizations in the distribution of emergency medical equipment. On the basis of this precedent, eVTOL technology could prove vital in disseminating critical health supplies, food, and water to those areas most impacted by pandemics and natural disasters. More broadly, however, retail, hospitality, and similar industries will also benefit from diminished shipping costs, not to mention lower carbon footprints, associated with autonomous drone delivery fleets.

Want more conversations like this?
Join FutureLoop: Over the past 2 years, I've built a machine-learning algorithm that scrapes the world's news, science journals and social feeds every day to understand how exponential technologies are impacting specific topics & industries. It's called FutureLoop. I was getting ready to share it publicly, but the current crisis has changed my plans.
Last week, I launched "FutureLoop Pandemic Special Edition," a daily comprehensive update on the impact of exponential technologies (AI, Robotics, Drones, Cellular Medicine, CRISPR, Networks & Sensors) on the COVID-19 pandemic.
If you participate, FutureLoop will update you every day on the latest breakthroughs in detection, prevention & cure of the COVID-19. This product is still in Beta, but it's powerful, high-quality info, and it's free.
Your mindset is your most important tool during this pandemic. Making sure you are consuming the right information is critical to maintaining that mindset. FutureLoop offers "Data-Driven Optimism."
You can subscribe here. It's free, fun + fast (20 seconds).
---
Share Abundance Insider on Facebook | Twitter | LinkedIn | Know someone who would benefit from getting Abundance Insider? Send them to this link to sign up.