8 min read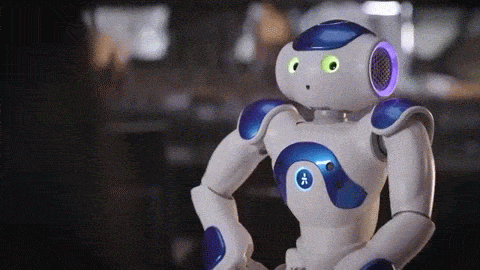 In this week's Abundance Insider: Hilton's robot receptionists, universally compatible kidney transplants, and artificial intelligence insurance agents.
Cheers,
Peter, Marissa, Cody, Maxx, Kelley and Greg
P.S. Send any tips to data@diamandis.com, and send your friends and family to this link to subscribe to Abundance Insider.
Meet Connie, Hilton's New Watson-Powered Receptionist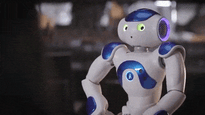 What it is: Hilton hotel lobbies around the U.S. are about to get much more intelligent, thanks to a new partnership between IBM Watson and Hilton on a robot concierge. Based on Aldebaran Robotics and Softbank's Nao robot, "Connie" (named for founder Conrad Hilton) has been loaded with several natural language Watson technologies so that she can "inform guests on local tourist attractions, dining recommendations, and hotel features and amenities."
Why it's important: For all of those in the hospitality and service business, this is an important case study to watch. If Connie can capably take on frequently asked guest questions, Hilton's human staff will have more bandwidth to take on complicated or super-personalized requests -- the combination of which ultimately provides a truly unique experience from other hotel chains.
Spotted by Marissa Brassfield
Indian Engineers Transform a Tata Nano Into a Self-Driving Car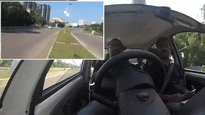 What it is: Dr. Roshy John heads up the Robotics and Cognitive Systems department of Tata Consultancy Services, and he and a team of engineers have created a self-driving Tata Nano that's tailored to thrive in India's traffic and roads. The team also created a modular version of the system that turns any car into an autonomous one in under an hour.
Why it's important: More evidence that self-driving cars are coming from all angles -- from the planet's most pervasive automakers to the garages of tinkerers, techies, makers and researchers.
Spotted by Aryadeep S. Acharya
Leap Motion Showcases Hyper-Accurate Hand Tracking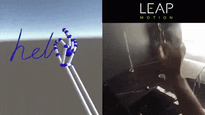 What it is: Leap Motion has just released a video showing off its Orion hand-tracking technology, and it's impressive. In the clip, someone draws in VR using just their hands as input devices: pinching the thumb and index finger together activates the 3D paint function.
Why it's important: Despite multiple platforms entering the market -- Oculus Rift, HTC Vive, Samsung Gear -- the control standard for Virtual Reality hasn't been established. While these hand-tracking features were initially developed as a computer interface, with accuracy like this, Leap Motion also positions Orion to address this aspect of the Virtual Reality market.
Spotted by Peter Diamandis
Ontario, Canada to Trial Universal Basic Income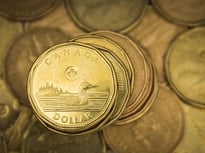 What it is: The Canadian province of Ontario has announced plans to experiment with a basic income experiment. While details are scant, the government says it hopes to test two theories: first, that basic income is a more consistent, predictable source of support than minimum wage and child benefits, and second, that basic income is a more efficient, effective way to give income support while also saving resources in housing and health care support.
Why it's important: As the nature of work changes, and robotics and artificial intelligence displace more jobs, linear systems like social programs will need to evolve. Separately, experimentation is a huge focus of ours for 2016, so it's promising to see a big government embrace such testing for its social programs.
Spotted by Cody Rapp
Insurify Digitizes and Dematerializes Human Insurance Agents
What it is: If the MIT spinout Insurify has its way, we'll be interacting with artificially intelligent virtual insurance agents rather than their human counterparts. Insurify users text a photo of their license plate to EVIA (Expert Virtual Insurance Agent), who then sends you a text with personalized policy quotes and recommendations based on your driving history and personal information.
Why it's important: Advancements in artificial intelligence and natural language processing algorithms have the power to reduce friction in many service-based businesses. Insurify digitizes and dematerializes human insurance agents, which should accelerate customer acquisition and significantly cut costs.
Spotted by John Collins
3D Robotics Partners With Sony on a 3D-Mapping Drone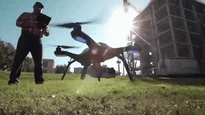 What it is: 3D Robotics has announced a partnership with Sony and Autodesk to create a high-end drone that can scan a location, render it into a 3D map or model, and upload it instantly to the cloud midflight. The drone will integrate with the Sony UMC-R10C, a camera that uploads high-res data directly to the cloud without an SD card; additionally, it will come with a Sony tablet equipped with FORGE software from Autodesk.
Why it's important: "The Solo is the first example of an enterprise drone that is integrated from end to end, from drone to camera to cloud," explained 3D Robotics CEO Chris Anderson to The Verge. Commercial drone usage is exploding -- in the article, an Autodesk rep noted that every construction company they work with has a plan for UAVs -- and this Sony partnership will reduce much of the friction associated with drone imaging today.
Spotted by Marconi Pereira
Desert Plant-Inspired Material Pulls Water Out of Thin Air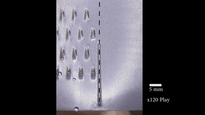 What it is: Harvard researchers have created a material that collects and transports water droplets, inspired by the unique ways that desert plants harvest the water they need to survive. "We experimentally found that the geometry of bumps alone could facilitate condensation," said Kyoo-Chul Park, a postdoctoral researcher and the first author of the paper, to the Daily Mail. "By optimising that bump shape through detailed theoretical modelling and combining it with the asymmetry of cactus spines and the nearly friction-free coatings of pitcher plants, we were able to design a material that can collect and transport a greater volume of water in a short time compared to other surfaces."
Why it's important: The researchers say that this material is an "exciting first step towards developing a passive system that can efficiently collect water and guide it to a reservoir." It has promising applications for water-harvesting and industrial heat exchangers.
Spotted by Aman Merchant
New Procedure Allows Kidney Transplants From Any Donor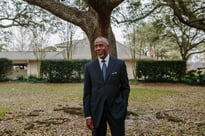 What it is: Doctors have developed a technique called desensitization that lets patients receive kidney transplants from incompatible donors, bypassing the need for dialysis entirely. First, the patient's antibodies are filtered out of the blood; next, they're given an infusion of other antibodies to tide them over until their immune system regenerates new antibodies. While the upfront costs for desensitization are currently still pricey ($30,000 for the process, $100,000 for the transplant), in the long run, it's still far cheaper than dialysis ($70,000 a year for life).
Why it's important: Desensitization helps more people with kidney failure get the transplants they need -- regardless of their compatibility. "About half of the 100,000 people in the United States on waiting lists for a kidney transplant have antibodies that will attack a transplanted organ," the New York Times reports, "and about 20 percent are so sensitive that finding a compatible organ is all but impossible." But the benefits aren't just restricted to kidneys: one day, living-donor transplants of livers and lungs could be feasible, saving millions of lives annually.
Spotted by Skye Lininger
Scientists Achieve Perfect Efficiency on Water-Splitting Half-Reaction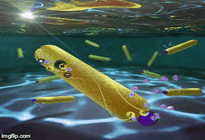 What it is: Splitting water into hydrogen and oxygen is a key two-step process that enables energy delivery for fuel cells and electronic devices. Researchers from the Technion-Israel Institute of Technology in Haifa, Israel have developed a technique that performs the first step of this water-splitting process with perfect, 100% efficiency. "Our work shows that it is possible to obtain a perfect 100% photon-to-hydrogen production efficiency, under visible light illumination, for the photocatalytic water splitting reduction half-reaction," explained researcher Lilac Amirav. "These results shatter the previous benchmarks for all systems, and leave little to no room for improvement for this particular half-reaction. With a stable system and a turnover frequency of 360,000 moles of hydrogen per hour per mole of catalyst, the potential here is real."
Why it's important: The researchers hope to apply their lessons from this development to create a system that does both steps of the water-splitting process and ultimately perform genuine solar-to-fuel energy conversion. Such a development would make fuel production faster, cheaper and more efficient than ever before.
Spotted by Peter Diamandis
What is Abundance Insider?
This is a briefing of the week's most compelling, abundance-enabling tech developments, curated by Marissa Brassfield in preparation for Abundance 360.
Want more conversations like this?
At Abundance 360, Peter's 250-person executive mastermind, we teach the metatrends, implications and unfair advantages for entrepreneurs enabled by breakthroughs like those featured above. The program is highly selective and we're almost full, but we're still looking for a few final CEOs and entrepreneurs who want to change the world. Apply now for Abundance360 Summit if you'd like to develop an Abundance Mindset.
Know someone who would benefit from getting Abundance Insider? Send them to this link to sign up.