8 min read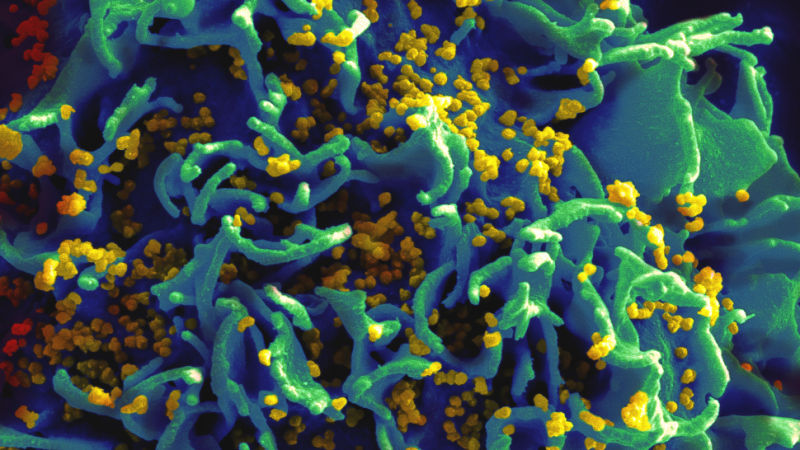 In this week's Abundance Insider: Eradicating HIV, concrete made from carbon dioxide, and a college student who 3D printed his own Invisalign tooth aligners.
Cheers,
Peter, Marissa, Cody, Maxx, Kelley and Greg
P.S. Send any tips to data@diamandis.com, and send your friends and family to this link to subscribe to Abundance Insider.
Scientists Permanently Remove HIV DNA From Human Immune Cells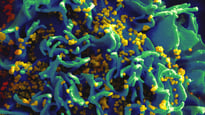 What it is: Temple University researchers have successfully edited the HIV virus out of human immune cell DNA, and it's all due to the CRISPR/Cas9 gene editing method. After eliminating HIV-1 DNA from T cell genomes in human lab cultures, the researchers exposed these cells to HIV once more and found that the cells were protected from reinfection.
Why it's important: This is the first time that researchers have prevented further infections when editing genes -- a crucial step to improve stem cell treatments. As lead researcher Kamel Khalili explains, "[Our findings] demonstrate the effectiveness of our gene editing system in eliminating HIV from the DNA of CD4 T-cells and, by introducing mutations into the viral genome, permanently inactivating its replication. Further, they show that the [gene-editing] system can protect cells from reinfection and that the technology is safe for the cells, with no toxic effects."
Spotted by Joseph W. Campos
Meta 2 'Natural Machine' Augmented Reality Product Launches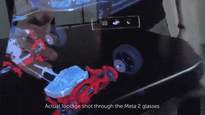 What it is: Following a successful preview at TED last month, Meta has opened preorders for the Meta 2 Development Kit. The fully hand-controlled augmented reality device has a 90-degree field of view and a 2560 x 1440 high-DPI display. CEO Meron Gribetz says that Meta "merges the art of user interface design with the science of the brain, creating 'natural machines' that feel like extensions of ourselves rather than the other way around."
Why it's important: For the masses to adopt augmented reality and virtual reality, we'll need simple, intuitive interfaces. With its lack of an input device, Meta makes it far simpler for the lay person to put the headset on and begin using their hands to 3D model, view and manipulate holograms with colleagues, and add holograms to any website.
Spotted by Marissa Brassfield
Interact with Smartphones & Smartwatches by Gesturing on Any Surface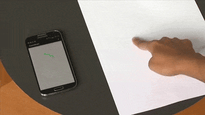 What it is: FingerIO is a new sonar technology that enables users to interact with their smartwatches or smartphones by gesturing or writing on a surface (for example, your fingertip on a table). FingerIO uses these smart devices' microphones and speakers to identify and follow finger movements to within 8 mm, according to KurzweilAI.
Why it's important: Sonar enables people to use their smartphones without maintaining contact or line of sight. Imagine being able to write out a text to someone while your smartphone is in your pocket!
Spotted by Marissa Brassfield
Turning Carbon Dioxide Into Concrete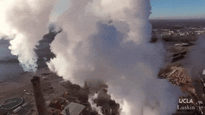 What it is: UCLA researchers and materials scientists have created CO2NCRETE, a 3D printed building material made from carbon emissions from power plant smokestacks. Thus far, the concrete has only been produced at a lab scale, with tiny 3D printed cones, but armed with this strong proof of concept, the team can begin creating processes to scale the material production and ultimately distribute the technology.
Why it's important: Power plant smokestacks are currently the largest greenhouse gas producers on the planet, and cement production alone represents 5% of global greenhouse gas emissions. By transforming pollution into usable building materials, we'll be able to dramatically reduce emissions in the areas that produce the most greenhouse gas -- China, the U.S., and India -- and turn a major problem into a benefit.
Spotted by Marissa Brassfield
College Student 3D Prints His Own Invisalign Braces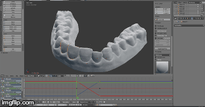 What it is: College students' budgets are notoriously tight, but Amos Dudley found a way to demonetize Invisalign braces using equipment in his school's digital fabrication lab. After some orthodontics research, Dudley bought inert retainer plastic on eBay and used a NextEngine laser scanner, Stratasys Dimension 1200es 3D printer, and a vacuum forming machine to create a set of personalized, homemade aligners. After 16 weeks of wearing them, Dudley's teeth are perfectly straight -- and all for $60 in materials.
Why it's important: Invisalign has already demonetized custom tooth aligners with its 3D printing process. But as 3D printers continue their exponential growth -- performing better, for less money -- makers will be able to create anything they want, at any time.
Spotted by Marissa Brassfield
6 Tech Advances in Higher Ed Preparing Students for the Future of Work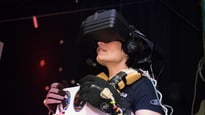 What it is: The New Media Consortium and the EDUCAUSE Learning Initiative have compiled a comprehensive report that charts how emerging technologies are shaping higher education and preparing students for the future. The six key developments are Makerspaces, Affective Computing, Robotics, Augmented and Virtual Reality, Learning Analytics and Adaptive Learning, and Bring Your Own Device (BYOD).
Why it's important: We know that traditional higher education must adapt to the future of work, and this report provides an excellent overview of the initiatives made in this regard. Says futurist and education consultant Bryan Alexander, "The classic ivory tower is changing. The pattern is breaking, and we are blending work with academics in new ways."
Spotted by Marissa Brassfield
Eraser Drug Makes Stem Cells Embryonic Again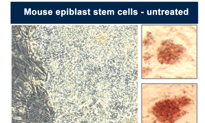 What it is: University of Michigan Medical School scientists have created a drug that can transform any stem cell into an embryonic stem cell -- its original state. "More than half of mouse epiblast stem cells treated with the drug reversed course within three days, and regained an embryonic 'be anything' state, also called pluripotency," reports Futurity. What's more, mice bred using those cells grew up healthy.
Why it's important: Embryonic stem cells are prized because they can become any kind of cell in the body. If we can turn regular stem cells into embryonic stem cells, we can extend the tremendous power of stem cell therapy even to those who didn't have their embryonic stem cells banked at birth.
Spotted by Marissa Brassfield
Scientists Develop Flexible, Stretchable 'Invisibility' Cloak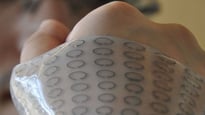 What it is: Iowa State University materials scientists and engineers have created an invisibility cloak of sorts -- specifically, "flexible, stretchable, and tunable 'meta-skin' that uses rows of small, liquid-metal devices to cloak an object from the sharp eyes of radar. Although this material wouldn't hide you from human eyes, some cameras wouldn't be able to pick up anything shielded underneath the meta-skin.
Why it's important: Invisibility cloaks are another example of how science fiction is rapidly turning into science fact, thanks to technology. This meta-skin would be ideal for security operations, especially those that require operators to hide people or objects from surveillance cameras.
Spotted by Marissa Brassfield
20 Automakers Commit to Emergency Braking Standard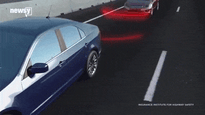 What it is: In a rare move, the world's 20 largest automakers have come together and agreed to make emergency braking technology standard on all new cars they produce by September 1, 2022.
Why it's important: The Insurance Institute for Highway Safety says this single move has the potential to reduce rear-end collisions in the U.S. by 40 percent. It's also an important precedent that paves the way for automakers to agree on standards for autonomous features in their vehicles without being prodded by the government.
Spotted by Marissa Brassfield
What is Abundance Insider?
This email is a briefing of the week's most compelling, abundance-enabling tech developments, curated by Marissa Brassfield in preparation for Abundance 360. Read more about A360 below.
Want more conversations like this?
At Abundance 360, Peter's 250-person executive mastermind, we teach the metatrends, implications and unfair advantages for entrepreneurs enabled by breakthroughs like those featured above. The program is highly selective and we're almost full, but we're still looking for a few final CEOs and entrepreneurs who want to change the world. Apply now for Abundance360 Summit if you'd like to develop an Abundance Mindset.
Know someone who would benefit from getting Abundance Insider? Send them to this link to sign up.