8 min read
In this week's Abundance Insider: Moth-inspired solar cells, protein-powered biocomputers, and 256GB smartphone chips.
Cheers,
Peter, Marissa, Cody, Maxx, Kelley and Greg
P.S. Send any tips to data@diamandis.com, and send your friends and family to this link to subscribe to Abundance Insider.
Inside a 61-Mile Drive With Tesla's Autopilot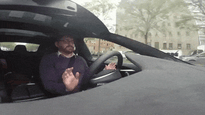 What it is: Tech analyst Daniel Sparks recently used Tesla's Autopilot mode on the highway to see "how far [he] could make it on the highway without taking control." Over the course of a 61-mile drive, he didn't steer or use the pedals; the only interaction he had with the car was when he tapped the blinker to signify a lane change.
Why it's important: Sparks' "shocking" Autopilot experience convinced him that autonomous production cars are coming "sooner than we think." Tesla's latest features are a promising preview of some of the interim steps we'll take towards fully autonomous driving while enabling devices like hardware sensors and fleet learning technology continue to improve.
Spotted by Peter Diamandis
Moth-Inspired Solar Cell Produces Power Without Light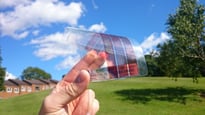 What it is: University of Surrey researchers drew inspiration from the humble moth to create a graphene-based solar cell that can produce energy from sunlight and any device that produces radio waves or microwaves. Like a moth's eye, the cell traps electromagnetic waves; from there, special antennae convert them into usable electricity.
Why it's important: Imagine tiny "solar" panels that can generate energy even if the panels are indoors or housed in a spot that doesn't get any sunlight at all. This also represents the exciting convergence of new R&D capabilities, materials science advancements, and design and interface inspiration from the natural world.
Spotted by Marissa Brassfield
New Wi-Fi System Uses 10,000 Times Less Energy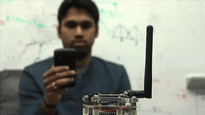 What it is: A team of University of Washington computer scientists and engineers has created a new Passive Wi-Fi system that can transmit Wi-Fi at bit rates of up to 11 megabits per second while using 10,000 times less power than existing energy-efficient platforms like Zigbee and Bluetooth Low Energy. "We wanted to see if we could achieve Wi-Fi transmissions using almost no power at all," said co-author Shyam Gollakota, a UW assistant professor of computer science and engineering. "That's basically what Passive Wi-Fi delivers."
Why it's important: Wireless communication that requires virtually zero power enables a true Internet of Everything. Another promising feature is that because the sensors in this system are transmitting Wi-Fi, they immediately work with any Wi-Fi enabled device -- no special equipment needed.
Spotted by Dan Swift
Here's a Book-Sized, Protein-Powered Biocomputer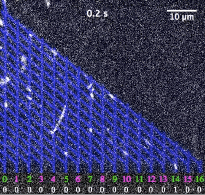 What it is: Lund University researchers have created a protein-powered (ATP) biocomputer that could revolutionize how we do cryptography and "mathematical optimization." The biocomputer is about the size of a book and uses under 1 percent of the power a traditional transistor does to do one calculation step, according to Lund's Heiner Linke and Engadget.
Why it's important: Today's supercomputers have two key drawbacks to their raw power: energy usage and physical footprint. This energy-efficient, book-sized biocomputer solves both of these issues -- and if the researchers are right, it won't be long until this biocomputer's performance scales to accommodate complex tasks.
Spotted by Marissa Brassfield
Samsung to Build 256GB Smartphone Chips
What it is: Samsung recently announced its plans to mass-produce 256GB embedded chips for smartphones. Such chips use the Universal Flash Storage 2.0 standard, which gives them read speeds of 850 MB/s -- which according to Engadget is almost twice that of SATA-based SSDs.
Why it's important: Faster computers are being used to build faster computers -- and that includes smartphones. 256GB storage capacity means that we'll be able to store ever-larger files like 4K movies and 360-degree videos on our mobile phones -- a crucial capability for virtual reality to really take off.
Spotted by Cody Rapp
Project Empathy Gets Schools in Developing Nations Connected & Online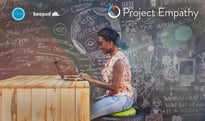 What it is: Project Empathy is a program that connects classrooms with Internet access to classrooms that don't -- including those in developing nations. Participating schools purchase "kits" -- a box with a Raspberry Pi, a 64 GB USB drive and complementary components -- and then students load those devices up with Web content. The boxes get delivered and installed by Project Empathy partners in classrooms without Internet access, along with a special Twitter account so that they can share feedback with the host classroom. Outernet, a startup that hopes to give the developing world satellite Internet access, is behind the project, which launched on Feb. 1.
Why it's important: Per its website, Project Empathy gives youth the power to influence a global service project by determining what educational content to load up in each of kit. This alone will yield tremendous breakthroughs in knowledge-sharing, but considering Outernet's business plan, this is also an effective way to gather data in currently-unconnected markets.
Spotted by Marissa Brassfield
Brain-Reading Training Tool Knows When You're in Information Overload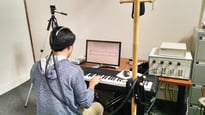 What it is: A Tufts University Ph.D candidate has created a music instruction tool that can read your brain and determine exactly when to give a student more or less instruction. Brain Automated Chorales (BACh for short) is a brain-computer interface that measures cognitive load, or how hard the wearer's brain is working on a specific task, based on blood flow in the prefrontal cortex. In preliminary studies, beginner piano students using the BACh system to learn new songs performed better -- more correct notes, fewer mistakes, faster learning curve -- than those who didn't.
Why it's important: This brain-computer interface revolutionizes how we teach others new skills, but it's also a promising example of the future of BCIs. "It's very hard for people to be self-reflective about their own cognitive state and workload," Beste Yuksel explained to Fast Company. "[BACh is] the first time we have this objective physical measurement of cognitive load that helps people learn in real time."
Spotted by Marissa Brassfield
NHTSA: Google's Autonomous Cars Count as Drivers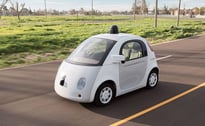 What it is: Legally speaking, the artificial intelligence used in Google's autonomous cars qualifies as an actual driver. That's the latest ruling from the National Highway Traffic Safety Administration, which reads, "NHTSA will interpret 'driver' in the context of Google's described motor vehicle design as referring to the [self-driving system] and not to any of the vehicle occupants. We agree with Google its [self-driving car] will not have a 'driver' in the traditional sense that vehicles have had drivers during the last more than 100 years."
Why it's important: While we still have unanswered legal questions, this development is a big step for autonomous vehicle manufacturers. "[If] NHTSA is prepared to name artificial intelligence as a viable alternative to human-controlled vehicles," explained Karl Brauer, a senior analyst at Kelley Blue Book, to NDTV, "it could substantially streamline the process of putting autonomous vehicles on the road."
Spotted by Peter Diamandis
Roll Your Own Blockchain Platform With Hyperledger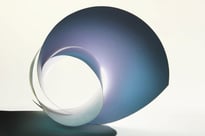 What it is: Hyperledger is a joint project from some seriously heavy hitters, including IBM, Wells Fargo, the London Stock Exchange and JP Morgan, that lets you test and deploy your own blockchain-like software in real-world situations. Interestingly, Wired reports that the Depository Trust & Clearing Corporation, which oversees the stock settlement system used on Wall Street, is also involved in the project. While Hyperledger is still under development, IBM recently debuted a cloud computing service that lets anyone try it out for free.
Why it's important: This article outlines many of the top blockchain initiatives, including Hyperledger, that aim to make the blockchain ubiquitous and easy to use. But it also illustrates how business leaders should think about disruptive technologies. "Once an idea gets out there -- at least in today's world -- you're not going to stop it from propagating," explained Arvind Krishna of IBM Research to Wired. "Those that embrace it with speed and conviction will be better placed for whatever disruption follows -- as opposed to being disrupted."
Spotted by Spencer E
Want more conversations like this?
At Abundance 360, Peter's 250-person executive mastermind, we teach the metatrends, implications and unfair advantages for entrepreneurs enabled by breakthroughs like those featured above. The program is highly selective and we're almost full, but we're still looking for a few final CEOs and entrepreneurs who want to change the world. Apply now for Abundance360 Summit if you'd like to develop an Abundance Mindset.
Know someone who would benefit from getting Abundance Insider? Send them to this link to sign up.