13 min read
In this week's Abundance Insider: 3D laser printers, sewage-powered cities, and smart sidewalks.
Cheers,
Peter, Marissa, Cody, Maxx, Kelley and Greg
P.S. Send any tips to data@diamandis.com, and send your friends and family to this link to subscribe to Abundance Insider.
Glowforge: The 3D Laser Printer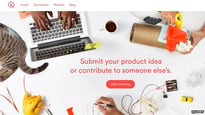 What it is: Glowforge is a 3D laser printer that cuts, engraves and shapes materials like wood, paper, cardboard, fabric, acrylic and leather. For example, a personalized hardwood skin for your MacBook Pro costs about $9 in materials and will take 19 minutes to print directly onto your laptop -- just place it inside the printer bed.
Why it's important: One more example of how robust consumer-level technology democratizes artistic expression. Glowforge's user-friendly interface shortens the learning curve and dematerializes the craftsman's workshop.
Spotted by Bruce Ryan
D.C. Water Begins Harnessing Electricity From Every Flush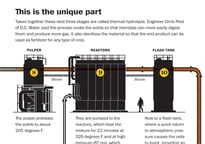 What it is: D.C. Water has just become the first utility in North America to convert treated sewage into electricity. The sewage treatment plant uses a Norwegian thermal hydrolysis system that also produces a beneficial byproduct: a compost-like soil mixture safe enough to fertilize any crop.
Why it's important: A great example of how cities can invest in clean, efficient infrastructure. This treatment plant is the largest of its kind in the world, and produces one-third of the total energy needs of the 157-acre plant -- saving $10 million each year in energy alone, plus $11 million per year in trucking expenses and $2 million per year on treatment chemicals.
Spotted by Marissa Brassfield
Amazing Industrial 3D Printer Fits in a Truck, Can Print an Entire Building in 24 Hours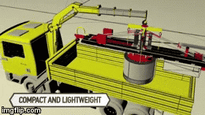 What it is: The Apis Cor 3D printer can print an entire building in a day without a shred of construction waste. The 16.4-foot by 5-foot printer is much smaller than other construction 3D printers, making it incredibly mobile, and it doesn't require site prep or testing before use.
Why it's important: 3D printers are getting smaller, lighter, faster and more energy-efficient. It won't be long until construction workers can travel from site to site with a 3D printer in the back of their trucks.
Spotted by Marissa Brassfield
A Battery Alternative to Costly, Rare Lithium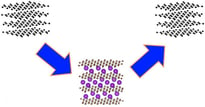 What it is: Oregon State University chemists have created a potassium-ion battery, contradicting an 81-year assumption that potassium couldn't work with graphite or bulk carbon anotes in a battery. The potassium-ion battery would be cheaper and easier to make -- potassium is 880 times more abundant in the Earth's crust than lithium -- but it likely wouldn't exceed the energy density of lithium-ion batteries.
Why it's important: Lithium is rare, expensive and difficult to recycle -- yet it's often used in computers, phones, transportation, and even renewable energy. Using potassium in its place enables significantly cheaper batteries made with existing manufacturing processes.
Spotted by Marissa Brassfield
The GoPro Awards Will Give $5M a Year for Great Content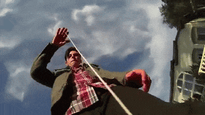 What it is: The GoPro Awards is a program that promises to hand out up to $5 million a year to people who create video content using GoPro cameras. Each week, the best video edit gets $5,000, the best video clip gets $1,000 and the best photo gets $500.
Why it's important: GoPro users have already uploaded over 23 million videos to YouTube, and this competition will only inspire more. Semi-related news item: YouTube's highest paid stars made over $54 million last year -- strong evidence of increasingly high demand for video content. Virtual reality companies will likely pay close attention to YouTube and GoPro's initiatives, as they too will need mass amounts of user-generated content to scale.
Spotted by Marissa Brassfield
U.K. Unveils First 'Smart Sidewalk' Offering Fast, Free Wi-Fi To Strollers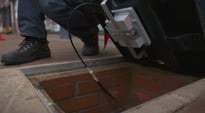 What it is: Virgin Media has teamed up with Chesham in the U.K. to create a "smart sidewalk" enabled with unlimited, 166 Mbps Wi-Fi. Using discreet rainproof "furniture," like bus stops, Smart Pavement and garbage cans, Virgin Media provides local people and businesses with superfast Wi-Fi throughout the high street and nearby park.
Why it's important: Soon, we won't think twice about ubiquitous, free, high-speed Internet, no matter where we are on the planet. Partnerships like this one between Chesham and Virgin Media show how seamless the transition can be.
Spotted by Marissa Brassfield
Landmark is Working on a Virtual Reality World's Fair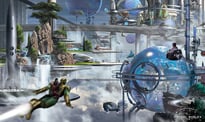 What it is: Landmark Entertainment Group and Pavilion of Me have collaborated on the Virtual World's Fair -- a virtual reality experience set for 2017. Using VR headsets, attendees can explore virtual exhibitions, shop, learn and interact with other global attendees. The group hails the event as "the greatest never-ending show on Earth."
Why it's important: More science fiction turning into science fact. Landmark CEO Tony Christopher notes that the idea for the virtual World's Fair originated in the 1990s, but the technology wasn't there yet. What other travel experiences can virtual reality digitize, dematerialize, demonetize and democratize?
Spotted by Marissa Brassfield
China Overtakes US in Number of Billionaires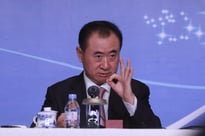 What it is: China now has more billionaires than the U.S., according to the latest Hurun Rich List. This year, China added 242 billionaires for a total of 596; for comparison, the number of billionaires in the U.S. was 537. The majority of the newest group of billionaires work in the manufacturing and information technology industries.
Why it's important: More evidence of our global, exponential economy. The threshold Hurun used for the Rich List was $310 million USD, and 1,877 individuals made the list in China alone.
Spotted by Marissa Brassfield
Scientists Shove Robots Off Their Feet to Teach Them How to Fall With Grace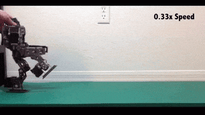 What it is: Georgia Tech researchers are committing "robot abuse" for science: They're intentionally pushing robots over so that they can teach them to fall more gracefully. An algorithm, inspired by a year of study on mammalian brains' reflexes, helps robotic "brains" figure out the speed and angle of the robot's fall and then quickly adapt to protect itself.
Why it's important: Historically, engineers have had the toughest time teaching robots innate human reflexes like adaptation and improvisation. This algorithm brings us one step closer to robots that move and react as quickly as cats or humans -- which in turn enables broader robot use cases.
Spotted by Marissa Brassfield
England Makes 3D Data of the Entire Country Free After Minecrafters Ask For It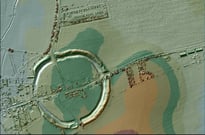 What it is: For years, England has laser-scanned its landscape at a 2-meter resolution for urban planning, scientific research and archaeological research. It just made the 11-terabyte LIDAR dataset available -- for free -- in part due to requests from everyone from researchers to Minecraft players.
Why it's important: Last year, researchers found a "lost" city in the Honduran rainforest using LIDAR data. Governments can't possibly process all the data they collect, so they may as well open it up to the public to parse. England joins the state of Minnesota and several other countries, including Finland and Switzerland, in publicly releasing their LIDAR data.
Spotted by Marissa Brassfield
ThumbSat Microsatellites Will Open The Door to Consumer Space Exploration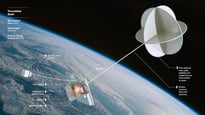 What it is: Shaun Whitehead's ThumbSat project is essentially a balloon-like structure outfitted with a microcontroller, transmitter, GPS unit and camera. For a cost of about $20,000, a ThumbSat can "hitchhike" on rockets that have already been built and scheduled for launch, collect data and beam it down to 50 global listening stations for about two months, and then burn up in the atmosphere.
Why it's important: ThumbSat demonetizes and democratizes space exploration for everyone -- from garage scientists to NASA. In fact, NASA's Jet Propulsion Laboratory engineers are using a cluster of connected ThumbSats to study gravitational waves in space.
Spotted by Marissa Brassfield
MIT Invents a Flowing River of 3-D Pixels That Lets Objects Assemble Themselves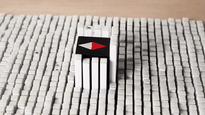 What it is: MIT's Tangible Media Group has reimagined the conveyor-belt-style assembly line with a project called Kinetic Blocks. The flatbed "shape display" holds computer-controlled pins and a Microsoft Kinect, and can move, stack, twist and rotate blocks on its own. Watch the video to see it construct preprogrammed structures without human intervention.
Why it's important: Kinetic Blocks offer a promising alternative to using a series of robot operators on assembly lines: turn the assembly line itself into a robot. One day, we could see a factory line in which cars and laptops seemingly assemble themselves as they travel from one side to another.
Spotted by Marissa Brassfield
Light-Controlled 'Quantum Etch-A-Sketch' Could Lead to Advanced Computers and Quantum Microchips

What it is: Researchers at Penn State and the University of Chicago have discovered a rewritable optical fabrication process that lets them "tune" the energy of electrons in topological insulators without touching the material. Using the technique like a "quantum Etch-a-Sketch," the researchers drew and erased the p-n junction, one of the central components of a transistor, for the first time.
Why it's important: The ability to draw and erase quantum circuits with beams of light, rather than chemicals, could lead to the next generation of quantum microchips and advanced computers. "It's not just that it's faster and easier," the researchers add. "This effect could allow electrical tuning of materials in a wide range of optical, magnetic and spectroscopic experiments where electrical contacts are extremely difficult or simply impossible."
Spotted by Marissa Brassfield
In Nigeria, Solar-Powered Fridges at Outdoor Markets Save Food From Spoiling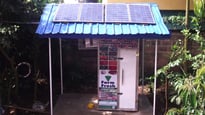 What it is: ColdHubs are 4.7-inch-thick walk-in refrigerators powered entirely by rooftop solar panels. Founded by Nigerian farmer Nnaemeka Ikegwuonu, ColdHubs' 24/7 off-grid storage helps fruits and vegetables stay fresh for up to 21 days, cutting local farmers' post-harvest losses by 80 percent.
Why it's important: ColdHubs units save food, jobs and money. In developing countries, 45 percent of food goes bad because of a lack of cold storage; what's more, 470 million farmers in Latin America, Southeast Asia and Africa (and 200 million in Africa alone) lose up to one-fourth of their annual income due to losses.
Spotted by Marissa Brassfield
Yelp's Using Image Search to Change How It Finds You a Bar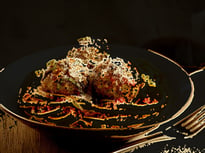 What it is: Yelp has embarked on an image recognition project to help it automatically determine the perfect selection of user-submitted photos to represent a particular business. It first built a neural network using the open-source software Caffe, and then started a CrowdFlower project to label photos and train its algorithm. Once crunched, this data will make it into Yelp's core search functionality.
Why it's important: Yelp users upload millions of photos of local venues, and those photos contain a ton of valuable data. Peter always says that the interim step to full-blown Artificial Intelligence is the crowd. By leveraging the crowd to process photos and train its algorithm, Yelp can surface better photos to its users, faster.
Spotted by Marissa Brassfield
Fully Transparent Solar Cell Could Make Every Window in Your House a Power Source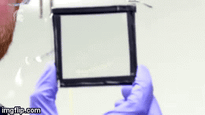 What it is: Researchers at Michigan State University have created a transparent solar panel that is indistinguishable from a normal pane of glass. Unlike previous iterations you might have read about, this one uses a transparent luminescent solar concentrator, which uses organic salts to absorb wavelengths of light that are invisible to the human eye.
Why it's important: Imagine a world where every window, glass building or glass pane you encounter houses a hidden power plant generating clean solar energy.
Spotted by Marissa Brassfield
Automating Big-Data Analysis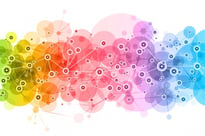 What it is: MIT's Data Science Machine searches not just for patterns in big data, but also designs the feature set. Researchers enrolled the prototype in three data science competitions, pitting it against human teams to find predictive patterns in unfamiliar data sets. The human teams took months to create their prediction algorithm, but the Data Science Machine completed its in two to 12 hours -- and finished ahead of 615 of the 906 teams.
Why it's important: A critical step in data science projects is "feature engineering," or what variables to extract from the database. By using algorithms to digitize human intuition, we empower computers to crunch enormous data sets in hours rather than months.
Spotted by Marissa Brassfield
Affordable Camera Reveals Hidden Details Invisible to the Naked Eye

What it is: HyperCam is a "hyperspectral" camera technology developed jointly by the University of Washington and Microsoft Research that uses visible and invisible near-infrared light to capture images in 17 different wavelengths. Best of all, it could cost as little as $50 to add to a mobile phone camera.
Why it's important: HyperCam augments human vision in an incredible fashion. Imagine walking into a grocery store and immediately identify the ripest fruits, or into a fine art gallery and spotting a fake -- all using your phone's camera.
Spotted by Marissa Brassfield
Want more conversations like this?
At Abundance 360, Peter's 250-person executive mastermind, we teach the metatrends, implications and unfair advantages for entrepreneurs enabled by breakthroughs like those featured above. The program is highly selective and we're almost full, but we're still looking for a few final CEOs and entrepreneurs who want to change the world. Apply now for Abundance360 Summit if you'd like to develop an Abundance Mindset.
Know someone who would benefit from getting Abundance Insider? Send them to this link to sign up.