8 min read

In this week's Abundance Insider: New CRISPR explorations, CTRL-labs' neural monitoring armband, and a nighttime solar panel.
P.S. Send any tips to our team by clicking here, and send your friends and family to this link to subscribe to Abundance Insider.
P.P.S. Want to learn more about exponential technologies and home in on your MTP/ Moonshot? Abundance Digital, a Singularity University Program, includes 100+ hours of coursework and video archives for entrepreneurs like you. Keep up to date on exponential news and get feedback on your boldest ideas from an experienced, supportive community. Click here to learn more and sign up.
Share Abundance Insider on LinkedIn | Share on Facebook | Share on Twitter | Read on Diamandis.com.
Gatwick to use facial recognition at boarding.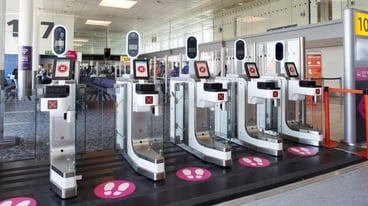 What it is: Following its self-boarding trial with EasyJet last year, Gatwick has become the UK's first airport to confirm it will permanently use facial-recognition cameras for flight passenger ID checks. While travelers will still need to carry passports at departure gates for the auto-boarding system to match document photos with corresponding faces, the technology's rollout is slated to entirely eliminate the need for human checks at a range of entry points. Already, 90% of the 20,000 passengers who tested Gatwick's new system found it "extremely easy," and the airport reported a dramatic reduction in passenger queuing times.
Why it's important: Although privacy advocates have raised concerns regarding informed consent, Gatwick and other airports' piloting of facial recognition validates the speed at which computer vision is advancing, now well in the commercialization arena. Even London's Heathrow Airport, which has now invested £50 million in the software, claims facial recognition could reduce airport travel time averages by a third. As adjacent markets emerge around the technology (from data security to AI traffic optimization), facial recognition's gradual rollout at airports could soon spread to countless checkpoints and transit systems, automating transit security on a massive scale. | Share on Facebook.
This "Anti-Solar Panel" Could Generate Power From Darkness.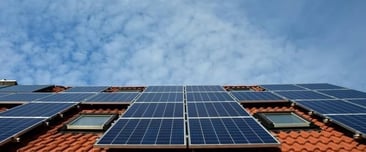 What it is: Researchers at Stanford University have just developed a solar panel capable of generating energy from the night sky. Their method works by passively cooling one side of the panel using a technique called radiative sky cooling. Central to this latter process, a surface first radiates its thermal energy towards the sky, leaving it several degrees colder than the ambient temperature. In doing so, the panel creates a thermal difference between its cooler side and ambient temperature, allowing the panel to generate electricity. While the process currently generates only 25 mW per square meter (m2), future capacities are already expected to reach 0.5 W/m2. In practice, the researchers even demonstrated their panel's ability to light an LED light bulb.
Why it's important: Amidst the push for green energy, one of the biggest bottlenecks in market adoption of renewable sources like solar and wind is the time-dependent nature of energy generation. Creating a solar energy grid that works both day and night would go a long way in encouraging mass adoption, not to mention buildout of comprehensive green energy infrastructure. Commercialization of Stanford's anti-solar panel would especially benefit remote and poorly resourced regions, granting energy independence and 24/7 consistency. | Share on Facebook.
Shanghai allows self-driving cars to carry passengers.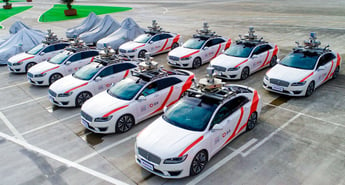 What it is: Shanghai is now the first Chinese city to issue permits for self-driving cars, allowing licensed firms to conduct operational tests of smart and connected vehicles carrying passengers and freight. Now bolstered by Shanghai's first dedicated road section for autonomous vehicles (covering 65 square kilometers), SAIC Group, BMW, and Didi Chuxing were each granted licenses to operate a fleet of 50 cars in the city's Jiading district. In order to receive permits, applying firms must have over 24,000 kilometers and 1,200 hours of passenger-less testing, no collisions incurred. Furthermore, upon receiving a license, trips are not permitted to make a profit. Yet once licensed driverless fleets operates for more than six months without incident, auto companies can apply to increase their fleet size.
Why it's important: Autonomous driving is set to revolutionize transportation, as billions are poured annually into R&D. Now, the regulated deployment of driverless transit services in an urban environment as complex as Shanghai's speaks volumes about the technology's maturity. While still constrained to a designated area, numerous firms' gradual rollout of self-driving vehicles in Shanghai will accelerate passenger acceptance and invaluable data abundance (across a test library of thousands of scenarios). Yet beyond autonomous capabilities, vehicles are joining a connected ecosystem, driven by urban-embedded sensors, tailor-made smart roads, and 5G-based transit systems. | Share on Facebook.
New CRISPR class expands genetic engineering toolbox.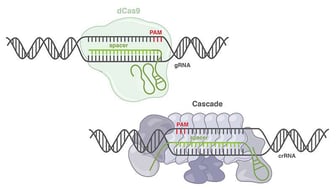 What it is: Biomedical engineers at Duke University—led by Charles Gersbach and Adrian Oliver—have harnessed a new set of Class 1 CRISPR systems to edit the human epigenome. Today's most commonly used gene-editing tool, CRISPR-Cas9, is a Class 2 CRISPR system and relies on just one Cas protein to target and cleave DNA. By contrast, Class 1 systems are more complex, involving a Cascade complex that binds the DNA, then recruits a Cas3 protein to act as the molecular scissors. The Duke research team, however, found that these Class 1 systems—which make up 90% of CRISPR systems in all bacteria on Earth—boast comparable accuracy to their more well-known Class 2 counterparts. Consequently, the researchers even discovered they could bind these Class 1 complexes to specific gene activators and repressors, demonstrating the potential to control human gene expression with remarkable precision.
Why it's important: The Duke team's successes open up an entirely new frontier in gene editing. While the accuracy and specific application of Class 1 systems now appear comparable to those of Class 2 systems, the former may be able to address some of the challenges researchers have previously experienced with Class 2 systems in therapeutic applications, including immune response to Cas proteins. By further investigating the differences between the two, researchers could soon determine promising combinations of various gene editing techniques, honed to target complex diseases and genetic predispositions in humans. | Share on Facebook.
Facebook buys startup building neural monitoring armband.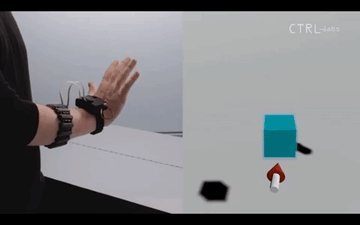 What it is: Facebook recently acquired startup CTRL-labs, producer of a neural impulse armband, for an estimated $500 million to $1 billion. Founded in 2015, the New York-based startup has built a noninvasive wristband, using sensors to detect arm muscle movements and convert them into digital input signals. Having raised $67 million from investors like Lux Capital and Founders Fund, CTRL-labs (and its CEO Thomas Reardon) will now work under Facebook's Reality Labs division. A tremendous feat, CTRL's device already allows wearers to manipulate objects on a screen by moving their hands in mid-air as if they were handling a physical object— a process called digital telekinesis. Given the technology's maturity, CTRL-labs' acquisition marks the first step towards commercializing noninvasive control interfaces, potentially for use in Facebook's AR devices.
Why it's important: Converting neural impulses into digital signals will unearth a treasure trove of digital superpowers for humans. Facebook's AR/VR Vice President Andrew Bosworth has emphasized the technology's potential in Oculus devices, providing a more seamless alternative controller to hand tracking or gloves. As AR balloons into a competitive and highly valuable market over the next 10 to 15 years, the dematerialization of high-precision sensors and controllers will be critical for our interaction with digitally augmented environments. Welcome to a future wherein AR interfaces and seamless controls eliminate our modern-day era of screens and keyboards. | Share on Facebook.
IKEA will produce more energy than it consumes by 2020.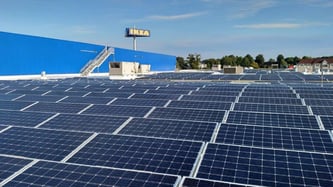 What it is: By the end of this year, IKEA forecasts it will generate more renewable energy than the energy consumed by all its stores on aggregate, putting the company almost a year ahead of schedule. After investing roughly $2.8 billion in wind and solar energy over the past decade, the company has also announced plans to stock its shelves with home solar panels by 2025. Having just invested in two solar farms (in Utah and Texas, respectively) earlier this month, IKEA already has 900,000 of its own panels, installed across stores and distribution centers alike.
Why it's important: Contributing to a sweeping trend of climate-focused initiatives surrounding the UN's Climate Action Summit, IKEA joins a number of companies in its plan to be climate-positive (reducing more emissions than it releases) by 2030. In a newly unveiled "Climate Pledge," Amazon's Jeff Bezos has even staked an ambitious goal of meeting the Paris climate agreement targets a full 10 years early. Agreeing to purchase 100,000 electric delivery vans for product distribution, the e-commerce giant expects to derive 80% of its energy use from renewable sources by 2024, continuing on to achieve zero emissions by 2030. As the cost of solar continues to plummet, corporate pledges to invest could be just the fuel to drive wide-scale consumer adoption of renewables. | Share on Facebook.
Want more conversations like this?
Abundance 360 is a curated global community of 360 entrepreneurs, executives, and investors committed to understanding and leveraging exponential technologies to transform their businesses. A 3-day mastermind at the start of each year gives members information, insights and implementation tools to learn what technologies are going from deceptive to disruptive and are converging to create new business opportunities. To learn more and apply, visit A360.com.
Abundance Digital, a Singularity University program, is an online educational portal and community of abundance-minded entrepreneurs. You'll find weekly video updates from Peter, a curated news feed of exponential news, and a place to share your bold ideas. Click here to learn more and sign up.
Know someone who would benefit from getting Abundance Insider? Send them to this link to sign up.
(*Both Abundance 360 and Abundance Digital are Singularity University programs.)