3 min read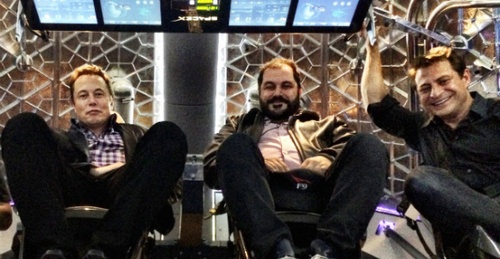 Recently I attended the unveiling of SpaceX's Dragon-2 capsule — the new spaceship they've designed to take people to space.
I wanted to share this exciting experience with you.
After a small press event, I had the chance to actually climb into the capsule with Elon Musk (Founder & CEO) and a mutual friend, Shervin Pishevar (Managing Director at Sherpa Ventures).
For any of you who are fellow space cadets, this is the first spaceship that is truly beautiful, from its leather seats (which remind me of my Tesla) to its gleaming metallic interior and large flat screen displays. This is the first spaceship to feel straight out of a sci-fi movie. What the SpaceX team has accomplished is nothing short of miraculous.
After the big reveal, Musk told reporters that the cost of flying seven astronauts to the station on the Dragon could start out at under $20 million per seat, with the first piloted test flights in 2016.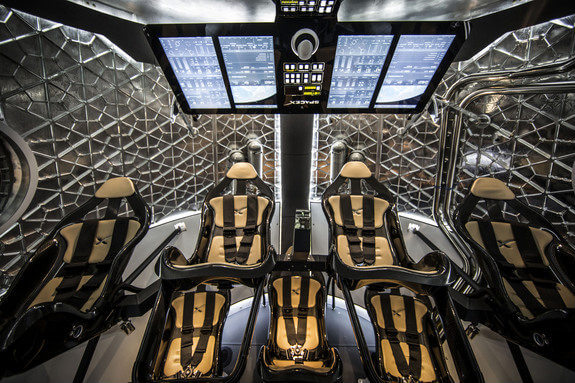 Two extremely cool features of the Dragon-2 Capsule:
First, the landing engines called the "SuperDraco Thrusters" are actually 3D printed out of Inconel (a nickel-chromium superalloy), each with 16,000 pounds of thrust.
Second, the Dragon-2 capsule lands using rocket thrusters. Gone are the parachute splashdowns. Now Dragon-2 can land anywhere on Earth with the precision of a helicopter.
Such a powered landing is the first step towards landing on Mars, where the atmosphere is too thin to use parachutes for a soft touchdown.
Mars, after all, is Elon's ultimate goal. Last October I was on stage with him, interviewing him at a Goldman Sachs event for an audience of entrepreneurs, and I asked him for a prediction on the timeframe and cost for taking private passengers to Mars. His answer?
It's only 15 years away.
For a total cost per person of $500,000
…Round trip.
The message here is the following:
Elon had no experience in the rocket business when he started 12 years ago. Yes, of course he's a genius, but beyond that, he has surpassed what NASA, Lockheed, Boeing, Russia and China are able to do in space.
The ability of entrepreneurs to do what was once only in the hands of governments is upon us. So too, is access to the solar system.
Fasten your seatbelts — it will be a wild ride ahead.
Also read: TOP 50 MOON SHOTS
WHAT IS ABUNDANCE INSIDER?
This email is a briefing of the week's most compelling, abundance-enabling tech developments, curated by Marissa Brassfield in preparation for Abundance 360. Read more about A360 below.
WANT MORE CONVERSATIONS LIKE THIS? - JOIN ME
At Abundance 360, Peter's 360-person executive mastermind, we teach the metatrends, implications and unfair advantages for entrepreneurs enabled by breakthroughs like those featured above. We're looking for CEOs and entrepreneurs who want to change the world. The program is highly selective. Apply now for Abundance360 Summit if you'd like to develop an Abundance mindset.
Know someone who would benefit from getting Abundance Insider? Send them to this link to sign up.
P.S. I've just released a podcast with my dear friend Dan Sullivan called Exponential Wisdom. Our conversations focus on the exponential technologies creating abundance, the human-technology collaboration, and entrepreneurship. Head here to listen and subscribe.