9 min read

In this week's Abundance Insider: Hybrid jets, cancer-detecting DNA nanopores, and Canada's $750 million investment in wireless.
Cheers,
Peter, Marissa, Cody, Kelley, Greg, Sydney and AJ
P.S. Send any tips to our team by clicking here, and send your friends and family to this link to subscribe to Abundance Insider.
Robotic Sorting System Helps Chinese Company Finish at Least 200,000 Packages a Day in the Warehouse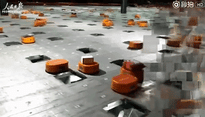 What it is: The Chinese delivery company Sentong is embracing automation in a major way, hoping to save around 70% of the costs over a human sorting line. Orange robots at the company's sorting stations can identify the destination of a package through a code scan, eliminating mistakes while sorting up to 200,000 packages a day. The small army is also self-charging, meaning they are operational 24 hours a day, 7 days a week.
Why it's important: Chinese companies and researchers are embracing automation and robotics in an inspiring way: as a massive opportunity with huge benefits for an aging workforce. What will the impact be on the global economy as countries and industries place varied bets on the aggressive adoption of automation and robotics? | Join the Discussion
Spotted by Cody Rapp / Written by Jason Goodwin
Art of Paper-Cutting Inspires Self-Charging Paper Device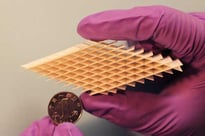 What it is: While there has been a ton of interest in harnessing mechanical energy to power wearables and small electronics, advances have so far been limited by charging time and weight. Inspired by paper folding techniques, Zhong Lin Wang, Chenguo Hu and colleagues have taken a rhombic paper-cut design, coating it with gold and granite coated sandpaper for capacitance, and a gold and ethylene propylene film for energy harvesting. Repeatedly squeezing the the device for just one minute yields 1 Volt, enough to power a watch or temperature sensor, and a roughly 100X improvement in charging time.
Why it's important: Inspired by paper-folding and the unique properties of 3D-printed lattices, the researchers have shown us that developing a process for thinking broadly and deeply can yield significant breakthroughs. In the short term, look for lighter and more ubiquitous battery storage to have an impact in energy usage, which will drive additional innovation in areas like medicine, clothing and sensor utilization. | Join the Discussion
Spotted by Aryadeep S. Acharya / Written by Jason Goodwin
The Beyond Burger, Beyond the U.S.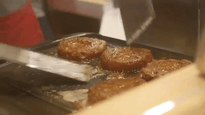 What it is: Beyond Meat's plant-based Beyond burger is now commercially available in Hong Kong, which has the highest meat consumption per capita in the world. The burgers will be sold in retail packs in the protein aisle of Green Common supermarkets -- the first place outside the U.S. to carry this product. The Beyond Burger will also be offered at a popular Hong Kong burger restaurant starting next month.
Why it's important: How will the international marketplace respond to a burger alternative, which, unlike other plant-based proteins, is designed to "bleed" just like real meat? It's well worth the experiment to find out. In 2016 alone, it took 63 billion land animals to feed 7 billion humans. What's more, land animals occupy one-third of the non-ice landmass, use 8% of our water supply and generate 18% of all greenhouse gases. | Join the Discussion
Spotted by Aryadeep S. Acharya / Written by Sydney Fulkerson
Nanopores Map Small Changes in DNA for Early Cancer Detection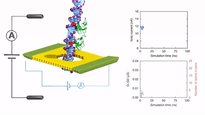 What it is: Researchers at the University of Illinois have developed a model for using nanopores to improve the detection of DNA methylations, which are often biomarkers for the early detection of cancer. Their simulated method involves punching a hole in a 2D sheet of graphene or other material capable of conducting electricity. By applying a current to the sheet as the DNA is thread through, the team is able to dramatically increase the resolution of previous methods, detecting separate methylations as few as 10 base pairs apart.
Why it's important: This is yet another example of the convergence in materials science, nanotechnology, biology and computing power leading to novel insights. Look for the trend in early diagnosis of cancer and other diseases to accelerate from this finer granularity, but also don't miss that this discovery was made via a simulation. Imagine applying machine learning algorithms and stronger Artificial Intelligence to these types of problems, or visualizing the results in a mixed reality environment. | Join the Discussion
Spotted by Aryadeep S. Acharya / Written by Jason Goodwin
Fast Drawing for Everyone

What it is: Google recently launched a web-based tool called AutoDraw that integrates machine learning with pre-drawn illustrations to help people draw better and faster. The tool can be accessed on your phone, computer and tablet for free. AutoDraw's suggestion tool uses the same technology as Google's "Quick, Draw!" Artificial Intelligence experiments. All drawings learned by Google's AI were created exclusively for AutoDraw, and were created by artists, designers, illustrators and friends of Google.
Why it's important: Machine learning and Artificial Intelligence will become the most important human collaboration tool ever created, amplifying our abilities and providing a simple user interface to all exponential technologies. What happens when anyone can use tools like AutoDraw to turn an idea into a compelling sketch or prototype? | Join the Discussion
Spotted by Dan Swift / Written by Sydney Fulkerson
Tesla Quietly Unveils New Solar Panels
What it is: Elon Musk recently quietly launched a new line of solar panels you can affix to your existing roof -- and they are more cost-effective than the Tesla solar roof Musk revealed in October of last year. Like traditional panels, the new line of panels are mounted on top of roofs, but without visible mounting hardware. Tesla has partnered with Panasonic to manufacture solar panels exclusive to Tesla, which will take place at the Gigafactory 2 in Buffalo, New York. Customers can get quotes on solar panel installations now; however, production is not expected to begin until mid-2017.
Why it's important: In the next 20 years, between 50% to 100% of the world's energy production could come from solar. We are on the cusp of a solar revolution where the cost of solar cells will plummet, efficiency will rise dramatically, and the incentives for widespread adoption will become too compelling to resist. | Join the Discussion
Spotted by Aryadeep S. Acharya / Written by Sydney Fulkerson
Zunum's Hybrid Jet Could Finally Make Electric Flight a Reality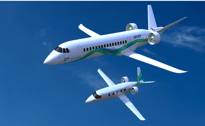 What it is: Working with the University of Illinois and backed by JetBlue Ventures and Boeing, aviation startup Zunum is applying the hybrid approach taken by GM and the Chevy Volt to bring electric aircraft into reality. While fascinated by electric planes, the aviation industry's results so far in startups like Solar Impulse and Airbus's E-Fan are severely limited in range, speed and carrying capacity. By adding a jet-fueled turbine generator to aid in recharging, Zunum believes it can extend range to as much as 700 miles, enough to feasibly connect the thousands of small airports typically unused by the current airline system.
Why it's important: While applying a hybrid approach to airplanes might seem obvious, the business model that Zunum envisions is not. Zunum aims to leverage an incredibly underused resource: commercial airfields. Achieve traction there, and Zunum eases commutes between, say, San Diego and Los Angeles, but can also inch into larger markets as battery weight to capacity ratios continue to improve. | Join the Discussion
Spotted by Aryadeep S. Acharya / Written by Jason Goodwin
Canada to Spend $750 Million to Ensure All Citizens Have Internet Access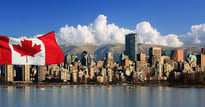 What it is: The Canadian Radio-Television and Telecommunications Commission (CRTC) recently announced that the country is setting up a fund of $750 million to ensure all citizens have access to home internet. Additionally, the CRTC developed a standard for home internet access, including download speeds of at least 50Mbps and upload speeds of 10Mbps with the option of unlimited data. Currently 18% of Canadians do not have access to comparable internet standards, and the CRTC aims to reduce this percentage to 10 percent by 2021 and ultimately down to zero in the next 10 to 15 years.
Why it's important: Canada's declaration that broadband internet is a basic telecommunications service is proof that we are heading towards a total hyper-connected world. In 2010, 1.8 billion people were connected. Today, that number is about 3 billion, and between 2022 and 2025, that number will expand to include every human on the planet, approaching 8 billion humans. We're entering an age when the entire world is online at speeds of 1 megabit per second or greater, with access to the world's information on Google, access to the world's products on Amazon, access to massive computing power on AWS and artificial intelligence with Watson… not to mention crowdfunding for capital and crowdsourcing for expertise. | Join the Discussion
Spotted by Aryadeep S. Acharya / Written by Sydney Fulkerson
WHAT IS ABUNDANCE INSIDER?
This email is a briefing of the week's most compelling, abundance-enabling tech developments, curated by Marissa Brassfield in preparation for Abundance 360. Read more about A360 below.
WANT MORE CONVERSATIONS LIKE THIS?
At Abundance 360, Peter's 360-person executive mastermind, we teach the metatrends, implications and unfair advantages for entrepreneurs enabled by breakthroughs like those featured above. We're looking for CEOs and entrepreneurs who want to change the world. The program is highly selective. Apply now for Abundance360 Summit if you'd like to develop an Abundance Mindset.
Know someone who would benefit from getting Abundance Insider? Send them to this link to sign up.