7 min read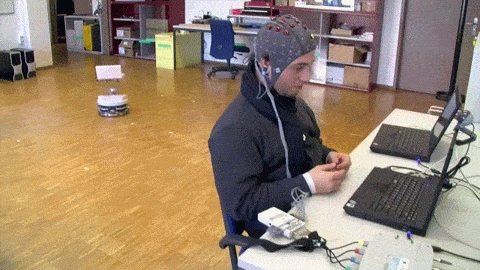 In this week's Abundance Insider: Affordable artificial photosynthesis, insect-inspired robot swarms, and brain-controlled telepresence bots.
Cheers,
Peter, Marissa, Cody, Maxx, Kelley and Greg
P.S. Send any tips to data@diamandis.com, and send your friends and family to this link to subscribe to Abundance Insider.
Telepresence Robot Takes Directions via Brain Signal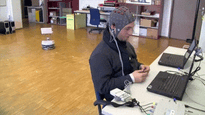 What it is: Italian and Swiss researchers have created a telepresence robot for the disabled that uses a brainwave-detecting headset to guide its navigation. The user imagines movements with their feet or hands, which each correspond to a different command. The robot parses these signals and uses its built-in programming to determine the best route and avoid obstacles.
Why it's important: Brain-computer interfaces have a number of powerful user applications -- everything from prosthetics to wheelchairs could benefit from more efficient control mechanisms. Non-invasive BCIs like this one mitigate the primary usage barriers (i.e. cost, difficulty) we see today.
Spotted by Marissa Brassfield
Phase-Change Smart Screens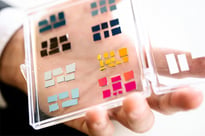 What it is: Bodle Technologies hopes to change how much energy your gadgets use. Its new display uses phase-change material -- which draws almost zero power -- to achieve crisp, vivid images even in direct sunlight.
Why it's important: Transparent displays that require little to no power would eliminate the battery drain on smartphones and wearables that users experience from screen brightness. The display's infrared-blocking property also enables smart windows that keep buildings cool without air conditioning.
Spotted by Marissa Brassfield
Artificial Pheromone-Based Swarm Robotics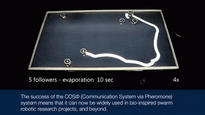 What it is: University of Lincoln specialists have created an artificial pheromone system that will revolutionize the field of swarm robotics. COS-phi (Communication System via Pheromone) uses an open-source localization system and an inexpensive, open-hardware micro robot. The system lets users simulate pheromones and tweak their strength for experiments. The swarm robots have light sensors that act like ants' antennae to detect the visual pheromones.
Why it's important: We're increasingly seeing ways in which technology can replicate biological behavior -- in this case, the swarming phenomenon of insects and ants. This particular breakthrough enables engineers to create accurate vehicle collision sensors, better surveillance, and better interactions between robots and their environment.
Spotted by Ian Pitchford
ShiftWear E-Ink Sneakers Let You Change Designs on the Fly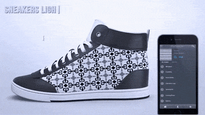 What it is: New York-based startup ShiftWear has created a prototype sneaker that could revolutionize how we purchase fashion. Its sneakers contain an E Ink display, which enables the wearer to change the sneaker's color and design from their smartphone. The durable, water-resistant shoes will have a 30-day battery life with walk-to-charge functionality and wireless charging capabilities. The ShiftWear app will also serve as a marketplace, with revenue sharing for designers who contribute designs.
Why it's important: The fashion industry was built on the notion of expressing oneself through clothing. By applying display technology used in cellphones and tablets to shoes, ShiftWear enables a new degree of on-demand personalization. And by raising funds through a crowdfunding campaign, they'll launch this breakthrough idea with a proven market and built-in community.
Spotted by Marissa Brassfield
Gadget Tells You What's Wrong With Your Air Conditioner by Listening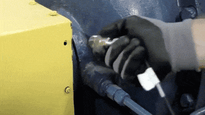 What it is: Augury uses sophisticated sensors and a companion app to diagnose bulky machines like those used in commercial buildings' heating, ventilation and cooling systems. A magnetic sensor attaches to a machine's body (e.g. pump, fan, central air-conditioning unit) and collects vibration and ultrasonic sensor data, then transfers this data to the cloud for analysis against Augury's vast dataset. A companion app displays the resulting diagnosis minutes later.
Why it's important: The convergence of smart sensors, cloud computing and data mining enables Augury to pinpoint issues in big, complicated machines before they turn into big problems -- saving its clients considerable maintenance costs. Imagine similar sensors in consumer appliances: for example, a refrigerator displaying exactly what replacement parts it needs.
Spotted by Marissa Brassfield
3D Printer Creates Objects at 1 cm/min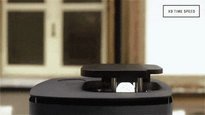 What it is: The NX1 3D printer by Nexa3D uses a novel technique called self-Lubricant Sublayer Photocuring (LSPc), which prints at 1 centimeter per minute -- significantly faster than most bottom-up 3D printing systems. Its laser projection system essentially "grows" objects from a pool of UV-curable resin, according to Digital Trends.
Why it's important: Makers, consumers and entrepreneurs can truly print objects on demand, in real time -- dematerializing and demonetizing manufacturing and retail.
Spotted by Marissa Brassfield
Affordable Artificial Photosynthesis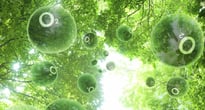 What it is: Florida State University researchers have created a material that enables simple, efficient and cheap artificial photosynthesis. A single-layer manganese oxide material traps sunlight and simplifies the energy breakdown into hydrogen and oxygen.
Why it's important: Imagine hydrogen-fueled cars that self-generate some of their supply, or oxygen-generating rooftops that don't need plant beds.
Spotted by Marissa Brassfield
Infrared Laser Refrigeration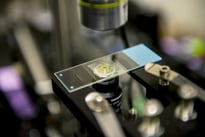 What it is: University of Washington researchers have tweaked an infrared laser to cool water and other liquids by 36 degrees Fahrenheit -- a breakthrough in the field. "Using laser cooling, it may be possible to prepare slow-motion movies of life in action," said senior author Peter Pauzauskie. "And the advantage is that you don't have to cool the entire cell, which could kill it or change its behavior."
Why it's important: Higher-powered lasers tend to melt down and overheat. This technology could enable higher-power lasers in the defense, manufacturing and telecommunications industries.
Spotted by Marissa Brassfield
Self-Repairing 3D Printers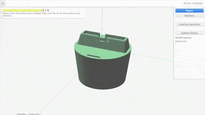 What it is: Researchers from the Hasso-Plattner-Institut have created a 3D printer that can make modifications to existing plastic prototypes -- essentially fixing its own mistakes.
Why it's important: This functionality dramatically reduces the need for raw materials and also accelerates the process of modifying or repairing 3D printed models.
Spotted by Marissa Brassfield
Breakthrough Energy Coalition Fund Launched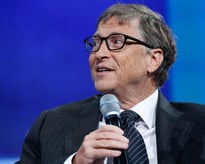 What it is: Bill Gates, Mark Zuckerberg and 27 other billionaires have just launched the Breakthrough Energy Coalition, a fund dedicated to research on technical solutions for climate change. The Independent reports that the government needs to augment its research with "...the skills and resources of leading investors with experience in driving innovation from the lab to the marketplace."
Why it's important: Technophilanthropists and abundance-minded entrepreneurs now have the power to create the kind of change that was previously limited to governments and heads of state.
Spotted by Eli Call
Real-Time Neural Imaging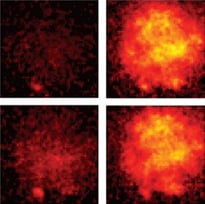 What it is: For the first time ever, researchers have imaged mammalian neural activity in real time. Duke and Stanford researchers created a technique to watch the brain's neurons in action, combining genetically encoded voltage indicators with a protein that quickly senses neural voltage potentials. It displays activity at a temporal (time) resolution of 0.2 milliseconds, which is 2,000 times faster than a blink.
Why it's important: KurzweilAI reports that this real-time neural imaging "...enables in vivo optical studies of neuronal electrophysiology and coding and motivate[s] further advancements in high-speed microscopy."
Spotted by Marissa Brassfield
Want more conversations like this?
At Abundance 360, Peter's 250-person executive mastermind, we teach the metatrends, implications and unfair advantages for entrepreneurs enabled by breakthroughs like those featured above. The program is highly selective and we're almost full, but we're still looking for a few final CEOs and entrepreneurs who want to change the world. Apply now for Abundance360 Summit if you'd like to develop an Abundance Mindset.
Know someone who would benefit from getting Abundance Insider? Send them to this link to sign up.