15 min read

In this week's Abundance Insider: Amazon's commercial delivery drone, lab-grown stem cell heart patches, and a new artificial reef.
Cheers,
Peter, Marissa, Kelley, Greg, Bri, Jarom, Joseph, Derek, Jason, Claire, Max and Nora
P.S. Send any tips to our team by clicking here, and send your friends and family to this link to subscribe to Abundance Insider.
P.P.S. Want to learn more about exponential technologies and hone in on your MTP/ Moonshot? Abundance Digital, a Singularity University Program, includes 100+ hours of course work and video archives for entrepreneurs, like you. Keep up to date on exponential news and get feedback on your boldest ideas from an experienced, supportive community. Click here to learn more and sign up.
You Can Train An AI To Fake UN Speeches In Just 13 Hours
What it is: ​Researchers from the UN's big data and innovation initiative, Global Pulse, set out to demonstrate the powerful implications of deep learning on governmental affairs and disseminated news. To do so, they created a deep learning system that generates fake UN speeches, using only open-source tools and data. The team employed a readily available, open-source deep learning language model, trained with publicly available Wikipedia articles. They further refined the deep learning model with speeches given at the UN General Assembly from 1970 to 2015. Their resulting system generated hyper-realistic political speeches on complex, high-stakes topics ranging from nuclear weapons to refugee crises. Achieved at an extraordinarily low cost, the procedure required a mere 13 hours and $7.80 worth of cloud computing power.
Why it's important: Providing clear grounds for counteraction, this research compellingly demonstrates that we have reached the point at which anyone, anywhere can produce hyper-realistic fake content, essentially for free. Entrepreneurs today thereby face a major artificial intelligence business opportunity to build creative solutions that combat misinformation and educate people across the globe on the rise of 'deep fakes.' How does the world — not to mention our current business practices — change when anyone, anywhere can digitally replicate you, your loved ones, and even our world leaders? | Share on Facebook
Spotted by Marissa Brassfield / Written by Claire Adair
Watch Amazon's All-New Delivery Drone Zipping Through The Sky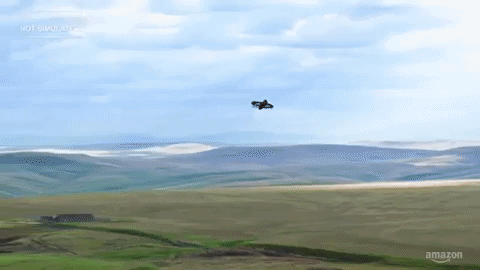 What it is: Amazon has now completed a successful test of its latest delivery drone. Having demonstrated advances in the Prime Air drone's safety and efficiency, according to Amazon executive Jeff Wilke, Amazon now claims its commercial drone delivery service will be a reality "in the coming months," despite FAA red tape. Featuring six rotors, the electric-powered aircraft can take off like a helicopter, fly for 15 miles, and deliver a package of up to five pounds (covering the majority of consumer orders). Leveraging machine learning, the drone is additionally equipped with advanced object-detection systems to safely navigate neighborhood environments.
Why it's important: Commercial delivery drones represent a massive step forward for online retail. Autonomous delivery aircrafts decimate the time between consumer purchase and product enjoyment. Historically, brick and mortar retail has maintained a competitive edge over its online counterpart given its ability to satisfy the consumer's desire for instant gratification. However, by nearly eliminating wait times, not to mention consumer-borne travel, delivery drones will satisfy that very impulse and increasingly dominate contemporary retail. | Share on Facebook
Spotted by Marissa Brassfield / Written by Aaron Bronfman
After 40 Years Of Searching, Scientists Identify The Key Flaw In Solar Panel Efficiency
What it is: ​For the past 40 years, scientists have attempted in vain to determine a key flaw in solar cells responsible for Light Induced Degradation (LID), a 2 percent efficiency drop in solar cells during their first hours of use. In a new study, however, scientists used an electrical and optical technique called deep-level transient spectroscopy (DLTS) to identify weaknesses in the silicon used to produce solar cells. Previously undetected, a critical material defect was found to trap the flow of electrons once solar cells' electronic charge is transformed from sunlight. This, in turn, reduces the electrical power generated as soon as solar panels are heated.
Why it's important: While an efficiency reduction of 2 percent might seem negligible, the aggregate global efficiency loss from LID is estimated to exceed the equivalent of all energy generated by the U.K.'s 15 nuclear power plants. As solar panels proliferate in number, eliminating this loss could have a tremendous impact in helping solar farms meet the world's growing energy needs. Now that researchers have discovered this consequential material flaw, engineers are on the move to provide an optimal fix, one of many breakthroughs-in-progress charting the path towards solar energy abundance. | Share on Facebook
Spotted by Claire Adair / Written by Claire Adair
This Lab-Grown Patch Could Repair Your Heart After a Heart Attack
What it is: A research team from Imperial College London has presented a novel solution for heart tissue damage resulting from heart disease and heart attacks. The team has created thumb-sized patches, each containing up to 50 million human stem cells. Once patches are sown onto damaged tissue, the stem cells they contain are "programmed" to grow into functional heart tissue. Offering a highly efficient and fast-acting solution, the stem cell-embedded patches can mimic fully mature heart tissue within just one month of attachment. While still awaiting clinical trials, this technology holds tremendous promise to prolong millions of lives in the future.
Why it's important: Every year, American adults suffer an estimated 735,000 heart attacks. In the same period, roughly 610,000 die as a result of heart disease, now the leading cause of death in the U.S. Resulting complications from heart disease and heart attacks often leave people with damaged heart tissue, making high-exertion activities exhausting and dangerous. Strengthened by this stem cell patch, however, a patient's heart could heal and regain full functionality within several weeks. A remarkable advancement in regenerative medicine, this and similar therapies could soon give way to alternative forms of tissue regeneration, prolonging and improving people's lives. As our ability to repair human tissue extends the professional lifespan, how might such an increase in "workable" longevity impact tomorrow's labor force? | Share on Facebook
Spotted by Marissa Brassfield / Written by Hawken Wanamaker
This Cool Artificial Reef Was Just Deployed In Sydney Harbor
What it is: About 1,000 miles south of the Great Barrier Reef sits a newly installed series of modular, artificial reefs, right in the heart of Sydney Harbor. Built by Reef Design Lab in partnership with the University of Technology Sydney (UTS), Sydney's Opera House, and the New South Wales government, the reef consists of eight pods, each containing three hexagonal units. Constructed from marine-grade steel and concrete, these complex built structures are designed to become quickly encrusted with seaweed and similar sea life, attracting new marine inhabitants and providing shelter to those fish previously driven away from the Opera House's surroundings.
Why it's important: It is no secret that today's oceans are under attack. As plastic waste and agricultural runoff cause mass waterway contamination and detrimental harm to marine species, rising temperatures have led to astounding rates of coral bleaching. Yet while artificial reefs are not a holistic solution to these issues, they can help restore the complex ecosystems of affected natural reefs, repopulating diverse fish populations and attracting new marine life. In just a few weeks, Sydney Harbor's reef structures have begun to attract curious, new inhabitants and could soon provide a promising model for similar areas in need. | Share on Facebook
Spotted by Marissa Brassfield / Written by Claire Adair
Amazon launches Personalize, A Fully Managed AI-Powered Recommendation Service
What it is: This month, Amazon Web Services announced a newly available, AI-powered recommendation service called Amazon Personalize. A powerful new tool for content managers, app developers, consumer-facing businesses, and the like, Personalize allows users to incorporate tailored search results, product suggestions, and even on-the-fly customized funnels into a variety of web platforms. As locational availability expands, Personalize may soon allow anyone with Internet access to leverage recommendation engines powered by the same machine learning algorithms that fuel Amazon's product recommendations.
Why it's important: In an age of constant disruption, what was once scarce and expensive is now abundant and nearly free. Only a decade ago, predictive analytics and its younger precursors, big data and machine learning, were relegated to the domain of multi-billion-dollar companies. Now, anyone anywhere can rapidly spin up powerful machine learning models that exponentially enhance one's business, customer experience, and bottom line. How are you incorporating predictive analytics and recommendation services into your business? | Share on Facebook
Spotted by Marissa Brassfield / Written by Max Goldberg
What is Abundance Insider?
This email is a briefing of the week's most compelling, abundance-enabling tech developments, curated by Marissa Brassfield in preparation for Abundance 360. Read more about A360 below.
Want more conversations like this?
At Abundance 360, a Singularity University Program, we teach the metatrends, implications and unfair advantages for entrepreneurs enabled by breakthroughs like those featured above. We're looking for CEOs and entrepreneurs who want to change the world. The program is highly selective. If you'd like to be considered, apply here.
Abundance Digital, a Singularity University Program, is an online educational portal and community of abundance-minded entrepreneurs. You'll find weekly video updates from Peter, a curated newsfeed of exponential news, and a place to share your bold ideas. Click here to learn more and sign up.
Know someone who would benefit from getting Abundance Insider? Send them to this link to sign up.