10 min read

The rise of China as an epicenter of rapid-fire innovation and technological disruption is more important than ever before in transforming each and every one of our businesses.
Soon to surpass the U.S. as the world's largest economy with a $14 trillion GDP, China has grown at about 9.6 percent CAGR since 1989, accounting for over an estimated 35 percent of global economic growth from 2017 to 2019 — nearly double the U.S. GDP's predicted 18 percent.
In less than two years, China's government plan to lead the world in AI by 2030 has witnessed a record-breaking surge in both AI enterprise and innovation across biotech sector and longevity research, smart manufacturing, autonomous and electric vehicles, next-gen renewable energies, and new tech-driven markets you've never even heard of.
As Eric Schmidt has explained, "it's pretty simple. By 2020, they will have caught up. By 2025, they will be better than us. By 2030, they will dominate the industries of artificial intelligence technology."
And the figures don't lie.
PricewaterhouseCoopers recently projected AI's deployment will add $15.7 trillion to the global GDP by 2030, with China taking home $7 trillion of that total, dwarfing North America' $3.7 trillion in gains.
Behind the scenes, a growing force of driven AI entrepreneurs trains cutting-edge algorithms on some of the largest datasets available to date.
Key Takeaways: China, AI & The Future of Your Business
While countless Chinese startups still observe U.S. company strategies and iterate on Western business trends, today's American businesses would be severely remiss to forego analysis of Chinese companies and best practices.
At the peak of its ongoing heyday, China is undergoing a technological renaissance bolstered by thousands of startups and dozens of multibillion-dollar tech companies. As firms like Alibaba, Tencent and Xiaomi capitalize on China's now 1 billion+ Internet users at home, burgeoning Chinese unicorns have now established thriving markets among Western consumers.
Yet for many, what drives the business of China remains shrouded in mystery. What's driving this entrepreneurial ecosystem? How can entrepreneurs collaborate with China or model its innovative culture closer to home?
This blog presents key insights from my go-to experts in China: Dr. Kai-Fu Lee of Sinovation Ventures and David Li of Shenzhen Open Innovation Lab, both of whom we have visited on our Abundance Platinum trips to China over the last two years.
Dr. Kai-Fu Lee serves as chairman and CEO of Sinovation Ventures, a venture fund with US$2B AUM. Dr. Lee has previously served as President of Google China, held numerous executive positions, including at Microsoft, Apple, and SGI, and named one of the top hundred most influential people by TIME magazine.
David Li is Founder and Director of Shenzhen Open Innovation Lab (SZOIL) and has been honored with the title of "Top Maker in Asia." One of the foremost leaders of Shenzhen's Maker Movement, Mr. Li co-founded Maker Collider, a platform to develop next-gen IoT from the maker community; XinCheJian, the first hacker space in China to promote hacker maker culture and open source hardware; among others.
When thinking about the AI industry and the underlying technological architecture as a whole, one tool I find highly useful is Kai-Fu Lee's "Four Waves of AI." As outlined in his diagram below, these consist of Internet AI, Business AI, Perception AI, and the most nascent wave, Autonomous AI.
(For more detail, I've written about these in a previous blog.)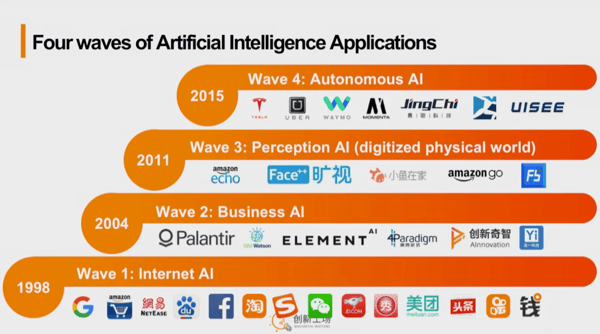 The Four Waves of AI. Source: Dr. Kai-Fu Lee.
Yet while U.S. tech giants may have birthed the first two waves of AI, the data emerging today stands compellingly in China's favor across all four categories.
China's Competitive Advantage
Witnessing an explosion in grassroots innovation, smart manufacturing, abundant and high-quality data, China is surging ahead on the back of several core drivers:
(1) Massive proliferation of engineers and entrepreneurs: Demand for AI engineers has skyrocketed in the matter of a mere three years across China. The proliferation of local entrepreneurs, makers, tinkerers, and AI scholars is on a scale unimaginable by U.S. businesses, CEOs and VCs.
But underpinning these numbers is a radically different cultural approach to innovation and an abundance mindset about tools and (lack of) constraints in breaking open new markets.
As David Li synthesizes, "What's happening in China is not just headline innovation. It's what's going on at the bottom side of China. People are excited. Entrepreneurship is everywhere. Opportunity is everywhere. And [common citizens] are supported by this rapid advancement of technology. They don't see technology coming and say, 'My God! It's going to take my job.' [...] They ask 'How do I make a buck with this new thing?' And when we have tens of millions of people thinking like this, it's what makes China's economy work."
One booming example is Shenzhen.
We often think of "catch-up" regions receiving new gadgets, technologies and intellectual property from "developed" regions on the tail-end of their development. Some U.S. tech giant brimming with capital builds the next big breakthrough, and its wisdom, technology, and know-how slowly trickle down the hierarchy.
Not in Shenzhen. With a mean age of 28.65, Shenzhen residents have local dynamism embedded in their DNA. David Li captures this environment, one in which "people want to grab onto every opportunity [and believe they] have the tenacity to make something happen."
Growing from a population of 300,000 to 15 million in just 40 years, Shenzhen has registered over 3 million companies. That makes 1 in 5 Shenzhen residents a CEO.
And if that isn't enough to convince you, look at Shenzhen's GDP. A mere fishing village in 1987, Shenzhen stood at 0.1 percent of Hong Kong's GDP. Today? Shenzhen is surging past a US$350 billion GDP, far exceeding its next-door neighbor.
(2) End of a copycat era: But beyond skyrocketing rates of local entrepreneurship, China's "copycat economy" is long gone. Today, local entrepreneurs have created and iterated upon novel concepts, resulting in markets that far exceed the scale of their American counterparts.
Take Chinese mobile payments spending, which now exceeds the U.S. by a ratio of 50 to 1. Or video-based social networking apps that are making it big in Western markets (think video-sharing app TikTok, now wildly popular amongst U.S. teens). Shared bicycle networks that span hundreds of millions of users. And gamified, socialized e-commerce that presents one of the biggest playgrounds for AI training on the planet.
Even in legacy markets, China has become a dominant global player, out-diversifying Western counterparts. Take mobile phone shipments worldwide. As explained by David Li, "In 2017, Apple stood at 14%, Samsung at 15%, and [of] everybody else, almost all are Chinese companies. And with the exception of Xioami, everybody else is headquartered in Shenzhen." This means "one city in China has 70% of the global market share of mobile phones."
(3) An abundance of capital pouring into AI: Last year, for the first time ever, China surpassed North America in venture capital financing, as Chinese startups raised over US$56 billion in the first half of the year. By end of Q2, Chinese startups accounted for 47% of global VC funding.
Already, Chinese investments in AI, chips and electric vehicles have reached an estimated $300 billion. Meanwhile, AI giant Alibaba has unveiled plans to invest $15 billion in international research labs from the U.S. to Israel, with others following suit.
Just last year alone, nearly 100 Chinese startups hit unicorn status, each reaching a $1 billion valuation. Think about that for a moment. China saw the birth of 1 unicorn almost every 3.6 days.
And even while trade tensions have temporarily slowed investor enthusiasm, groundbreaking startup after startup has sent investment figures booming. Led by FinTech giant Ant Financial (an affiliate of Alibaba that last year raised nearly as much capital as all U.S. and European FinTech companies combined), China's list of unicorns grows ever longer, currently standing at around 186 tech startups.
(4) Astronomical quantities of high quality data to train AI algorithms: China not only has three times the available AI-driven mobile platform users as does the U.S., but usage time and real-world, layered data vastly exceed that enjoyed by Western tech giants. Not only do Chinese citizens spend 50 times more than do American counterparts in mobile payments, they order 10 times more in food delivery, and produce about 300 times more real-world movement data through use of shared bicycle platforms (not to mention ridesharing services).
These numbers are notable, yes. But what's truly remarkable about these statistics is what the data reveal about offline activity.
Whereas most U.S. tech giants enjoy tomes of data about their users' every click and online glance, it is mobile payments, ridesharing data, and smart city technologies that offer goldmines of real-world information about everyday users. And in China, last year's mobile payment transactions exceeded the country's GDP (don't believe me? Read an explanation here). Credit cards and cash have grown virtually obsolete, and even beggars hold up signs reading, "I'm hungry, scan me." This massive adoption of AI across all facets of life facilitates unprecedented levels of training and improvement across data-dependent algorithms.
(5) Arguably the most AI-supportive government in the world: Just two years ago, China's government issued its plan to make China the global center of AI innovation, aiming for a 1 trillion RMB (about $150 billion USD) AI industry by 2030.
And when China's State Council speaks, everyone listens.
As the nation's political system incentivizes local officials to outcompete others for leadership in CCP initiatives, positive feedback loops have seen countless government officials luring in AI companies and entrepreneurs with generous subsidies and advantageous policies. Mayors across the country (largely in eastern China) have built out innovation zones, incubators and government-backed VC funds, even covering rent and clearing out avenues for AI startups and accelerators.
Beijing plans to invest $2 billion in an AI development park, which would house up to 400 AI enterprises and a national AI lab, driving R&D, patents and societal innovation. Hangzhou, home to Alibaba's HQ, has also launched its own AI park, backed by a fund of 10 billion RMB (nearly $1.6 billion USD). But Hangzhou and Beijing are just two of the 19 different cities and provinces investing in AI-driven city infrastructure and policy.
Cities like Xiong'an New Area are building out entire AI metropoles in the next two decades, centered around autonomous vehicles, smart solar panel-embedded roads, and computer vision-geared infrastructure. Projected to take in over $580 billion in infrastructure spending over the next 20 years, Xiong'an has ambitious plans to split its entire downtown in two levels: a top level for parks, trees, pets, kids, bicycles, skateboards, and human pedestrians, and a lower level reserved solely for cars (autonomous, electric vehicles, of course), eliminating the possibility of vehicle-human collisions and multiplying efficiency.
Lastly, local governments have begun to team with China's leading AI companies to build up party-corporate complexes. Acting as a "national team," companies like Baidu, Alibaba, Tencent, SenseTime, and iFlyTek collaborate with national organizations like China's National Engineering Lab for Deep Learning Technologies to pioneer research and supercharge innovation.
Pulling out all the stops, China's government is flooding the market with AI-targeted funds as Chinese tech giants and adrenalized startups rise to leverage this capital.
Final Thoughts
China's emergence as a leader in AI sets the stage and offers a tremendous opportunity for U.S.-Chinese collaboration, one that is vital for expediting and shaping the direction of future progress.
As the world learns to grapple with a future of dual human-AI intelligence, U.S. and Chinese businesses stand at a critical juncture in history, requiring shared innovation and new modes of cooperation.
Join Me
(1) Abundance Platinum China Trip 2019: Want to see China's innovation firsthand and meet with the companies I've discussed above? Join me and an exclusive group of 20 CEOs, investors and entrepreneurs on the trip of a lifetime to the heart of Chinese tech innovation. This year, we are diving into the tech epicenter of China's Greater Bay Area — a megalopolis predicted to surpass all international 'bay areas' by 2030.
Offering a curated network and exposure that is tailored to your business goals, we will visit key Chinese startups and tech giants in AI, robotics, IoT, intelligent hardware, 5G networks, FinTech and regenerative medicine. Meet China's leading investors, key executives, and build the necessary network of local partners to expand your business into China's thriving market. Email claire@diamandis.com for more details.
(2) A360 Executive Mastermind: Want even more context about how converging exponential technologies and Chinese innovation will transform your business and industry? Consider joining Abundance 360. Our highly selective community of 360 abundance- and exponentially minded CEOs is on a 25-year journey — or as we call it, a "countdown to the Singularity." If you'd like to join our 2020 membership, apply here.
Share this with your friends, especially if they are interested in any of the areas outlined above.
(3) Abundance-Digital Online Community: I've also created a Digital/Online community of bold, abundance-minded entrepreneurs called Abundance-Digital. Abundance-Digital is my 'onramp' for exponential entrepreneurs — those who want to get involved and play at a higher level. Click here to learn more.