9 min read
In this week's Abundance Insider: Singing shirts, Virginia's delivery robot law, and 3D-printed biomimetic blood vessels.
Cheers,
Peter, Marissa, Cody, Kelley, Greg, Sydney and AJ
P.S. I've created a Digital/Online Community of bold, abundance-minded entrepreneurs called Abundance 360 Digital (A360D).
A360D is my 'onramp' for exponential entrepreneurs – those who want to get involved and play at a higher level. Click Here to Learn More.
Sony's Interactive Projector Turns Surfaces Into Touchscreens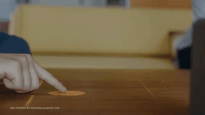 What it is: Set to launch in Europe this spring, Sony's Xperia Touch projector turns any flat surface -- such as walls, tables or even kitchen counters -- into an interactive 58-cm touchscreen. By combining infrared light with a built-in camera, the projector is designed to be fast and fluid, allowing users to interact with the projection as they would with any other touchscreen. While the Xperia currently supports gaming and streaming video and Skype calls, Sony is pushing for more unique use cases, allowing designers and developers to create unforeseen applications at the intersection of display and architecture.
Why it's important: Our interactions with computers -- and with each other -- are rapidly changing, thanks to converging advancements in voice recognition, Virtual Reality, Augmented Reality and holographic technologies. The display market is projected to top $155 billion in 2020 -- what happens when augmented reality and holography turn every surface into a "screen"? | Join the Discussion
Spotted by Aryadeep S. Acharya / Written by Jason Goodwin
Denmark Just Ran the Country On 100% Wind Energy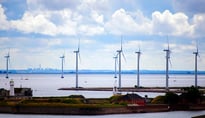 What it is: February 22, 2017 was the day Denmark successfully powered the entire nation from wind power. The nation was able to generate 97 gigawatt-hours of energy solely from wind turbines. The total combined power generated within this 24-hour period is enough to power 10 million average homes in the EU. With this achievement, Denmark officially broke the record for the most energy generated by a single turbine in one day.
Why it's important: We are experiencing a global energy shift. In 2016, we saw Scotland launch the world's first large-scale tidal power farm, Costa Rica run entirely on renewables for months at a time, and now Denmark's wind energy breakthrough. As more countries expand their experimentation in renewables, we'll inevitably reach true energy abundance. | Join the Discussion
Spotted by Khaled Salih / Written by Sydney Fulkerson
Nanoengineers 3-D Print Biomimetic Blood Vessel Networks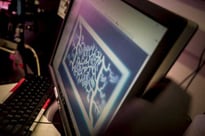 What it is: Led by nanoengineering professor Shaochen Chen at the University of California San Diego, a team of engineers has successfully 3D printed a functional blood vessel network. Using existing medical imaging technology to create a 3D pattern of a blood vessel network, the UCSD team then projected 2D slices in UV light into a solution filled with live cells and light-sensitive polymers that harden when exposed to UV light. Previous methods of creating blood vessels have been slow, costly, limited to simple structures such as tubes, and incapable of integrating with the body's own vascular system. Here, the team was able to not only successfully graft the complex structures into the skin wounds of mice, integrating into the host network and allowing for normal blood circulation, but they were also able to print the scaffolding with enclosed endothelial cells in just seconds.
Why it's important: While there is still work to do, particularly in creating structures capable of transporting waste and nutrients, this is a big step forward in 3D printing organs and for regenerative medicine, as the vascular structure has been a key stumbling block. In the near future, look for the 3D printed organs and cells that we currently produce to become more complex, expanding their application into research areas like drug discovery and toxicology. Longer term, look for full-scale organs and tissues that can be printed on demand, providing transplants to those that need them and ultimately enabling radical life extension. | Join the Discussion
Spotted by Aryadeep S. Acharya / Written by Jason Goodwin
Virginia Is the First State to Pass a Law Allowing Robots to Deliver Straight to Your Door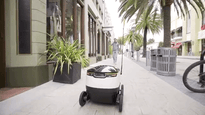 What it is: On July 1, 2017, Virginia will be the first state in the U.S. to have passed a law allowing delivery robots to operate on sidewalks and crosswalks across the state. Virginia lawmakers Ron Villanueva and Bill DeSteph partnered with Starship Technologies to draft the legislation. Although the robots are allowed to navigate autonomously, the bots cannot exceed 10 miles per hour or weigh over 50 pounds. Companies like Amazon and Grubhub sent the state support letters for this new law, and Postmates has already started testing its robots in D.C.
Why it's important: Last July, we read about Starship Technologies testing self-driving delivery robots in Europe to one day be integrated into society. With the passing of Virginia's history-making law, consumers will begin to integrate with autonomous robots much sooner than expected. | Join the Discussion
Spotted by Dan Swift / Written by Sydney Fulkerson
Singing Posters and Talking Shirts: UW Engineers Turn Everyday Objects Into FM Radio Stations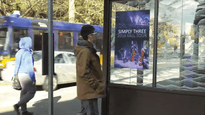 What it is: Engineers at the University of Washington have created "smart" posters and clothing that can communicate directly with a person's car radio or through their smartphone. The team of engineers developed a technique called backscattering that reflects and encodes audio and data -- without affecting original radio transmissions -- to transmit messages received through WiFi, Bluetooth and FM radios. An example of the team's technique was demonstrated when they overlaid audio and data on top of news signals to transmit a snippet of a band's music that came from a "smart" poster placed on a bus stop sign. The smart poster transmitted the music to a smartphone up to 12 feet away, or to a car from a distance of 60 feet. The goal is to ultimately implement smart cities and fabrics into everyday outdoor environments without disturbing original sources of transmission.
Why it's important: We are rapidly approaching a world of instant, high-bandwidth, communications and near perfect information. One of the top 5 anticipated breakthroughs in networks and sensors over the next two years is exponential growth in connections to the Internet from various devices -- personal, home and cities. What happens to the local economy when a "smart" city can provide residents and tourists with near-limitless, on-demand information (and advertisements)? | Join the Discussion
Spotted by Aryadeep S. Acharya / Written by Sydney Fulkerson
New DNA Storage Breakthrough Brings Us to 85% of the Theoretical Limit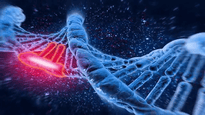 What it is: DNA has the potential to store massive amounts of data -- most estimates are at 215 petabytes per gram -- and last for hundreds of thousands of years under the right conditions. To realize this goal, Yaniv Erlich of Columbia University and Dina Zielinski at the New York Genome Center have created a method for increasing the efficiency and scalability of DNA as a storage mechanism. By digitizing the files into binary, compressing them, and converting them into a list of 72,000 digital DNA strands, each 200 bases long, the team achieved 1.6 bits per nucleotide. That's a 60% improvement over previous groups, and 85% of the theoretical limit of 1.8 bits.
Why it's important: As data grows exponentially, we'll need to similarly expand our storage mechanisms. While today this process costs roughly $9,000 to create and read 2 MB, this will dematerialize as advances in synthetic genomics, computing power and DNA sequencing continue on their own trajectories. If we're able to leverage the resilience and self-assembling properties of biological systems, DNA-based storage could lead to a variety of novel applications. | Join the Discussion
Spotted by Omri Amirav Drory / Written by Jason Goodwin
Wifi Dabba Wants to Help Stores in India Provide Low-Cost Internet Access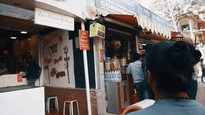 What it is: Wifi Dabba is a Y Combinator-backed startup with an audacious goal: to become the first wireless ISP in India. Starting in Bangalore, the team has installed its wireless access points in 70 small merchant locations, from tea stalls to bakeries, enabling retailers to sell low-cost Internet access to their customers -- averaging 100 megabits per second connections at each location. "What makes us attractive to merchants is that we're offering them a new product to sell to their customers," co-founder Karam Lakshman told VentureBeat. "They sell Wi-Fi the same way they sell biscuits. Each location becomes profitable in about four months."
Why it's important: Wifi Dabba dematerializes the classic ISP model and demonetizes Internet access for the public. While the U.S. has some 10 million publicly accessible hotspots, India has just 30,000. Wifi Dabba has the potential to exponentially grow that number. "In India, there is a tea stall or a bakery every 100 yards in every city," Lakshman explained. "There are an estimated 50 million such micro-businesses in the country." | Join the Discussion
Spotted by Aryadeep S. Acharya / Written by Marissa Brassfield
IBM Will Unleash Commercial "Universal" Quantum Computers This Year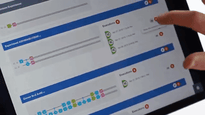 What it is: Last year, IBM rolled out its Quantum Computing as a Service, Quantum Experience, on the IBM Cloud, drawing over 40,000 users from 100 countries and running 275,000 experiments. Based on that success, the company just announced plans to launch an upgrade -- called IBM Q -- later this year, expanding from the 5 qubits of Quantum Experience to the 50-to-100 qubit range that defines a Universal Quantum Computer.
Why it's important: With Google, IBM, Rigetti Computing, D-Wave, and a few others pushing hard to achieve quantum supremacy in the next year or two, a universal quantum computer seems like an inevitability. Quantum Experience lowers the technological barriers for adoption, enabling wider experimentation and surprising new breakthroughs. | Join the Discussion
Spotted by Aryadeep S. Acharya / Written by Jason Goodwin
What is Abundance Insider?
This email is a briefing of the week's most compelling, abundance-enabling tech developments, curated by Marissa Brassfield in preparation for Abundance 360. Read more about A360 below.
WANT MORE CONVERSATIONS LIKE THIS?
At Abundance 360, Peter's 360-person executive mastermind, we teach the metatrends, implications and unfair advantages for entrepreneurs enabled by breakthroughs like those featured above. We're looking for CEOs and entrepreneurs who want to change the world. The program is highly selective. Apply now for Abundance360 Summit if you'd like to develop an Abundance Mindset.
Know someone who would benefit from getting Abundance Insider? Send them to this link to sign up.