14 min read

In this week's Abundance Insider: Agile automatons, trillion-sensor energy storage, and 3D-printed "breathing" lungs.
Cheers,
Peter, Marissa, Kelley, Greg, Bri, Jarom, Joseph, Derek, Jason, Claire, Max and Nora
P.S. Send any tips to our team by clicking here, and send your friends and family to this link to subscribe to Abundance Insider.
P.P.S. Want to learn more about exponential technologies and hone in on your MTP/ Moonshot? Abundance Digital includes 100+ hours of course work and video archives for entrepreneurs, like you. Keep up to date on exponential news and get feedback on your boldest ideas from an experienced, supportive community. Click here to learn more and sign up.
Watch This Hulking Robot Play "The Floor Is Lava"
What it is: Robots are now playing sleepover games. Last year, Boston Dynamics unveiled Atlas, a humanoid robot capable of navigating a parkour-style obstacle course. Now, IHMC Robotics has developed a set of algorithms that allows Atlas to autonomously walk across wobbly cinder blocks and suspended wooden planks, a task resembling the kids' game "the floor is lava." Using LIDAR to build a map of the area it's supposed to traverse, Atlas uses the algorithm to determine each step it should take to reach the other side. Atlas is successful about 50 percent of the time, and IHMC expects to increase that rate through improvements to the robot's balance and the range of motion.
Why it's important: Advances in IoT sensors, Artificial Intelligence, and automated robotics are developing faster than you might think. Just six years ago, we marveled at Atlas' ability to walk on rough terrain, and just two years ago, it has been able to do backflips. As hardware and algorithms progress, look for Atlas-like robotics to begin serving as avatars for humans in dangerous scenarios or to explore remote destinations like Mars. | Share on Facebook
Spotted by Marissa Brassfield / Written by Jason Goodwin
Ford Brings VR To Its Design Department With Co-Creation Tool
What it is: Ford has developed a Co-Creation tool with Gravity Sketch that allows its engineers to work on the same project in virtual reality (VR), even if thousands of miles apart. In an effort to streamline design and development projects, Ford's new tool entirely circumvents the 2D design stage, enabling engineers across Ford's North America, Asia and Europe design studios to plug into the same 3D virtual replica of auto models. As a result, engineers in different global markets can inhabit a standard international model in Virtual Reality and implement regional preferences at minimal cost and multiplied speeds.
Why it's important: A fast-growing phenomenon in the automotive industry, the use of advanced, professional VR platforms in auto development is delocalizing, demonetizing and even democratizing a traditionally slow and expensive process. As stated by Ford, "The Co-Creation feature adds more voices to the conversation in a virtual environment, which results in more efficient design work that may help accelerate a vehicle program's development." However, Ford is not alone. While Italian motorcycle manufacturer Ducati leverages VR to help decide between projects, others such as supplier Magna implements VR to reduce costs and place engineers in different continents on the same project. | Share on Facebook
Spotted by Marissa Brassfield / Written by Claire Adair
Stretchable Carbon Nanotube Supercapacitors Might Be The Future Of Wearable-Device Power Sources
What it is: With batteries dying every 3 to 10 years, how will we sustainably power trillions of sensors deployed in every facet of our lives? Researchers at Michigan State University developed highly stretchable supercapacitors that might solve this massive challenge facing the onset of a trillion-sensor economy. The supercapacitors -- an energy storage alternative to batteries -- are based on carbon nanotubes, a one-dimensional nanomaterial with exceptional mechanical and electronic properties. Using the highly flexible nature of carbon nanotubes, these supercapacitors can be isotropically stretched to over 800 percent of their initial length. Whereas prior flexible supercapacitors can only be meaningfully stretched in one direction, these new carbon nanotube energy storage devices are stretchable in two sets of directions. Multidimensional flexibility is critical to creating robust wearable and devices that can conform to nominal movement of the human body.
Why it's important: As we approach the trillion-sensor economy, we need more robust power solutions for our devices. Over 900 million batteries will need to be swapped out every day to sustain the trillion-plus sensors in service. What alternative energy harvesting and energy storage solutions do you think are most promising? | Share on Facebook
Spotted by Marissa Brassfield / Written by Max Goldberg
New Video Shows 3D Printed Lung "Breathing"
What it is: Our organs depend on intricate networks of different types of blood vessels that carry vital nutrients. This complex network of capillaries is one of the main challenges in 3D printing and replicating human organs. Using a modified version of stereolithography (SLA), researchers solidified a cell-filled hydrogel into a network of blood vessels. What enabled previously unachieved vessel complexity on this project is how the researchers controlled their vessel formation. In short, they deployed an off-the-shelf food dye to block part of the SLA light source. This enabled the researchers to achieve the fine-scale resolution necessary to make functional blood vessels. Using this technology to create lung-mimicking air sacs, the researchers can: (1) pump deoxygenated red blood cells into these lab-printed blood vessels, (2) facilitate the transfer of oxygen to the blood cells, and (3) observe how much oxygen the blood cells absorb.
Why it's important: With over 100,000 people on the U.S. organ transplant waiting list, bioprinting has the potential to solve a massive organ shortage. A few weeks ago, we saw the world's first beating 3D printed heart. In the coming years, these individual regenerative medicine technologies will converge to enable the first full-scale, operational 3D-printed human organs. | Share on Facebook
Spotted by Marissa Brassfield / Written by Max Goldbberg
Researchers Make Organic Solar Cells Immune To The Ravages Of Water, Air And Light
What it is: Researchers at NYU's Tandon School of Engineering have discovered a novel method that makes organic solar panels more resistant to oxygen, water and light, without weighing them down via encapsulation. Instead of applying a protective coating, the research team uses an adhesive tape to strip electron-accepting molecules (specifically, a fullerene derivative called PCBM) from the top surface of the solar cell's photoactive layer. Currently, the oxidation of fullerene derivatives is a key culprit in device degradation. By removing PCBM from cells' exposed film surfaces, however, the team can thereby eliminate the challenge of oxidation by oxygen and water. In success, their process removes a whopping 94 percent of PCBM acceptor components, rendering a polymer-rich surface for multiplied impermeability.
Why it's important: Currently, organic cells are highly vulnerable to moisture, oxygen and even the very sunlight they seek to capture. However, protective encapsulation of the cell often reduces efficiency, increases unit weight and drives up costs of production. In a double win, the NYU team's discovery fortifies organic solar cells by reduction, catalyzing scale-up and impenetrability. With a major advantage over traditional silicon solar cells, these organic iterations are highly flexible, ultra-lightweight, and are comprised of much more readily accessible materials. With a market projected to grow over 20 percent between 2017 and 2020, organic solar cells may soon find their way into our windows, screens and even mobile devices. | Share on Facebook
Spotted by Marissa Brassfield / Written by Claire Adair
Brain-Machine Interfaces Could Give Us All Superpowers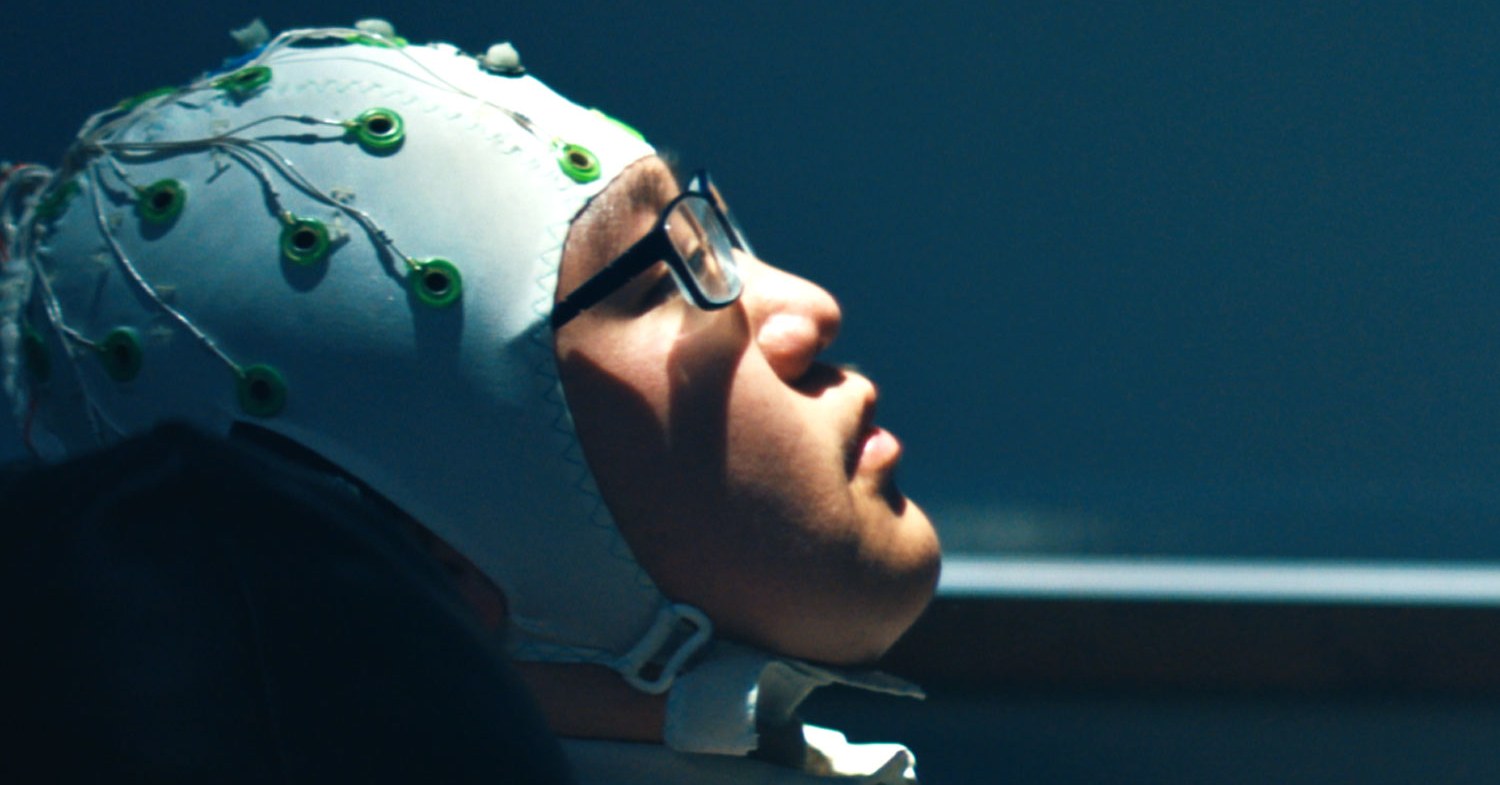 What it is: Last week, the documentary film I Am Human premiered at the Tribeca Film Festival, chronicling the stories of three people pursuing experimental brain-computer interfaces (BCI) to help them regain what each has lost. Stephen, who lost his eyesight in adulthood, opts to implant a chip underneath his eye that hooks to electrodes in his brain. Anne, suffering from Parkinson's, pursues deep brain stimulation to help suppress the parts of the brain leading to tremors. And Bill, a tetraplegic after a bicycle accident, is testing out an interface to allow his brain to communicate directly with electrodes implanted in his arms and hands. The film also saves time to interview the scientists and entrepreneurs behind these developments and explore what might be possible in the near future.
Why it's important: This documentary is a reminder that the future is already here, just not evenly distributed. Several hundred thousand people are already using some form of BCI today. Early adopters must consider big risks; by recording patients as their stories unfold, I Am Human allows us to empathize with their situations. How can you use those emotional insights to deliver better services or understand challenges your customers and stakeholders are facing? | Share on Facebook
Spotted by Marissa Brassfield / Written by Jason Goodwin
What is Abundance Insider?
This email is a briefing of the week's most compelling, abundance-enabling tech developments, curated by Marissa Brassfield in preparation for Abundance 360. Read more about A360 below.
Want more conversations like this?
At Abundance 360, Peter's 360-person executive mastermind, we teach the metatrends, implications and unfair advantages for entrepreneurs enabled by breakthroughs like those featured above. We're looking for CEOs and entrepreneurs who want to change the world. The program is highly selective. If you'd like to be considered, apply here.
Abundance Digital is Peter's online educational portal and community of abundance-minded entrepreneurs. You'll find weekly video updates from Peter, a curated newsfeed of exponential news, and a place to share your bold ideas. Click here to learn more and sign up.
Know someone who would benefit from getting Abundance Insider? Send them to this link to sign up.