8 min read

In this week's Abundance Insider: Voice-mimicking Artificial Intelligence, first-person goggles for drone pilots, and new interplanetary mission announcements from China, EU and USA.
Cheers,
Peter, Marissa, Cody, Kelley, Greg, Sydney and AJ
P.S. Send any tips to our team by clicking here, and send your friends and family to this link to subscribe to Abundance Insider.
DJI's First-Person Goggles Look to the Future of Drone Flight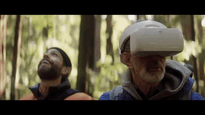 What it is: DJI recently developed first-person goggles that provide the wearer with a Virtual Reality-like experience in the real world. The goggles have several screens that enable the user to see where the drone's camera is pointing, displaying a 1920x1080 image in front of each eye. The effect is incredible: "Wearing the goggles is like looking at a 216-inch home theater screen set about three meters away," as the company described. The DJI Goggles will retail for $449 and will start shipping this month.
Why it's important: The cost of MEMs, accelerometers and gyroscopes have dropped 10 to 100-fold at the same time that cheap and powerful microcontrollers enable low-cost and powerful navigational control systems. As a result, we now have drones that everyone can use, and companies like DJI are enabling both a consumer and entrepreneurial drone renaissance. Soon, further advances in exponential technologies, batteries and material sciences will create another tipping point in drone technology, making them smart, cheap, reliable, scalable (both small and large), and ultimately ubiquitous. | Join the Discussion
Spotted by Aryadeep S. Acharya / Written by Sydney Fulkerson
Lyrebird Claims It Can Recreate Any Voice Using Just One Minute of Sample Audio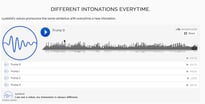 What it is: Lyrebird, a Canadian startup, has unveiled a set of AI algorithms capable of recreating a person's voice after just a single minute of sample audio. This is an order of magnitude improvement over other synthesized voice projects like Google's Wavenet and Adobe's VoCo, which are closer to the 20-minute mark. Lyrebird has incorporated emotional flexibility into its algorithms, allowing customers to create voices that are angry, stressed or sympathetic. Creating an initial voice-print requires considerable computing power, but voice creation is trivial -- 6,000 sentences in less than half a second.
Why it's important: We're approaching a time when we can edit and recreate voice just as we now do with images, enabling an explosion in our ability to develop conversational interfaces, lifelike AI's in virtual reality, and more emotionally present robotics. As more signals are digitized, we'll be able to apply machine learning principles to just about anything to generate new insights. | Join the Discussion
Spotted by Dan Swift / Written by Jason Goodwin
Cable-Driven Robot Monitors Buildings As It Prints Them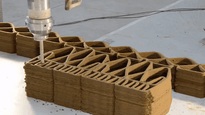 What it is: The Spanish company Tecnalia and the Institute for Advanced Architecture of Catalonia (IAAC) have created a cable-driven 3D printer that can print a house and monitor its work as it moves. Using thermal sensors, the printer tracks how well the material is setting, which allows it to avoid laying down a new layer if the foundation has not yet dried. Currently, the printer only works in clay; Tecnalia's next project is to add cement-based printing. When mature, the technology will have use cases within aerospace, shipbuilding, nuclear power plants and general construction work.
Why it's important: We're seeing an explosion in 3D printing technologies at all sizes, from blood vessels to homes and bridges, and with a variety of media, from bacteria to glass, concrete and steel. Incorporating real-time monitoring adds yet another level of automation and quality control. What happens when construction companies can drop 3D printers like this one in several locations at once and remotely monitor multiple concurrent building projects? | Join the Discussion
Spotted by Aryadeep S. Acharya / Written by Jason Goodwin
USA, China and Europe Announce New Space Bases and Interplanetary Missions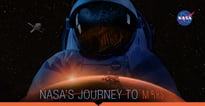 What it is: We've just seen two major commitments to space travel. Citing the need for international collaboration, China and the ESA are hoping to create a lunar city that could serve as a launching pad to Mars. By the end of the year, China plans to launch a mission to the Moon to bring back mineral samples, which the ESA and China would like for mission analysis. Separately, NASA announced more detailed plans to put humans on Mars by the year 2033. Proceeding in four phases, NASA will first develop a new set of SLS rockets from 2018 to 2025, which will deliver cargo to a new space station near the Moon called the Deep Space Gateway (DSG). A Deep Space Transport Tube will follow in 2028 or 2029. After astronauts have lived in the DST for 400 days, a separate Mars crew will arrive to restock the DST and launch for Mars in 2033.
Why it's important: These announcements highlight the need for international collaboration and accelerate the momentum of interplanetary exploration and travel. They also signal that the press created by companies like SpaceX, Planetary Resources, Blue Origin and Virgin Galactic have succeeded in galvanizing a broader movement. | Join the Discussion
Spotted by Gaetan Soltesz / Written by Jason Goodwin
Robots Are Coming for Your Wardrobe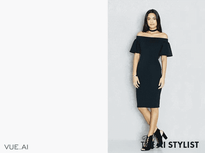 What it is: Founded by husband and wife Ashwini Asokan and Chandrasekaran, Mad Street Den is a startup developing Artificial Intelligence-assisted tools for online retailers comprised of computer vision algorithms to suggest items of clothing for shoppers. The tool analyzes items the shopper is browsing -- starting with minor details like colors, patterns, necklines and sleeve length -- and then provides "dynamic personalization" during their online shopping experience. In an internal study, the couple found that online shoppers spent 72 minutes on websites where Mad Street Den's software was deployed, compared to 25 minutes on sites without it. The company recently raised an undisclosed Series A round of funding from Sequoia Capital India in addition to existing investments from Exfinity Ventures and growX Ventures.
Why it's important: AI will be woven into the very fabric of our lives, physically and virtually. AI's will push forward the ideas of transparency, and of seamless interaction with devices and information, making everything personalized -- even our wardrobes. Artificial Intelligence's have the potential to transform the future of online shopping into a more efficient, personalized, and hassle-free experience. | Join the Discussion
Spotted by Kim Butler / Written by Sydney Fulkerson
India Unveils Ambitious Plan to Have Only Electric Cars By 2030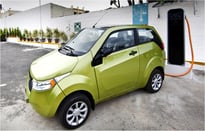 What it is: At the Confederation of Indian Industry (CII) Annual Session in New Delhi, power minister Piyush Goyal announced India's ambitious plan to have only electric cars by 2030. The plan to eliminate any sale of a single petrol or diesel car aligns with Prime Minister Narendra Modi's "New India" vision. Goyal stated that the government would help support the electric car industry during the first two to three years; thereafter, he sees the industry running independently. India will begin its infrastructure changes by focusing on the country's most highly polluted areas.
Why it's important: Electric vehicles (EVs) are taking the transportation industry by storm. Within the next two decades, EVs will undoubtedly be the cheapest and most widely used vehicles on the market. By roughly 2030 -- the very year India plans to cease any further sales of petrol or diesel cars -- EVs with a 200+ mile range will be cheaper than the cheapest car sold in the U.S. in 2015. India's plan demonetizes the cost of transportation and drastically reduces air pollution. | Join the Discussion
Spotted by Gaetan Soltesz / Written by Sydney Fulkerson
WHAT IS ABUNDANCE INSIDER?
This email is a briefing of the week's most compelling, abundance-enabling tech developments, curated by Marissa Brassfield in preparation for Abundance 360. Read more about A360 below.
WANT MORE CONVERSATIONS LIKE THIS?
At Abundance 360, Peter's 360-person executive mastermind, we teach the metatrends, implications and unfair advantages for entrepreneurs enabled by breakthroughs like those featured above. We're looking for CEOs and entrepreneurs who want to change the world. The program is highly selective. Apply now for Abundance360 Summit if you'd like to develop an Abundance Mindset.
Know someone who would benefit from getting Abundance Insider? Send them to this link to sign up.