9 min read

In this week's Abundance Insider: Biodegradable silk batteries, low-cost autonomous taxis, and solar devices that produce water from thin air.
Cheers,
Peter, Marissa, Cody, Kelley, Greg, Sydney and AJ
P.S. Send any tips to our team by clicking here, and send your friends and family to this link to subscribe to Abundance Insider.
Google Cofounder's 'Flying Car' Makes Its Debut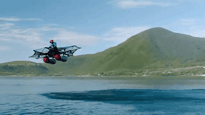 What it is: Larry Page's once-rumored flying car project, Kitty Hawk, recently demonstrated its prototype Kitty Hawk Flyer lifting off over a lake. The Flyer has small propellers under its base to aid lift-off; as long as it's flying over open water, it can take off vertically. Page's startup has already received approval from the FAA to fly the aircraft in un-congested areas, and will require all drivers to have a pilot's license. The startup's long-term mission is to change the future of personal transportation.
Why it's important: Over the past 12 months, we have seen visions of flying cars from companies all around the world, including Airbus, Uber, and Larry Page's investments in Zee.Aero and Kitty Hawk. As autonomous navigation systems, batteries and materials improve, the next five years will be very interesting for flying car developers and enthusiasts. A tsunami of change is coming for the auto and transportation industries. | Join the Discussion
Spotted by Dan Swift / Written by Sydney Fulkerson
Self-Taught Artificial Intelligence Beats Doctors At Predicting Heart Attacks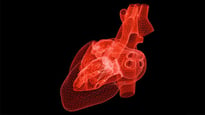 What it is: University of Nottingham epidemiologist Stephen Weng and his colleagues have created an algorithm that can outperform standard methods at predicting heart attacks. The team tested four AI algorithms (random forest, logistic regresion, gradient boosting, and neural networks) against the American College of Cardiology/American Heart Association (ACC/AHA) guidelines for predicting a patient's risk of experiencing a cardiovascular event in the next decade. All four algorithms outperformed these standard guidelines, with neural networks correctly predicting 7.6% better than the ACC/AHA method. Interestingly, several factors the algorithms identified as strong predictors were not on the list of the ACC/AHA guidelines (i.e. oral corticosteroid use), while top 10 risk factors under the ACC/AHA like diabetes were not considered.
Why it's important: More evidence of the scientific breakthroughs we're about to make thanks to Artificial Intelligence's ability to evaluate significantly larger datasets and incorporate more complex variables faster, better, cheaper and easier than current methods. Time will only tell what discoveries or contrarian insights will come as more doctors leverage machine learning to amplify their decision making abilities. | Join the Discussion
Spotted by Gaetan Soltesz / Written by Jason Goodwin
Biodegradable Silk Battery for Temporary Implants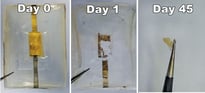 What it is: Australian researchers have developed a battery technology that relies on non-toxic, biodegradable material used to power smart devices worn outside the body. This new battery technology uses a thin-film material made from magnesium and a plastic electrolyte. The silk-encapsulated battery was almost entirely dissolved after running the test for 45 days. The test's results showed a direct correlation between the number of silk layers around the battery and the battery life, with more layers enabling longer use.
Why it's important: This new battery technology opens up a whole new range of possibilities for healthcare wearables. As these devices continue to improve in both power and versatility, their potential applications are incredible -- from the simple monitoring of bodily functions to chemical treatment delivery and beyond. | Join the Discussion
Spotted by Darryl Carr / Written by Sydney Fulkerson
Type Directly From Your Brain At 100 Words Per Minute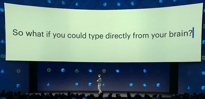 What it is: Regina Dugan, Ph.D, VP of Engineering at Facebook (and formerly of DARPA), announced plans to develop a noninvasive brain computer interface based on functional near-infrared spectroscopy (NIRS). With a research team of 60 led by Mark Chevillet (formerly of Johns Hopkins), Facebook will push fNIRS, spatial resolution, and machine learning principles to new levels to decode speech and language. Beyond the primary use case as a new interface to augmented reality, which would effectively replace screens, Dugan and her team are also focusing on helping disabled or paralyzed people communicate. Eventually, the tech may even enable hearing-impaired people to "hear" via vibrotactile sensors embedded in the skin.
Why it's important: Motivated by a variety of interests, from keeping up with Artificial Intelligence advancements to helping the disabled communicate, there's been an explosion of public declarations to bring BCIs into reality. Facebook's entry into the BCI arena will build interest, spark venture funding, and ease public acceptance of radically new technologies. | Join the Discussion
Spotted by Marissa Brassfield / Written by Jason Goodwin
Device Pulls Water From Dry Air, Powered By Only The Sun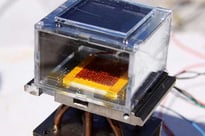 What it is: A team of scientists at the Massachusetts Institute of Technology recently constructed a solar-powered harvester using a metal-organic framework (MOF) to suck water from dry air. When sunlight hits the water harvester, it heats up the MOF, driving water vapor toward the condenser, where it condenses into liquid water and falls into a collector for later use. Under conditions of 20% - 30% humidity, the prototype successfully pulled 2.8 liters (3 quarts) of water from the air over a 12-hour period, using just one kilogram (2.2 pounds) of MOF. This work provides a far more efficient way to harvest water from air at low humidity than current technologies.
Why it's important: This prototype generates water from thin air -- more evidence that technology makes scarce resources abundant. Imagine how humanity would transform if every family on the planet had access to a solar-powered device like this one, giving them the ability to produce enough water to meet their entire household's needs. | Join the Discussion
Spotted by Aryadeep S. Acharya / Written by Sydney Fulkerson
Elon Musk Unveils Neuralink Business Plan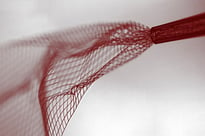 What it is: We've previously covered Elon Musk's new company Neuralink, which will produce a brain-computer interface to help humans keep on pace with superintelligent AIs; thanks to an illustrated post from Tim Urban, we now have a better understanding of how he's thinking about the business model. Much like SpaceX before it, Neuralink will look for early commercial opportunities to help with "certain severe brain injuries (stroke, cancer lesion, congenital) in about four years." Longer term, a mere eight to 10 years out, he sees the potential for healthy persons adopting BCI technologies.
Why it's important: With Facebook and Elon Musk entering the BCI game, we're now in a race to see which approach proves commercially successful. Musk's latest moonshot anticipates both an intelligence explosion and societal concerns over the implications of automation and technological unemployment -- and Tim Urban's illustrations give the public a compelling first glimpse of the plan. | Join the Discussion
Spotted by Marissa Brassfield / Written by Jason Goodwin
Blockchain technology is Helping to Build a New Kind of Energy Grid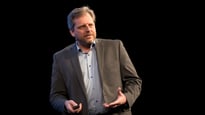 What it is: LO3 Energy has developed a system called the Brooklyn Microgrid that enables people to buy and sell locally generated solar energy within their communities using the blockchain. The peer-to-peer energy transaction system was developed by ConsenSys using Ethereum, a blockchain-based distributed computing platform. LO3 Energy chose the blockchain because it enables people to self-organize at the "edge" of the power grid.
Why it's important: The Brooklyn Microgrid sheds light on how a blockchain-based peer-to-peer system could dematerialize and demonetize the energy grid. It's a case study to watch, as it may accelerate public support for renewable energy, decentralized local infrastructure, and even "buy local" initiatives. | Join the Discussion
Spotted by Marissa Brassfield / Written by Sydney Fulkerson
Low-Cost Autonomous Taxis for the World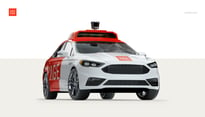 What it is: Recently spun out of online education startup Udacity, startup Voyage Auto is taking aim at Uber, Waymo and Lyft with its self-driving taxi service. The Udacity pedigree brings serious autonomous driving and Artificial Intelligence chops: its founder Sebastian Thrun led self-driving cars at Google and won the 2006 DARPA Grand Challenge while at Stanford. Udacity also launched with the huge success of its free MOOC geared towards an introduction to Artificial Intelligence (and, specifically, creating self-driving vehicle technology). Voyage will not use work from Udacity students or produce its own car; instead, the plan is to retrofit existing vehicles.
Why it's important: Voyage is tackling a tough problem -- and that requires bold thinking. Tarin Ziyaee, the director of AI at Voyage, recently did a Ask Me Anything session on the Udacity Slack channel with fascinating insights on how cutting-edge companies lead and hire team members capable of Moonshot thinking. As technological progress accelerates, this mindset will differentiate the disruptors from the disrupted. | Join the Discussion
Spotted by Jason Goodwin / Written by Jason Goodwin
WHAT IS ABUNDANCE INSIDER?
This email is a briefing of the week's most compelling, abundance-enabling tech developments, curated by Marissa Brassfield in preparation for Abundance 360. Read more about A360 below.
WANT MORE CONVERSATIONS LIKE THIS?
At Abundance 360, Peter's 360-person executive mastermind, we teach the metatrends, implications and unfair advantages for entrepreneurs enabled by breakthroughs like those featured above. We're looking for CEOs and entrepreneurs who want to change the world. The program is highly selective. Apply now for Abundance360 Summit if you'd like to develop an Abundance Mindset.
Know someone who would benefit from getting Abundance Insider? Send them to this link to sign up.