7 min read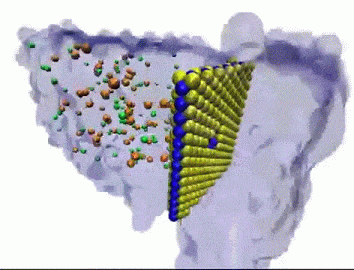 In this week's Abundance Insider: Robotic weed-killers, Google's $50 million moonshot, and memory-boosting brain implants.
Cheers,
Peter, Marissa, Cody, Maxx, Kelley and Greg
P.S. Send any tips to data@diamandis.com, and send your friends and family to this link to subscribe to Abundance Insider.
Nanopores Simplify and Supercharge Desalination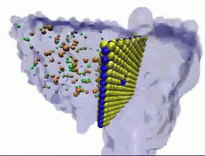 What it is: University of Illinois engineers have created a desalination system out of a nanometer-thick sheet of molybdenum disulphide (MoS2) riddled with nanopore holes. In testing against other thin-film membranes, the engineers discovered that this membrane filtered up to 70 percent more water than graphene.
Why it's important: This novel use of nanomaterials enables more energy-efficient desalination systems -- which in turn transforms our current water scarcity in to abundance.
Spotted by Greg O'Brien
Memory-Boosting Brain Implant Could End Dementia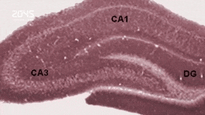 What it is: Researchers at the University of Southern California are developing a memory-boosting implant that leverages the same signal processing that happens when neurons encode new long-term memories. An algorithm created from data on a specific human "memory code" predicts the pattern of activity in CA1 cells based on CA3 input, according to Singularity Hub. In recent experiments, the algorithm's predictions were correct 80% of the time compared to the brain's actual firing patterns.
Why it's important: This enables truly revolutionary solutions to brain conditions like dementia, Alzheimer's, and traumatic brain injuries. This implant can also mitigate the negative consequences of age-related brain degeneration.
Spotted by Peter Diamandis
World's Tiniest Pacemaker Implanted Without Surgery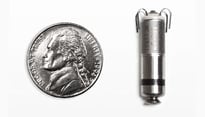 What it is: Researchers have developed the world's smallest, minimally invasive pacemaker. It's delivered via a catheter through the femoral vein and then positioned inside the right ventricle of the heart. In a recent international clinical trial, it was successfully implanted in 99.2 percent of the 725 patients, and 96 percent of patients experienced zero complications -- 51 percent less than normal procedures.
Why it's important: An estimated 3 million people live with pacemakers, and about 600,000 pacemakers are implanted in the world every year. This pacemaker enables easier implantation and better overall outcomes.
Spotted by Marissa Brassfield
This Dry Glue Only Becomes Sticky When You Crush It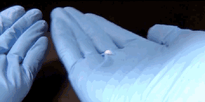 What it is: Researchers in Japan have developed a latex-based glue that remains dry until you crush it. Liquid latex beads are coated in calcium-carbonate nanoparticles that do not become adhesive until compressed, bursting the beads.
Why it's important: Glue that only becomes sticky on demand enables faster, more effective application. It's just one more way that advancements in materials science enable new innovation.
Spotted by Marissa Brassfield
IBM Watson: Your New Sounding Board & Research Assistant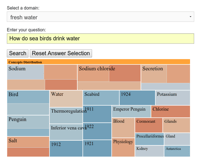 What it is: IBM Watson's cloud-based alternative may soon become your next research assistant. Georgia Institute of Technology researchers worked with student teams and Watson Engagement Advisor to provide answers to questions about biomimetics. The natural-language cognitive computer acted as an intelligent sounding board, helping students parse complicated research.
Why it's important: This experiment enables intelligent research: professionals in a variety of fields will be able to receive answers to even complicated questions at the pace of natural conversation.
Spotted by Marissa Brassfield
The Future of Shopping is Second Life on Acid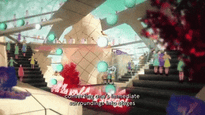 What it is: Designer Allison Crank has created "The Reality Theater: Shopping In the Ludic Century," a virtual mall that gives an immersive look into the future. Psychedelic neon signs, bubbles, animal avatars and labyrinthine escalators aim to channel the leisure, "eye candy" element of shopping, while retaining the one-click efficiency of e-commerce.
Why it's important: This vision of retail in the future solves one key problem of modern e-commerce: its lack of real-time, virtual socialization during the shopping experience. Imagine strapping on a Virtual Reality headset and shopping with your friends while you're on the train back home from work or while relaxing at home on a day off.
Spotted by Marissa Brassfield
This Swimming Robot is Powered by Pollution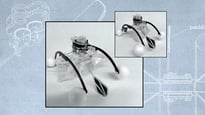 What it is: Bristol University engineers have designed the "Row-bot," a robot that walks on the water's surface in dirty ponds, consumes microbes, and converts them into energy for its paddles. The self-reliant engine is powered by a microbial fuel cell using electrogenic bacteria, and its overall design was based on the water boatman bug.
Why it's important: Robots that can produce their own power have near-limitless uptime. Future iterations of this innovative robot might be able to clean our oceans or detoxify metropolitan air.
Spotted by Marissa Brassfield
This Weed-Killing Robot Makes Herbicides Obsolete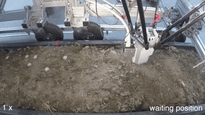 What it is: The Bosch BoniRob is a LIDAR-enabled robot that identifies weeds you don't want and squashes them into the ground with impressive force. It can run for up to 24 hours at once, killing about two weeds a second.
Why it's important: This self-driven robot shows how machine learning and sensor technology can create better, more powerful agriculture robots. One day, robots like this one will eradicate the need for herbicides and pesticides.
Spotted by Wayne Allen
Google's $50 Million Moonshot at Curing Heart Disease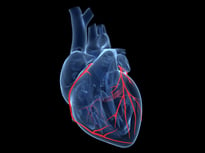 What it is: Google and the American Heart Association have teamed up on a $50 million initiative to cure heart disease. Most research is funded by federal grants -- a slow, complex and bureaucratic process -- and this Google moonshot aims to remove all the obstacles to innovation. Each idea submission, must fit on a one-page application, and the application period is just six weeks. Google won't take any intellectual property or financial stakes in the results.
Why it's important: Cardiovascular disease kills over 17 million people a year. By removing the "red tape" around medical research, this moonshot enables the rapid iteration and nontraditional needed for true breakthroughs.
Spotted by Marissa Brassfield
IBM Watson Helps You Pick Perfect Holiday Gifts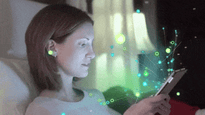 What it is: IBM Watson Trend is a holiday shopping app that distills tens of thousands of sources from social media to determine reactions to potential holiday gifts, recommend gifts and display whether gifts are trending up or down. The idea came from a single IBM employee, and it grew into a passion project for a team.
Why it's important: This consumer-friendly app will be one of the first experiences the public has with Watson and, as a result, the power of cognitive computing to enable better decisionmaking. Nailing this interface is key to widespread adoption.
Spotted by Don Weidner
Want more conversations like this?
At Abundance 360, Peter's 250-person executive mastermind, we teach the metatrends, implications and unfair advantages for entrepreneurs enabled by breakthroughs like those featured above. The program is highly selective and we're almost full, but we're still looking for a few final CEOs and entrepreneurs who want to change the world. Apply now for Abundance360 Summit if you'd like to develop an Abundance Mindset.
Know someone who would benefit from getting Abundance Insider? Send them to this link to sign up.