Six days ago, I asked our community to predict where you'll get your news in 2026. Will it be….
Your Personal AI Assistant
A new platform you've never heard of
An existing news source
Social media
Print newspaper and magazines
Or a TV station?
An overwhelming majority of participants (over 50%) agreed, and the crowd verdict may surprise you! (See results below….)
>>> If you haven't participated in the prediction poll yet, give it a try here.
---
(Note: If you like this blog, share it! | Facebook | Twitter | LinkedIn | Or send your friends and family to this link to subscribe!)
Who won, and why?
Backed by over 56% of the crowd, a "personal AI assistant" won by a landslide.
… Here are the top 3 reasons why:
"AI assistants are [emerging] and will scrape all other sources for personalized updates."
"I detest the agenda of broadcast networks. [Instead,] my assistant will dig broad and deep for news that interests me."
"[Personal AI Assistants will be able to] filter out nearly all 'fake news'."
But what about the runner-ups?
While a new platform (either one that is just emerging or yet to exist) garnered roughly 27% of the vote, a remarkably small percentage of the crowd voted for an existing news source (7.3%), social media (3.86%), print (3.08%), and TV (1.86%).
Check out the results below!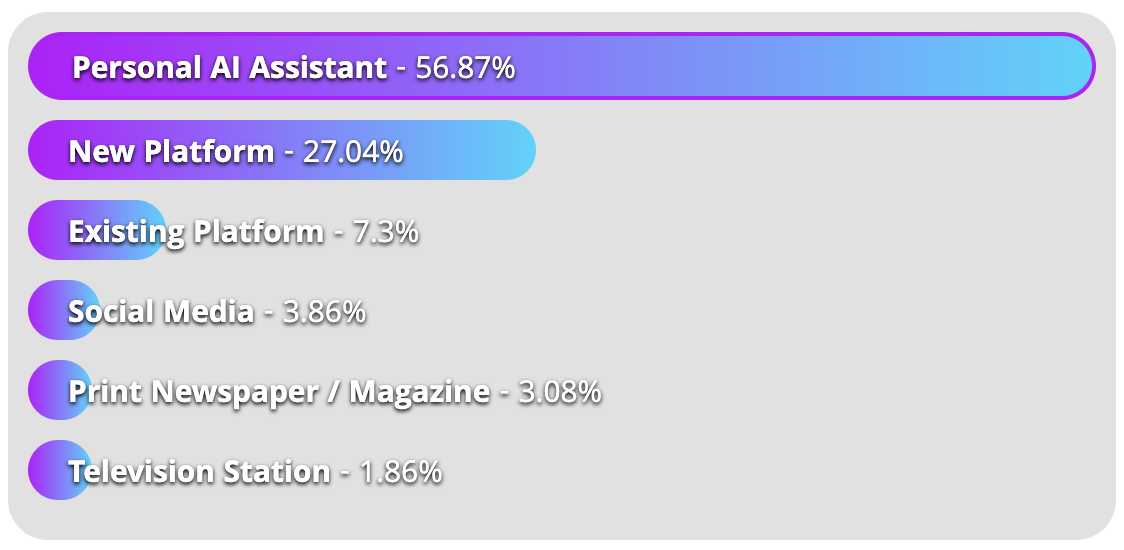 You can look at prediction breakdowns by industry, title and expertise here.
And to check out the most highly upvoted reasons for social media, print newspapers, and the other candidates, go here!
Personalizing Your Own AI-Powered News Feed
Three years ago, I set on a journey to create a Machine Learning platform to scrape the world's news, science journals and social feeds every day to understand how exponential technologies are impacting specific topics and industries.
The end result is FutureLoop, a free service with the following mission…
Every day, FutureLoop scans hundreds of thousands of articles and journals:
Searching for news with 'positive sentiment' that is 'future-oriented'
Identifying stories of 'converging exponential technologies' that impact industries
Scanning for high-quality, referenced sources and validated stories
Filtering out sensationalized and biased news
Performing these searches on specific 'user-selected topics'
Summarizing articles to extract "What it is" and "Why it's important"
Check out FutureLoop. While the product is still in Beta, it's powerful, high-quality and free.
Your mindset is your most important tool during this pandemic. Consuming the right information is critical to maintaining that mindset. FutureLoop offers "Data-Driven Optimism."
Join Me
(1) Abundance 360 CEO Summit: If you're an entrepreneur, CEO, owner of a company ranging in size from $1M to $1B+, consider joining my personal Mastermind called Abundance360.
---
(Note: If you like this blog, share it! | Facebook | Twitter | LinkedIn | Or send your friends and family to this link to subscribe!)