7 min read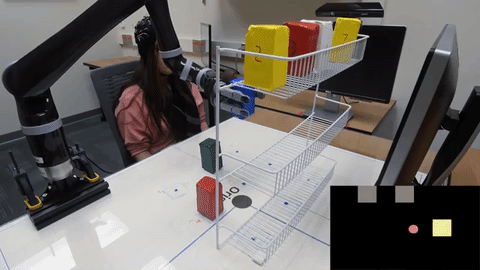 In this week's Abundance Insider: Mind-controlled robotic arms, the world's most heat-resistant material, and the first ever 3D printed pedestrian bridge.
Cheers,
Peter, Marissa, Cody, Kelley, Greg, Sydney and AJ
P.S. Send any tips to our team by clicking here, and send your friends and family to this link to subscribe to Abundance Insider.
Control a Robotic Arm With Your Mind, No Implanted Electrodes Required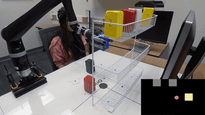 What it is: Researchers at the University of Minnesota have released a noninvasive EEG brain cap that allows people to control a robotic arm with only their thoughts. Prior successes with brain-computer interfaces (BCI) have either involved surgically implanted electrodes or have dealt with relatively less-complex movements, such as moving a mouse cursor, or a lower limb exoskeleton. Here, eight healthy human subjects wore an EEG cap with 64 electrodes to successfully grasp and move water bottles and credit cards over 80% of the time.
Why it's important: This technology empowers researchers to reach and treat a wider patient base, enabling non-therapeutic uses of BCI and fundamental breakthroughs in our understanding of general brain function. What other innovations will we see as convergences and improvements continue in machine learning, signal processing, smart sensors, computing power and artificial intelligence? | Join the Discussion
Spotted by Greg O'Brien / Written by Jason Goodwin
Affordable Motion Capture System is an Entire Studio in One Skintight Suit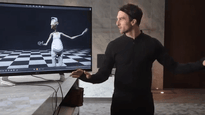 What it is: At roughly 1/50th the cost of current motion capture technologies, Danish company Rokoko just released a sensor-laden body suit that turns any space, green screen or not, into a motion capture studio. The Smartsuit Pro uses 19 sensors, each including a gyrometer, accelerometer and magnetometer, coupled with on-board algorithms to make sense of the data and stream it to your device wirelessly.
Why it's important: Already packaged with integrations into gaming and Virtual Reality software studios like Unity and Unreal Engine, Rokoko is poised to demonetize motion capture technology and unleash creative talent in entertainment. Look for additional use cases in neurology, physical therapy, sports performance, and real-time connection with your personal avatar in virtual worlds. | Join the Discussion
Spotted by Greg O'Brien / Written by Jason Goodwin
Meet the CyBe RC 3Dp, a Concrete 3D Printer That Moves Around on Caterpillar Tracks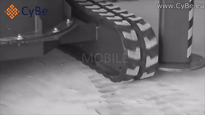 What it is: Dutch startup CyBe says it has created the world's first mobile concrete 3D printer. While many examples of 3D printed concrete structures are popping up, all have faced challenges with speed and mobility. With tank-like caterpillar wheels and an extendable undercarriage, CyBe has added mobility in three dimensions, including the vertical Z-axis.
Why it's important: Although we have seen many examples of 3D printed concrete bridges, homes and villas, all involve logistical complexity -- primarily, the need to move the printer as the piece is finished, or transporting finished jobs to the construction site. CyBe's addition here is another step towards dematerializing large-scale construction projects. Expect that this work with concrete will carry over to materials of similar strength, weight and viscosity, enabling a future where architects move from a CAD design to finished product faster, cheaper, better and easier than ever before. | Join the Discussion
Spotted by Mari van Alphen / Written by Jason Goodwin
2016 Was the Year Solar Panels Finally Became Cheaper Than Fossil Fuels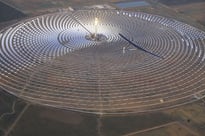 What it is: The World Economic Forum recently reported that 2016 was the year solar panels officially became cheaper than fossil fuels in more than 30 countries -- meaning that it's less expensive to install new solar panels in these areas than to make a comparable investment in coal or natural gas. This past year, utilities added 9.5 gigawatts (GW) of photovoltaic capacity to the U.S. grid, which made solar the top national fuel source for the first time ever. Another fun fact from 2016, courtesy of the Solar Energy Industry Association: the U.S. added about 125 solar panels every minute -- double the pace of 2015.
Why it's important: One of the top advantages of solar energy that Peter noted in his blog on the subject was the cost efficiency of solar panels. Estimates suggest that perovskite solar panels could cost just 10 to 20 cents per watt, compared to 75 cents per watt for traditional silicon-based panels -- a cost savings ranging from 3X to 8X -- making solar panels much more affordable for the average consumer. The world has long had high hopes for solar, and it seems that potential has finally arrived. | Join the Discussion
Spotted by Cody Rapp / Written by Sydney Fulkerson
World's Most Heat-Resistant Material Found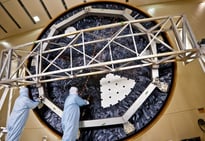 What it is: Scientists in London recently discovered the world's most heat-resistant materials -- tantalum carbide (TaC) and hafnium carbide (HfC) -- with abilities to withstand temperatures of nearly 4,000 degrees Celsius. These refractory ceramics could enable improved heat-resistant shielding for record-fast hypersonic space vehicles, and protect future spacecraft from the extreme heat generated from leaving and reentering the atmosphere.
Why it's important: As Peter mentioned in his materials science blog, we are in the midst of a materials science revolution that will impact every field of technology and every aspect of our lives -- including space exploration. The space race to claim asteroids, colonize Mars and develop reusable rockets continues; with new materials like TaC and HfC, we're better prepared than ever to withstand the heat. | Join the Discussion
Spotted by Aryadeep S. Acharya / Written by Sydney Fulkerson
3D-Printed Concrete Pedestrian Bridge Built in Madrid
What it is: Last week, the world's first 3D-printed pedestrian bridge was inaugurated at the Castilla-La Mancha urban park in Alcobendas, Madrid. ACCIONA built the bridge with assistance from Enrico Dini, who invented D-Shape, a large-scale binder jetting technology that has been used to 3D print houses. Advantages to this 3D-printed concrete bridge include: (1) versatility in building structural elements without using molds or formwork, (2) flexibility and adaptability to any shape, (3) minimized waste via raw material recycling during the manufacturing process, and (4) reduced resource and energy requirements for the concrete elements. City representatives say that the opening of the bridge is a 3D printing milestone for the construction sector at an international level.
Why it's important: While this 3D printed footbridge in Madrid might not match the grandiose size or aesthetic that MX3D is aiming for in Amsterdam, the IAAC project is nonetheless a major milestone for 3D printing in the construction sector. By overcoming the limitations imposed by traditional construction techniques, the new pedestrian bridge in Madrid proves that 3D printing technology will be an advantageous tool for various construction projects in the near future. | Join the Discussion
Spotted by Alexis Santin / Written by Sydney Fulkerson
What is Abundance Insider?
This email is a briefing of the week's most compelling, abundance-enabling tech developments, curated by Marissa Brassfield in preparation for Abundance 360. Read more about A360 below.
WANT MORE CONVERSATIONS LIKE THIS?
At Abundance 360, Peter's 360-person executive mastermind, we teach the metatrends, implications and unfair advantages for entrepreneurs enabled by breakthroughs like those featured above. We're looking for CEOs and entrepreneurs who want to change the world. The program is highly selective. Apply now for Abundance360 Summit if you'd like to develop an Abundance Mindset.
Know someone who would benefit from getting Abundance Insider? Send them to this link to sign up.