9 min read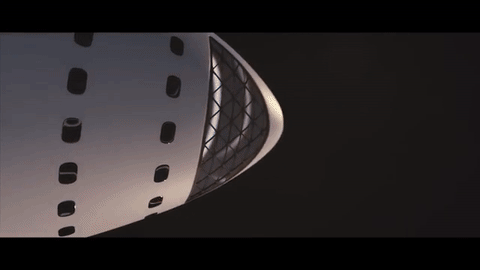 In this week's Abundance Insider: Musk's Mars announcement, photon teleportation and reversing paralysis.
Cheers,
Peter, Marissa, Cody, Kelley, Greg, Sydney and AJ
P.S. Send any tips to our team by clicking here, and send your friends and family to this link to subscribe to Abundance Insider.
Musk's Mars Moment: Audacity, Madness, Brilliance -- or Maybe All Three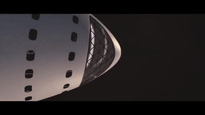 What it is: In a 90-minute speech given in Guadalajara, Mexico, Elon Musk voiced his intent to create a self-sustaining Mars colony with one million residents by the end of the century. It all starts with an initial mission to Mars in 2024 (yes, just eight years from now) via the Interplanetary System, a 100-person rocket built with 4X the power of the Saturn V booster. The rocket, at an estimated cost of $10 billion, would be able to propel space colonists into orbit at a per-person cost of $200,000. Starting sometime between now and 2020, SpaceX might "be able to spend about $300 million annually on the Mars launcher and spacecraft," as Ars Technica reports.
Why it's important: Elon Musk has never been shy about his intent to help make humanity a multiplanetary species, and this announcement was the perfect example of Peter's notion of launching your idea above the line of super credibility. Because of Musk's history of audacity and success, we're much more likely to believe in any "crazy ideas" he voices in the future. | Join the Discussion
Spotted by Greg O'Brien
The Best News You Don't Know About Poverty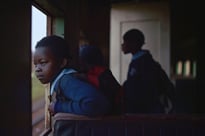 What it is: The UN has announced its plans to eliminate extreme poverty (living on $1.90/day or less) by 2030, and according to the data in this article, it's possible. Trouble is, the public remains largely unaware. "A poll to be released Thursday by Motivaction, a Dutch firm, finds that only 1 percent of Americans surveyed realized that global extreme poverty had fallen by half over 20 years," the New York Times reports.
Why it's important: In a previous blog, Peter mentioned how the share of the global population living in absolute poverty has declined from 53% to under 17% over the last 30 years. Although there is still more to do, the data show we've already made tremendous progress toward abundance. | Join the Discussion
Spotted by Peter Diamandis
Machine Learning & NLP: Key Tools for Diagnosing Alzheimer's Disease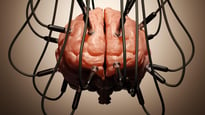 What it is: University of Toronto spinoff Winterlight Labs is using machine learning and natural language processing, or NLP, to analyze patients' recorded speech patterns to identify Alzheimer's disease and dementia faster and cheaper than existing methods. The tablet-based prototype displays an image and asks people to describe it; next, a machine learning classifier analyzes 1 to 5 minutes' worth of these speech samples (at an 81% accuracy rate).
Why it's important: Some 47.5 million people in the world have dementia, according to the World Health Organization, and it's one of the costliest diseases to treat. Currently, most Alzheimer's screening tests require multiple visits, over 15 hours' worth of examinations, and a brain tissue examination, according to Tractica. Machine learning algorithms like this one could significantly demonetize and accelerate the pace at which we identify cognitive impairment. | Join the Discussion
Spotted by Gaetan Soltesz
Researchers Teleport Particle of Light Six Kilometers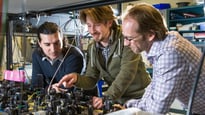 What it is: Quantum scientists in Canada and the U.S. have successfully teleported a photon further than ever before -- 6 kilometers, or 7.3 miles -- using the fiber optic cable infrastructure at the City of Calgary. The news, which is published in Nature Photonics, comes just after Chinese researchers pulled off a similar demonstration in which they teleported a photon over 6.2 km in a metropolitan fiber network.
Why it's important: While we still have a long way to go before we're able to teleport humans and objects, the ability to teleport light particles enables a future quantum Internet. "Such a network will enable secure communication without having to worry about eavesdropping, and allow distant quantum computers to connect," explained Wolfgang Tittel, a University of Calgary physics and astronomy professor who led the research. | Join the Discussion
Spotted by Aryadeep S. Acharya
Paralyzed Man Regains Use of Arms and Hands After Experimental Stem Cell Therapy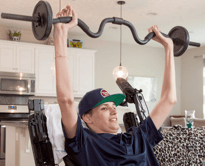 What it is: Doctors at the USC Neurorestoration Center and Keck Medicine of USC recently achieved a tremendous breakthrough in stem cell therapy, helping a paralyzed 21-year-old man regain control over his arms and hands. Kristopher Boesen, who was paralyzed in a car accident on March 6, received stem cell and other cell injections into his damaged spine. KurzweilAI reports that three months after the surgery, Boesen can "feed himself, use his cell phone, write his name, operate a motorized wheelchair, and hug his friends and family."
Why it's important: We're rapidly entering an era in which paralysis is no longer permanent. Thanks to groundbreaking therapies like this experimental stem cell treatment, patients with spinal injuries can live more independent lives -- and even reverse their paralysis. | Join the Discussion
Spotted by Peter Diamandis
Robots Will Soon Be Delivering Groceries in Washington, DC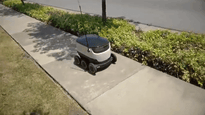 What it is: Starship Technologies is getting ready to test food-delivering robots in Washington D.C. Packed with nine cameras, numerous sensors and an incredibly accurate GPS system, the wheel-based autonomous robot travels at a max speed of 4 mph. To combat the robots' slow speed, Starship Technologies has partnered with Mercedes-Benz to design a van customized to hold eight of these delivering robots, enabling a swarm-based approach to streamline deliveries.
Why it's important: In Abundance Insider's July 15 edition, we shared Starship Technologies' plans to expand testing to include food-delivering robots. In just a matter of months, the company is about to make robot-integrated societies a reality. An important question remains: How will delivery bots get treated in real-world environments? | Join the Discussion
Spotted by Clyde Dennis
'Perfect' Low-Cost, Defect-Free Graphene Directly From Graphite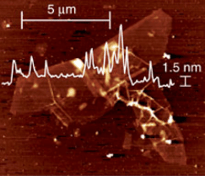 What it is: Chemists from the University of Erlangen-Nürnberg (FAU) in Germany and the University of Vienna have created flawless, high-quality graphene from graphite -- a world first. By adding the solvent benzonitrile in the production process, they were able to cut graphene in a non-destructive fashion and set specific electronic properties. "That makes this new scalable, inexpensive method for graphene production a significant improvement over previous wet-chemical approaches, which have size limitations and excessive defects, lowering the conductivity," explained KurzweilAI.
Why it's important: The ability to produce graphene cheaply and at scale enables a variety of breakthroughs: electric cars that recharge in minutes, consumer gadgets that charge in seconds, flexible e-paper and tech-savvy clothing, 99% cheaper reverse osmosis desalination and much more. | Join the Discussion
Spotted by Peter Diamandis
DataWind to Launch $45 Smartphone With Free Unlimited Internet Plan in India Next Month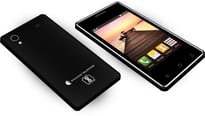 What it is: Datawind has announced the launch of three 4G LTE capable phones next month in India, all priced between 3,000 and 5,000 rupees ($45 - $75 USD). The tablet manufacturer also revealed that it's applied to become a virtual network operator, boasting unlimited data plans that cost 99 rupees a month ($1.50 USD).
Why it's important: We're witnessing the race for global connectivity, with India at the epicenter. As we reported just last month, India's Reliance Jio will offer free voice calls on its network. What will happen to our global economy when previously unconnected parts of the world -- the group Peter referred to as the Rising Billion in Abundance -- come online and begin to create, share, buy and sell? | Join the Discussion
Spotted by Peter Diamandis
Google Translate Just Got 60% Better By Working On Whole Sentences
What it is: Google's new Google Neural Machine Translation (GNMT) system works on whole sentences instead of its previous phrase-based machine translation (PBMT), improving accuracy results by 60% on average. This neural network improves efficiency by refining data through successive layers of neurons, then stacking, decoding and composing the layers into a translated sentence. The system's limited leniency for error in each layer enables Google Translate to provide results with greater accuracy than ever before.
Why it's important: Peter's blog on learning mentioned how AI technology will be able to personalize learning platforms to each individual in the near future. As Google Translator's accuracy continues to improve, is it possible that the learning of a foreign language is becoming more irrelevant? Or could Google expand into the education space and use Artificial Intelligence to deliver personalized learning experiences? | Join the Discussion
Spotted by Marissa Brassfield
What is Abundance Insider?
This email is a briefing of the week's most compelling, abundance-enabling tech developments, curated by Marissa Brassfield in preparation for Abundance 360. Read more about A360 below.
Want more conversations like this?
At Abundance 360, Peter's 250-person executive mastermind, we teach the metatrends, implications and unfair advantages for entrepreneurs enabled by breakthroughs like those featured above. The program is highly selective and we're almost full, but we're still looking for a few final CEOs and entrepreneurs who want to change the world. Apply now for Abundance360 Summit if you'd like to develop an Abundance Mindset.
Enjoyed reading this? Click here to get the latest issue of Abundance Insider delivered straight to your inbox.