3 min read

What's a faster mode of transportation than Hyperloop?
Robotic Avatars.
At SXSW Interactive earlier this month, I announced the $10 million ANA Avatar XPRIZE, which challenges teams to build and demonstrate a multipurpose robotic avatar system that allows an untrained user to transport their senses and actions over a distance of 100 kilometers or more.
It's about transporting your human skills and experience to a remote location.
The possibilities of such a system are endless.
Imagine a near future in which skilled individuals can offer their services, from a distance in mere moments.
A future where the world's best surgeons and first responders would be able to beam in and interact with patients within minutes — not hours, days or weeks.
And the multitude of scenarios where transporting yourself as a robot would be far superior to your fragile flesh-and-blood body.
The ANA Avatar XPRIZE will help bridge distance, time and culture.
A VERY Unusual Sponsor, And the Lesson They Teach Us
The sponsor of this amazing XPRIZE, one of my favorites, is an airline: All Nippon Airways (ANA).
While ANA (the largest airline in Japan with 260 aircraft) is an innovative company – the proud launch customer and the biggest operator of the Boeing 787 Dreamliner – the fact that they asked the question, "What type of technology might ultimately disrupt us?" and agreed to provide $22 million in funding to launch this new industry is quite unusual.
Few other companies take this critical step during these exponential times. I am so impressed, and honored to work with the visionary ANA leadership.
Avatar XPRIZE Origins
The concept of a "Robotic Avatar" XPRIZE was proposed and created by my dear friend Dr. Harry Kloor, who served as the "bold innovator" during the 2016 XPRIZE Visioneers Summit.
Harry, who's been with me on many of my entrepreneurial adventures since the late 1980's and the International Space University, suggested that empowering humanity with the ability to move instantly anywhere by shifting our awareness-consciousness and physical actions into humanoid robots would serve as an inspiring XPRIZE.
"Why carry your 'meat suit' with you, when it's really your senses and physical actions that matters?"
Today, exponential technologies are enabling us to materialize ideas that were once the stuff of science fiction novels.
I'm grateful for ANA's boldness in supporting this XPRIZE and creating an audacious alternative to air travel.
Here's a fantastic 2 minute video that summarizes the competition. Enjoy!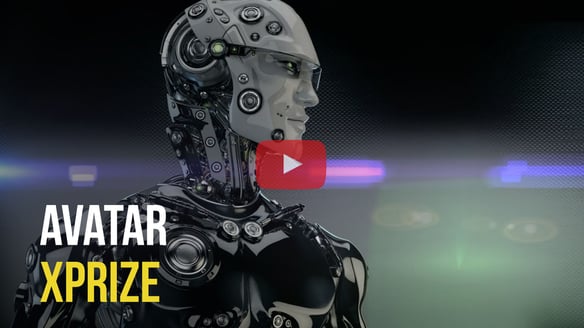 How Can You Participate?
Visit our competition website here. Consider registering to create a prize (there's no obligation, other than indicating your interest).
The world is getting more and more exciting every year.
Also read: TOP 50 MOON SHOTS
WHAT IS ABUNDANCE INSIDER?
This email is a briefing of the week's most compelling, abundance-enabling tech developments, curated by Marissa Brassfield in preparation for Abundance 360. Read more about A360 below.
WANT MORE CONVERSATIONS LIKE THIS? - JOIN ME
At Abundance 360, Peter's 360-person executive mastermind, we teach the metatrends, implications and unfair advantages for entrepreneurs enabled by breakthroughs like those featured above. We're looking for CEOs and entrepreneurs who want to change the world. The program is highly selective. Apply now for Abundance360 Summit if you'd like to develop an Abundance mindset.
Know someone who would benefit from getting Abundance Insider? Send them to this link to sign up.
P.S. I've just released a podcast with my dear friend Dan Sullivan called Exponential Wisdom. Our conversations focus on the exponential technologies creating abundance, the human-technology collaboration, and entrepreneurship. Head here to listen and subscribe.