4 min read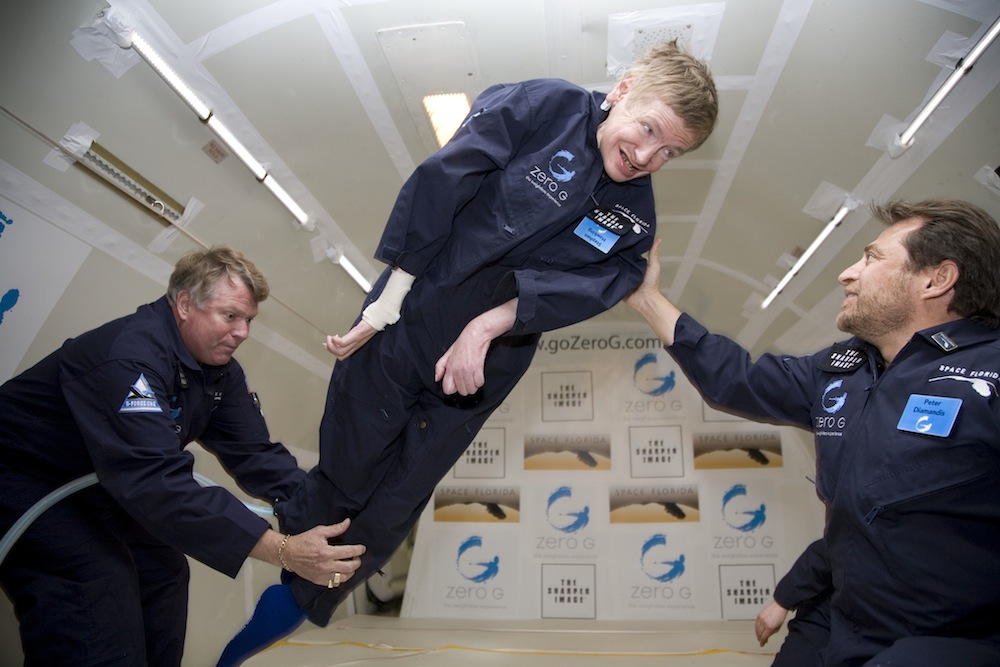 In 2007, I had the incredible opportunity to fly Professor Stephen Hawking, the world's expert in gravity, into zero gravity aboard my specially-modified Boeing 727-200 aircraft called G-FORCE ONE.
That flight was extremely special since Prof. Hawking's illness had rendered him wheelchair-bound for more than 40 years… It was one of the proudest moments of my life.
Since then, I've had the chance to fly an incredible crew of science and tech superstars into weightlessness, including Elon Musk, James Cameron, Richard Branson, Larry Page, and Sergey Brin just to name a few.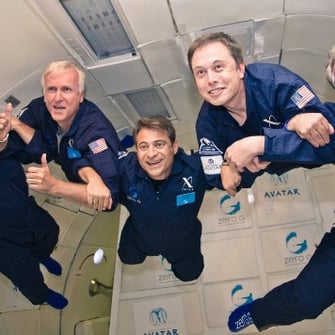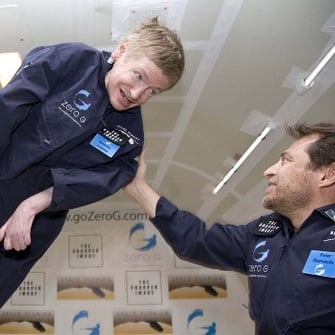 If you've ever desired the experience of true weightlessness, then here's your chance to score the opportunity for free. I'm giving away two seats aboard a Zero-G flight.
Details below…
WHAT IS ZERO-G?
When I was in graduate school, I was desperate for a ride on NASA's zero-gravity (parabolic flight) airplane.
I wanted to experience weightlessness like NASA's astronauts in training.
I tried everything to get aboard (including volunteering as a medical guinea pig) but could never score a seat.
Finally, I decided to take things into my own hands. Surely if I wanted to go so badly, others would want to do the same. Maybe there was a business to be created?
So, in 1993, I partnered with two friends (Byron Lichtenberg and Ray Cronise) to start a commercial company (Zero Gravity Corporation or Zero-G) to offer this same experience to anyone who had the desire to go.
It took us 11 years (1993 – 2004) to become fully operational and approved by the FAA. Today, Zero-G (www.GoZeroG.com) remains the only FAA-approved commercial zero-gravity operator in the world.
Since 2004, we've flown over 30,000 people into weightlessness, ages 7 to 93.
DO YOU WANT TO FLY ZERO-G?
I'm giving away two seats on a Zero-G flight, and there are two simple ways you can win.
Rules for winning SEAT #1:
The FIRST free Zero-G seat will go to the person who refers the most subscribers to my MINDset Mondays newsletter: a free newsletter intended to help anyone develop the key Mindsets you need to thrive, including Abundance, Exponential, and Curiosity Mindsets.
To participate, just subscribe to MINDset Mondays and share your unique referral URL (this will be delivered in your welcome email) with as many of your friends as possible. If you refer the most subscribers before July 23rd 2022, you win! (Currently the top referrer has referred <25 people, so it's still anyone's game!)
Rules for winning SEAT #2:
The SECOND Zero-G seat is being awarded through a raffle. To enter, subscribe to MINDset Mondays and refer at least 1 person.
Note: For every person you refer, you get entered into the raffle, and every person you refer also gets entered into the raffle ;) So, if you refer 100 people, you get 100 raffle entries, and each of the 100 people you referred also gets a raffle entry!
BONUS:
And, there's a bonus. If you are among the Top 10 referrers you will get a signed copy of my book The Future is Faster Than You Think, and have the option to join me in a Twitter Space to talk about mindsets, spaceflight, and longevity. Anyone can join but you will join me as a speaker in the discussion.
Learn more on the prize details here.